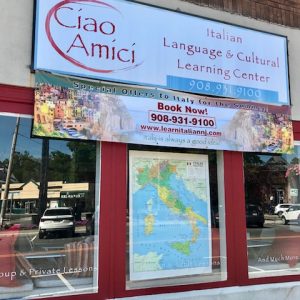 As I'm writing this blog – owner of Ciao Amici, Filomena Coccaro, at 25 North Avenue West in Cranford, is hosting the experience of a lifetime to a group of local adults who wanted a TRUE Italian adventure by someone who knows and treasures the regions! They started in Spello, the ancient town in the region of Umbria. Next, they headed to a medieval festival in Perugia, saw Assisi, and walked the gorgeous streets of San Gimignano. The memories they are making with Filomena will last a lifetime – and now she's offering her services to everyone!
This is the 4th trip Filomena's embarked on with a large group and I've been following this trip closely! I wanted to share with you all the new services that Filomena and Ciao Amici are offering to all of you!
Born in the South of Italy, Filomena graduated from Rome with a master's degree in Psychology. It was here that she met her husband who was from Brooklyn. They married, and both moved to Brooklyn where Filomena found work at a travel agency. After starting a family, both made Cranford their home. Filomena opened Ciao Amici in 2011 and has been offering Italian language and cultural classes ever since!
While Filomena will continue to provide the finest Italian language classes around- she also wanted to tap into her travel planning skills and offer unique, personalized trips to Italy.
"We have a big Italian-American community in this area and people want to get in touch with their roots and heritage. Culturally, they want to relate to the dialect and culture of their ancestors of Southern Italy"
Filomena individually plans each trip for a family/group of friends. She wants to provide the authenticity of the Italian culture to give you a true experience from one who has lived there half her life.
I mean, who DOESN'T want to go to Italy!!!
Filomena will provide a completely customized experience based on her expertise knowledge of each individual region. She will take care of every little aspect, so you don't have to worry about anything: the hotel, transportation, meal plans– an entire package! Everything is based on your budget and what aspects of Italy you want to discover. Filomena will even make sure that you have an English-speaking guide with you at all times!
Already been to Italy? Want to see something unique? She can plan trips to the Amalfi Coast, to Siena to witness the Palio Horse Race, dining at "Osteria Francescana" in Modena (coined the "World's Best Restaurant") or visit the island of Ischia – a volcanic island off the coast of Naples!
Filomena commented, "As a tourist, it's hard to get what you want and you may not know the area. You can easily fall into a tourist trap and it takes a ton of research for every little detail! Human interaction is KEY, and I help provide that. I always make sure things go as expected and you will always get what you paid for!"
Here's the latest review from someone who just returned from a trip:
"Filomena planned a fantastic (and quite last minute) trip to Italy for our family of five. She took great pains to make sure we were well taken care of (since none of us speak Italian) and it was a trip we will remember forever. I couldn't recommend her more if you are considering a trip to Italy!"
So, if you are thinking about headed to Italy – take the stress off of the planning and let Ciao Amici plan your perfect excursion designed just for you! Follow the latest adventures on their Facebook page at Ciao Amici, stop by to visit Filomena at 25 N. Ave W in Cranford (right next to the movie theater!), or call her at 908-931-9100.
Your Italy trip awaits!