Creating Memory Animals from Loved Ones' Keepsakes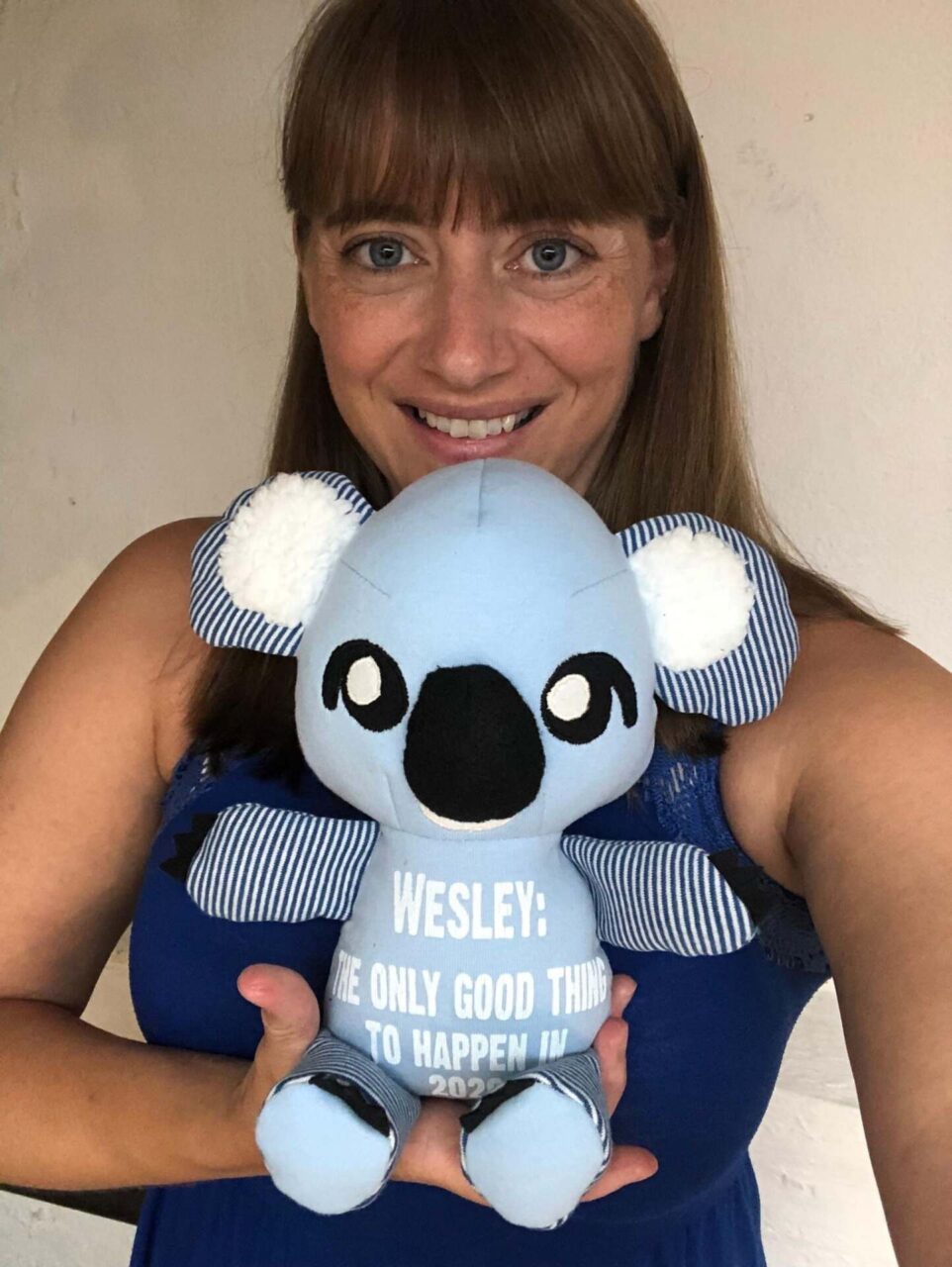 Jess Creates Stuff is a blog post that definitely tugs at the heartstrings! My assistant Andrea lost her beloved father during the holidays. Shortly after his passing, she told me about sending his favorite yellow sweaters to a local crafter to have memory teddy bears made for her children (see photos below). Immediately upon receiving the final product in June, she got the chills. It was the most beautiful and precious tribute to her father. It was as if a part of him was still connected to the adorable bears. She presented the bears to her children, along with a picture of her father wearing the sweater with them. She said it felt like his love for them had just been divided by three! It was clearly evident that Jess of Jess Creates Stuff has a true gift for turning memories and sentimental items into beloved, tangible gifts for one to treasure forever.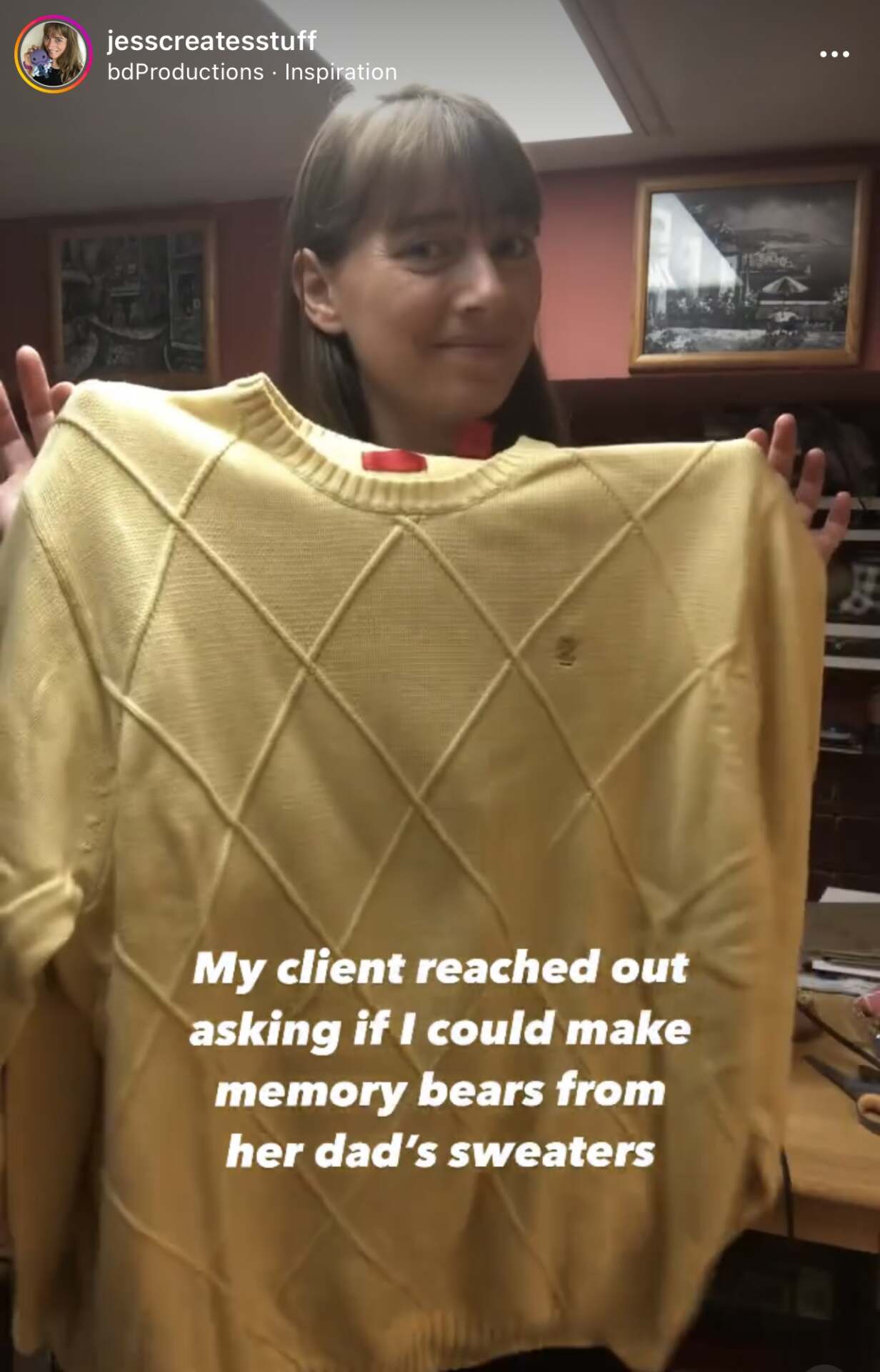 We knew we had to feature Jess and her unique small business, Jess Creates Stuff! The more I learned about Jess, the more I adore her! It is always so interesting to find out what people do in their "real" jobs. As you read on…you'll not only find out about her cool day job, but also the beautiful story of how she started making these memory animals and helping people ease their grief after a loved one's passing. Finally, if you have a cherished item and would like Jess to create something unique for you – we have the best way to reach out to her!
Please tell us a little bit about yourself and why you love living in Cranford, NJ,!
I grew up in South Jersey, but after college I moved to NYC. When my husband and I were looking for a house, we needed a town in New Jersey that was commutable. After living in the city, I wanted to live in a town where I wouldn't have to drive everywhere. As soon as I saw Cranford, NJ for the first time, I knew that was it! My favorite part of living in Cranford NJ is the strong sense of community. People here care so much about each other and the town. It really makes Cranford so special and unique.
What do you do in your "normal" day job?
As far as my day job, I'm a Supervising Producer at NBC, working in promos for their cable networks as well as Peacock. My specialty is children's television. I write, produce, and edit campaigns promoting shows as well as creating interactive games during commercial breaks on-air.
When did you discover your love of sewing?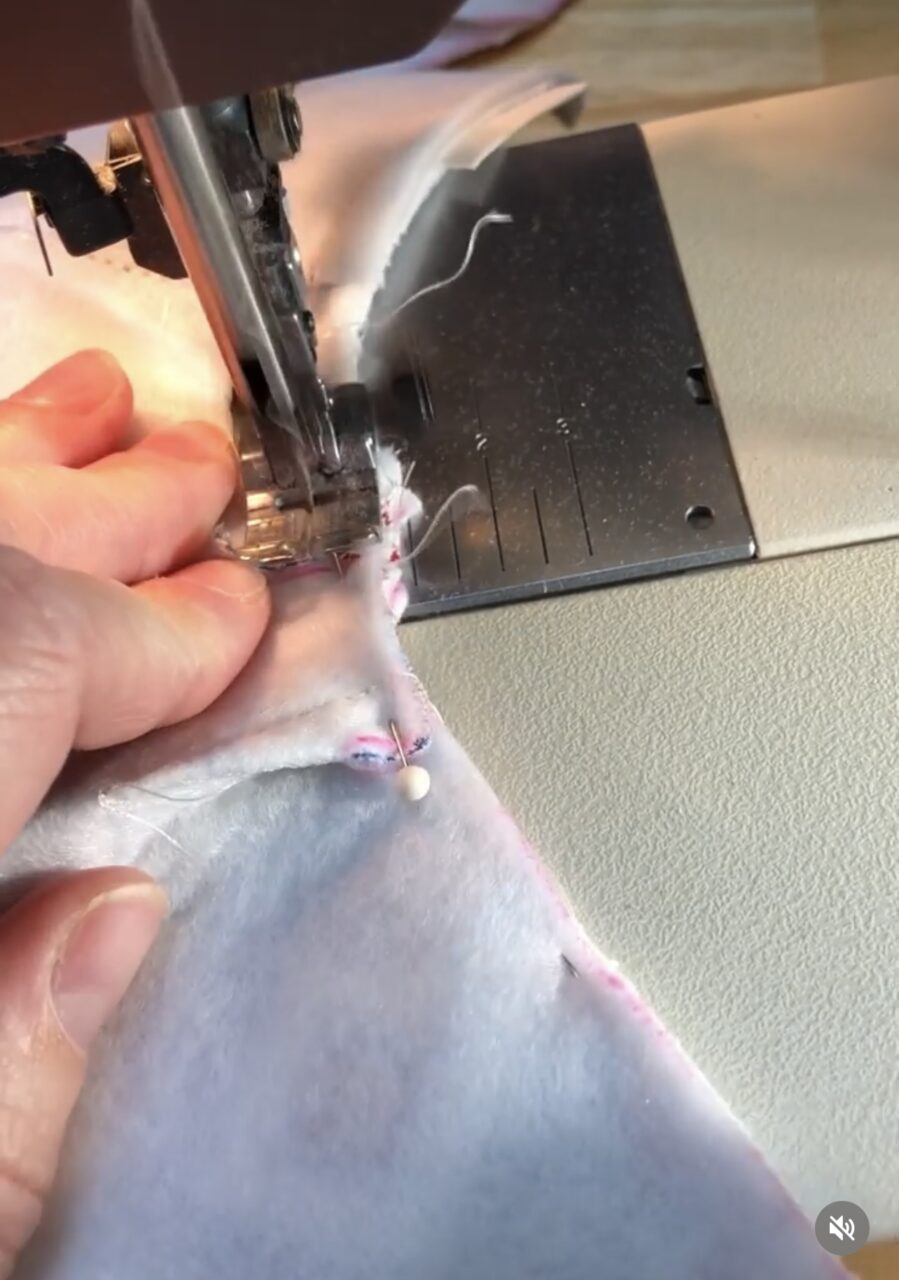 My parents are both makers (though not by trade). They're the kind of people who will try to make something if they can before going out and buying it. That mindset definitely transferred over to me as well. As a kid, my mom taught me how to sew. While attending college I had my sewing machine in the dorm! When my kids were born, I started sewing things for them. It's something I've always done. I love trying to figure out how things are made and see if I can make my own.
How did you get into the business of memory animals and handmade gifts?
It wasn't until the pandemic hit and people needed masks that I started sewing for other people. Once people started to find out that I could sew, I had a few other requests come my way such as fixing up a stuffed animal. I started to get more confident and began making dolls and stuffed animals. Then one day, a friend reached out asking if I could make memory bunnies from her mom's dress. She'd had it for years but never felt comfortable sending it away to a stranger on Etsy. She posted her story and the pictures of the bunnies on Facebook and that really kicked things off!
Around the same time, I started getting back into crocheting (which I had also learned from my mom as a kid) and started making crocheted plushies. The reaction from friends and family encouraged me to start selling them as well. Seeing children (and adults) snuggling them makes me so happy! I love watching someone get joy from something I made. It's the coolest thing in the world!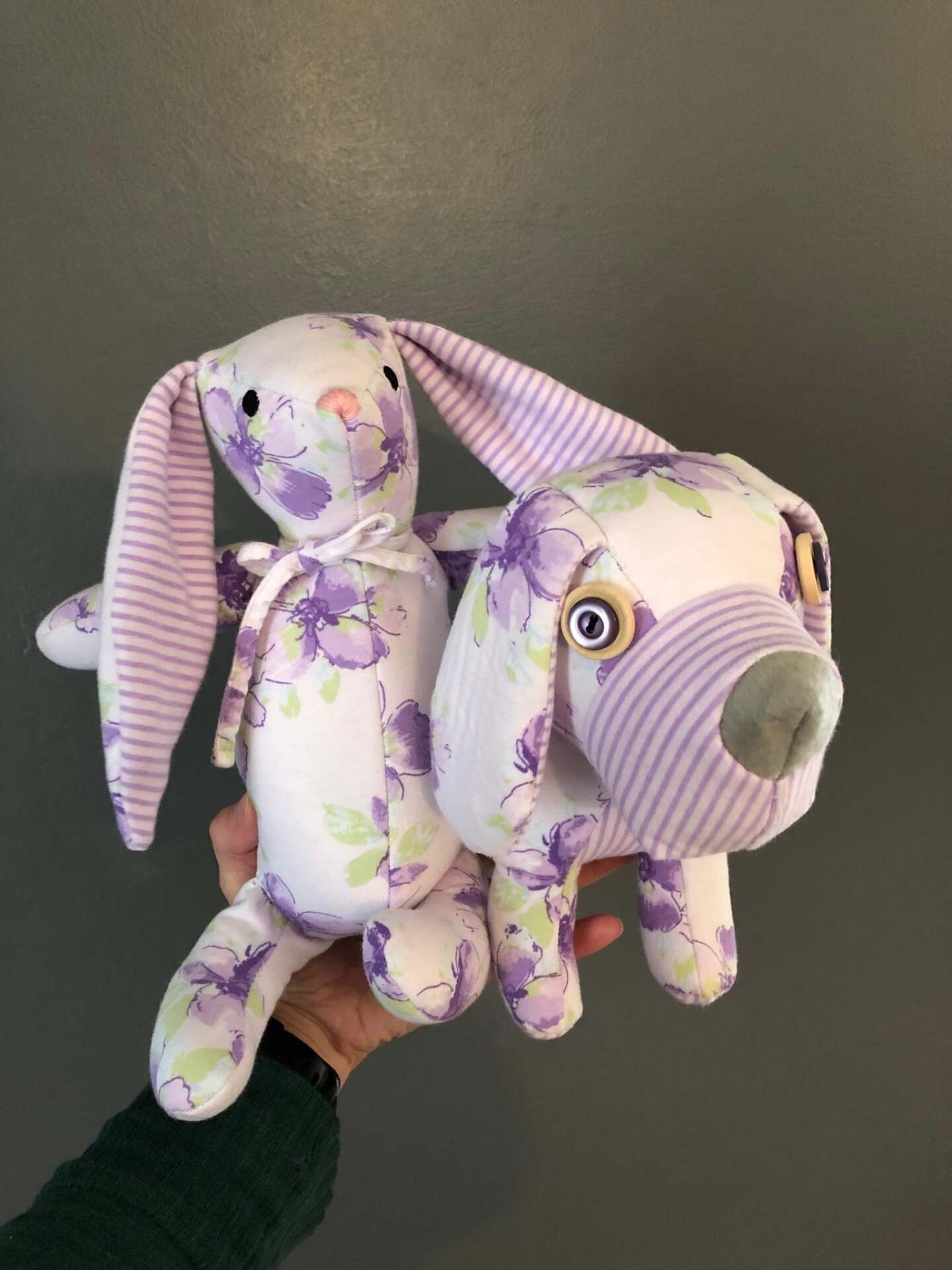 Why is this so important to you?
These projects are so important to me because these families allow me to help them in their grieving process. It doesn't matter how long ago a loved one passed away, you always miss them. My customers allow me to take an item that has been sitting in a drawer or a closet, unused, and create something tangible that they can hold and hug. I realized the power of these animals when I made one for my grandma using my grandpa's pajamas. When I had finished the bear, I sat with it for a bit and gave it a big hug and I can't really describe the feeling.
Having people trust me with their most sentimental items means so much to me – it's next-level trust. I take that very seriously. I am very careful with everything that is sent to me, and all unused fabric is returned to the family along with the memory animals I created.
What was your first project and why was it so special?
My very first commissioned project was for a friend, so that automatically makes it very special. Her mom passed away when she was young, and the only piece of clothing she had left was a dress. To trust me to cut up the only article of clothing that belonged to her mom was huge. To be honest, It took me a while to work up the courage to cut into. Her faith in me, plus the reaction when she first saw the finished items, meant the world to me, and has ignited something I never imagined. If you had told me two years ago that I would get to work on projects like this, I don't think I would have believed you.
How many projects do you take on at one time?
Typically I have 2-3 people's fabric here at one time so that as soon as I finish one project I can jump over to the next. Because of this process, I cut down on wait time. It also depends how large an order is. My largest order was for 20 memory bears! I only took on one project at that time!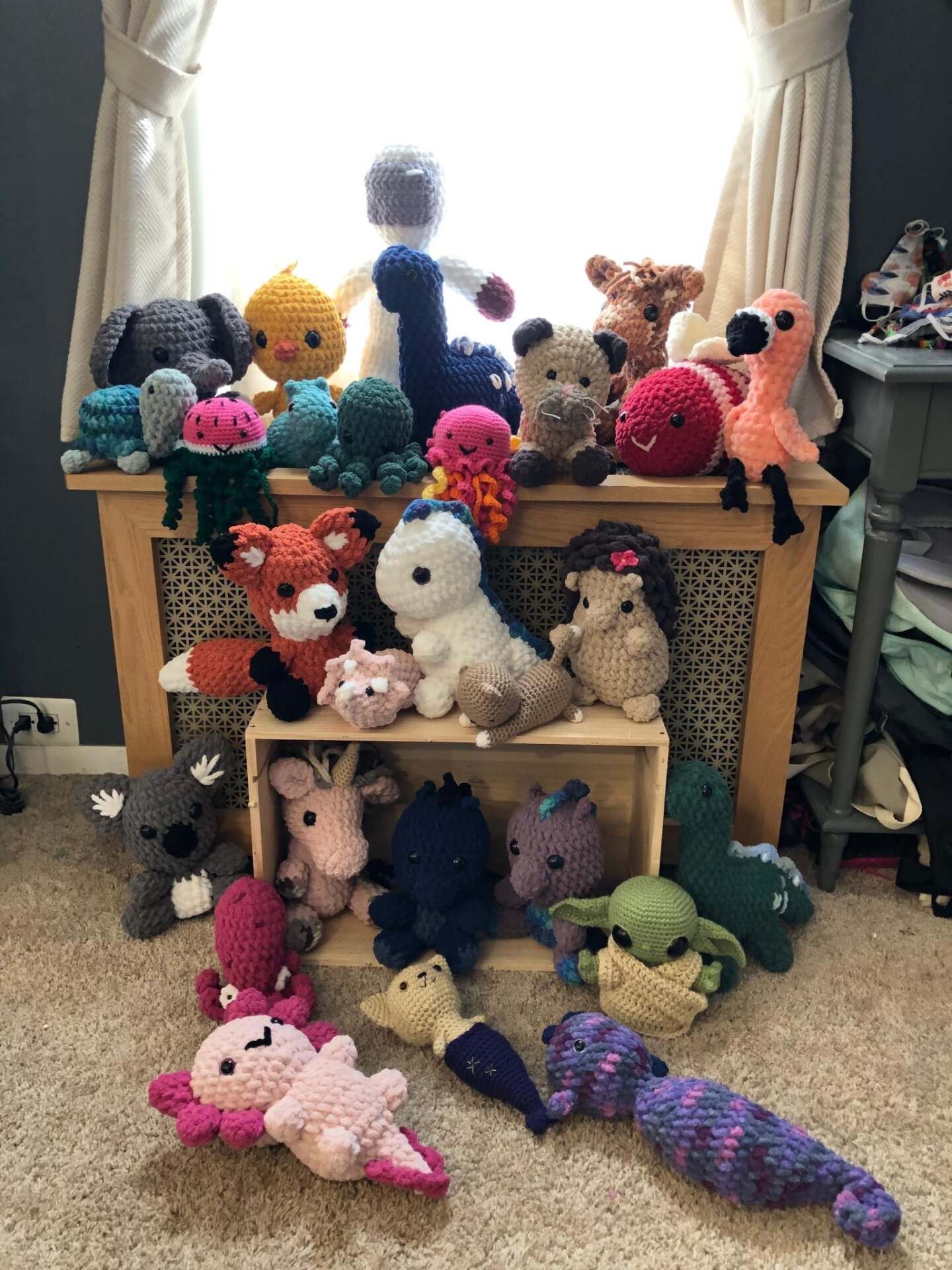 What items do you specialize in making?
I specialize in making memory items, like stuffed animals and pillows, from articles of clothing or blankets. I also create crocheted plushies, which I typically sell at local markets, or people can reach out for commissions.
What is the turn-around time for a project?
It depends on the size of the order, and since I'm just one person with a full-time job, this can definitely vary. If it's just one bear, I can finish that in a week. But larger orders can take a few weeks.
What is your current wait time to get to a Jess Creates Stuff project?
My new system is that I will open a few orders at a time and then close orders while I work through those items. At the moment, my goal is to open orders every 1-2 months. I always tell people to follow me on IG (@JessCreatesStuff) or TikTok (@SeeJessCreate) for updates. That's where I will post about snagging one of my orders when they do open.
Jess Creates Stuff also specializes in baby and wedding keepsakes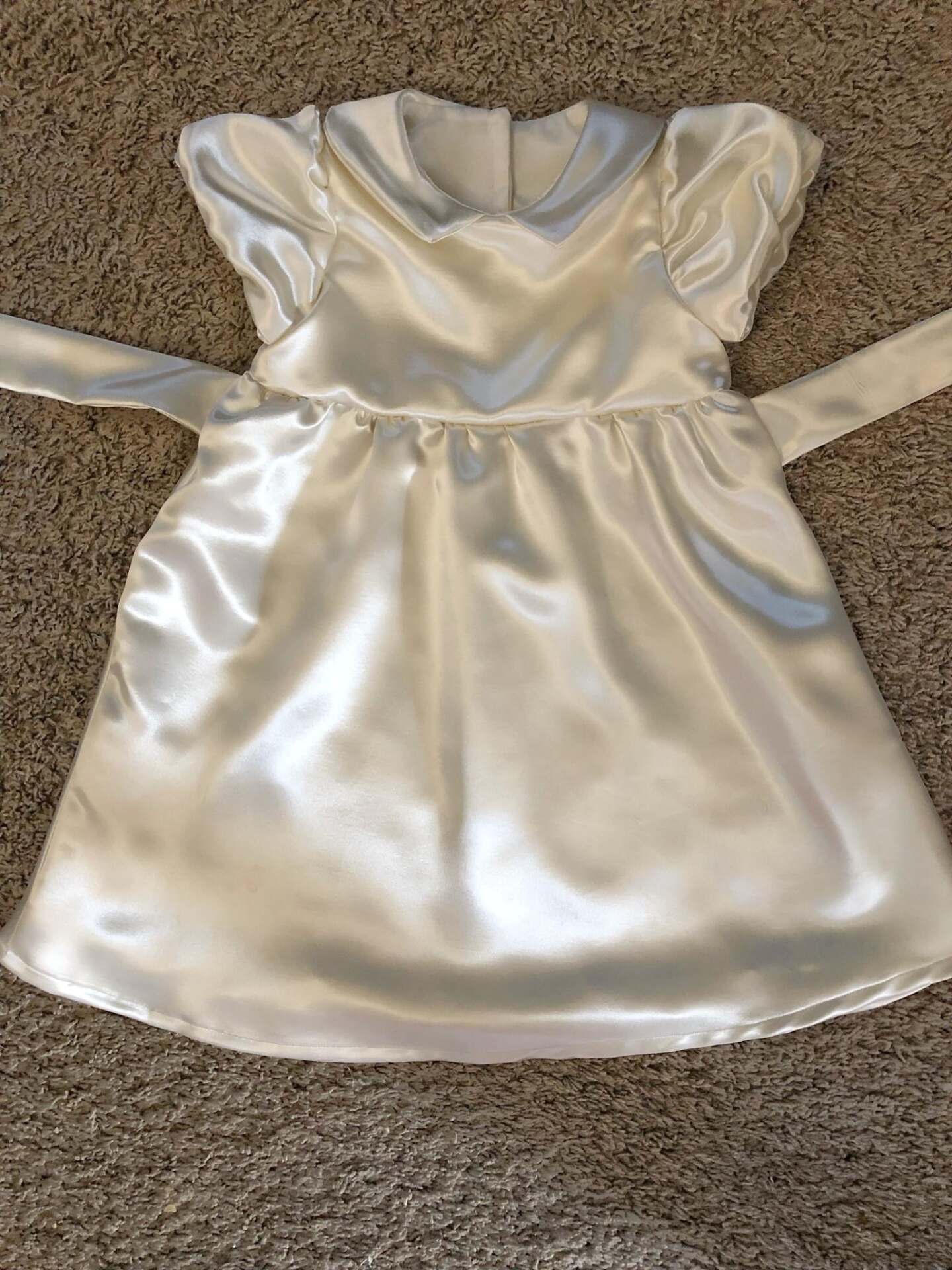 In addition to memory animals for friends and family members who have passed away, I also create keepsakes from baby items, like onesies and blankets. As your kids get older, you have this stash of sentimental items like favorite outfits, hospital blankets, etc. What do you do with them? They're not getting used but you can't throw them away! I love to create stuffed animals to help families keep those memories close forever.
I can also make a christening gown from a wedding dress. A family reached out asking if I could repurpose their grandmother's wedding dress so that she could, in a way, be part of the baptism as well. While I absolutely love making memory animals, there are so many ways to repurpose items!
Anything else you would like to add?
Just a heartfelt thank you to everyone who has encouraged me, purchased from me, or engaged with my content on social media! The incredible support I've received is more than I ever imagined. I've always loved making things, but never imagined people would actually want to buy something I made. This has been such a cool experience for me!
Again – don't forget to follow Jess on IG (@JessCreatesStuff) or TikTok (@SeeJessCreate) for updates !!!