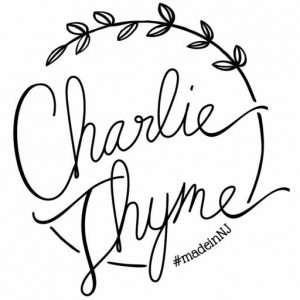 Owner Jenny Lichtenwalner recently opened an adorable new DIY store in Kenilworth at 200 N 14th Street called CharlieThyme-DIY Studio. She has been operating under this name at a store on Etsy called Charlie Thyme Etsy Store – for the last 6 years. Here you will find custom stickers, shirts, banners, rustic labels, burlap prints, and big farmers market tote bags! Just by perusing this online store you can already get an idea of what wonderful things you will experience at Charlie Thyme! Jenny loved her online experience but always wanted a storefront of her own! Thanks to a political tee that went viral around election time– she had a brush with fortune! The funds from this one t-shirt allowed her to open her own store!
I sat down with Jenny in the shop, which had already transformed itself into a crafters paradise, to find out what you have the opportunity to create!
Jenny commented, "I found that people wanted to make things themselves or have me show them how to get to the end result – however they lacked the space or the equipment. I have a hands-on, more practical art space. You can hang out with friends and bring home something very personalized and unique!
Do you have an event coming up where you need a custom shirt/sweatshirt made? Head to Charlie Thyme to use her heat press and choose from an array of brilliant fabrics, embellishments, fabric appliques, and basically any shirt color or style you could possibly imagine!
Lately her hottest items have been at street fairs and craft shows where she has been doing mugs (plastic or ceramic), a pre-set design chosen from 10-15 options, color in with your choice of markers, and it's heated to stay forever and dishwasher safe!
Charlie Thyme is full of wooden signs, headbands, coasters, shirts, tanks, mugs, bags, beach bags, water bottles, wall decorations, and towels ready for your personal touch! Jenny says, "If you can personalize it – we can do it!"
Charlie Thyme is also the perfect spot for social hour with your friends! You can book a birthday party, Girl Scout event, Ladies Night Out, Baby Shower, corporate team building (she will travel to your company), and basically any other occasion to get together and celebrate an event! She's BYOB for adults, can travel to any location, and has pizza and fun for the little ones!
My assistant, Andrea, thought this DIY space was so great that she booked a birthday party for her nine-year-old daughter and her friends! They had a blast customizing their own swim cover-ups and eating Papa John's pizza and cupcakes! Look at how adorable their creations turned out!
It's sweet and simple fun – the way gatherings are meant to be! Make sure you book Charlie Thyme now for a private event – they set up everything and you are ready to go! DIY just got better!
Call Jenny at (908) 376-6270 and make sure to follow her blog at https://charliethyme.com/ – it's where "Crafty Dreams Come True" – and they "Clean up the Glitter"!