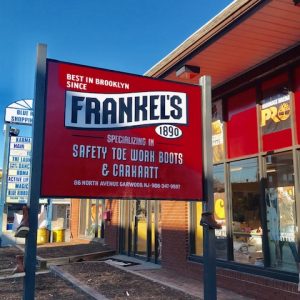 Ok, I'll admit – I'm a tad nosy when I see a formerly empty storefront showing signs of new activity. Little did I know, that when I walked into Frankel's in Garwood, NJ (located at 86 North Avenue), I would be one of the very first customers to step inside their newest location (right next to his son's local venue, Crossroads). I was immediately greeted by the friendly owner who was trying to catch his dog running around the store! The doors had just opened and he was in the process of stocking the shelves and displaying the immense collection of Carhartt clothes on the racks.
Frankel's in Garwood, NJ
I truly wasn't headed inside looking for a blog topic….I just wanted to see what this business was selling and what made it a "Best in Brooklyn since 1890" – as the sign stated! Once I met owner Marty Frankel, it was all over.
His charming personality and perfect salesman-like demeanor won me over. I knew he had an amazing story to tell – and a great photo to go with it! He immediately showed me a picture of the original store in Brooklyn. I felt his pride and it was obvious it went deep. This wasn't just ANY store opening in Garwood. It was one of those beloved family stores that you want to see in business forever because you can't recreate that history or those stories anymore. Small businesses that started in 1890 and are still going strong are one of a kind.
I fell in love with the entire story of Frankel's and the amazing roots this business has in our NY/NJ history. To get an idea of what it was like to walk through the door of this store in its heyday – check out this blog article by Jeremiah Moss http://vanishingnewyork.blogspot.com/2017/10/frankels.html . Even though I'm not the steel-toe boot, Carhartt-wearing gal – you bet I'm one of their biggest fans now!!!
Boots, coffee, Carhartt and more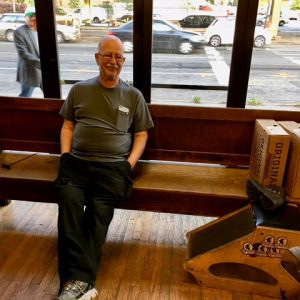 I sat down with Marty on an old bench at the front of the store. Not only is this the spot where customers can sit and try on their boots, but the coffee station was close by as well as the dog's comfy spot. After reading the above article, I realized this is THE bench – the one that is over a century old where Marty took naps as a child and countless customers have sat down found the perfect boot. I loved the nostalgia immediately. While the store's roots are in Garwood, I believe the Frankel's in Garwood, NJ, will be the perfect fit for our community.
The history of Frankel's
He told me that in 1890 his grandfather, Adolph Frankel, first opened Frankel's at 3924 3rd Avenue in what was then called Sunset Park (now called South Slope) in Brooklyn. The store was opened primarily for "Seamen's Supplies" – work clothes, shoes, and other items necessary for this line of work. Marty's father took over the business around 1934 and now Marty, who came into the business in 1968, has owned it for almost 50 years!
Marty grew up in this neighborhood and even went to school right across the street from the store! The neighborhood was everything to him. Even after moving to Westfield, NJ over 40 years ago with his lovely wife and children, he continued to make the lengthy drive back and forth each day. Over the years, Frankel's presence in Brooklyn became a stronghold in the city. It was THE place to go when building/working in the New York Tri-state area and needing to be outfitted.
Union made, Brooklyn (and now Garwood) proud
Frankel's brought in a ton of union workers back in the day– everyone who worked on the Empire State Building, Verrazano Bridge, and Goethals Bridge. Marty commented that Frankel's was one of the very first Carhartt accounts and the store sold Red Wing work shoes before anyone knew about this brand! They also sold Frye boots before they were "trendy"!
People would literally visit the store just to find Marty and talk with him! I can definitely see why – as he has so many wonderful stories and is so animated and clever! The best part is that Frankel's large, reputable corner lot landed it on the list of must-sees on the New York Historical Walking Tour!
Changing times lead to a change in location
In recent years, Marty started to feel the strain of the drive each morning and evening. He commented that it took him three hours to get to work and he would stay at the shop till the wee hours of the morning. The store also went through some rough times when Sunset Park wasn't the newly trendy South Slope. It was quite dangerous to be a store owner in that period of Brooklyn history. Marty also found that over half of his customers had moved out of Brooklyn and into Staten Island.
He had been looking at the building next to Crossroads for quite some time and he and his son decided to make the move together to relocate Frankel's to Garwood, NJ. Entrepreneurship clearly runs in the family as Marty's son, Lee Frankel, started Crossroads when he was only 21 years old! We all know and love this local venue which brings in the most amazing musical acts every month!
So, one day, the humorous Marty just put a "Gone Fishin'" sign on his door in Brooklyn and started packing. He stated that he is happier now that he doesn't have to make the long trek each morning and can spend more time with his wife and family. He is excited just to be able to sleep!
Plans for the future
He hopes that the Frankel's in Garwood, NJ, will continue to draw the same type of customers – those who come into town to work on the bridges, construction projects, and those needing work clothes. He prides himself on carrying the top brands in the business – Carhartt, Timberland, Thorogood Shoes (which he loves because they are made in the USA, Union made, and employee owned), Carolina boots, and Chippewa boots.
The women who walk into this store would definitely like the Harley Davidson boots and Justin Boots. Frankel's also carries uniforms, Carhartt up to 5XL, and the most amazing selection of socks that one could dream of! If you do any outside work or are looking for safe and warm outdoor gear – Frankel's is definitely your one-stop shopping with an amazing history!
And if nothing else – step inside to experience a bit of nostalgia (he has the best collection of antiques including an old shoe-fitting fluoroscope that is completely illegal now because of the radiation exposure) and to simply chat with Marty!
"I like retail – it's what I do", stated Marty. "My friends ask me when am I going to retire… I couldn't imagine doing anything else. I mean – how many people can say their business has been open for 126 years?"
A happy ending
The best part of the entire interview was when we were wrapping up…two young men entered the store in their outdoor work attire. The men stated that they needed some steel-toe boots and had been looking for a "boot barn". They were both from Tennessee and Marty asked them how they had heard of the store. They said they were working on a nearby project and a buddy told them that "Frankel's was the place to go"!
Marty immediately went to work and did what he does best…he picked out the best pair of shoes and sat them down on the bench. I could tell they were happy customers. And that, my friends, is why Frankel's will continue to be in business for generations to come. We are so happy that a part of history is now intertwined with our community!
For more information on Frankel's in Garwood, NJ, make sure to follow them on Facebook at Frankels Facebook , email Marty personally at MAF3924@aol.com , call them at 718-768-9788, and order off their website at https://www.frankelsny.com/. Marty stated that he is at the store 24/7 – but that people can stop in Monday-Saturday from 10am-7pm!