The concept of Fat, Drunk & Fancy all started with a drink in hand and feet in the sand! Westfield couple Kim DiGiovanni and Nick Rago came up with an entire brand based around the philosophy that our society needs to get back to sitting around a table and reconnecting. I met up with Kim and Nick at Farinolio in Westfield to chat about all of their exciting happening over a croissant and espresso.
"For anyone with an open mind and a sense of adventure, we welcome you to join us at the kitchen table to experience the power of a great meal." – excerpt from Fat, Drunk & Fancy Presents "The Power of the Kitchen Table: Foodgasmic Conversations – The 10 Secrets to Happiness"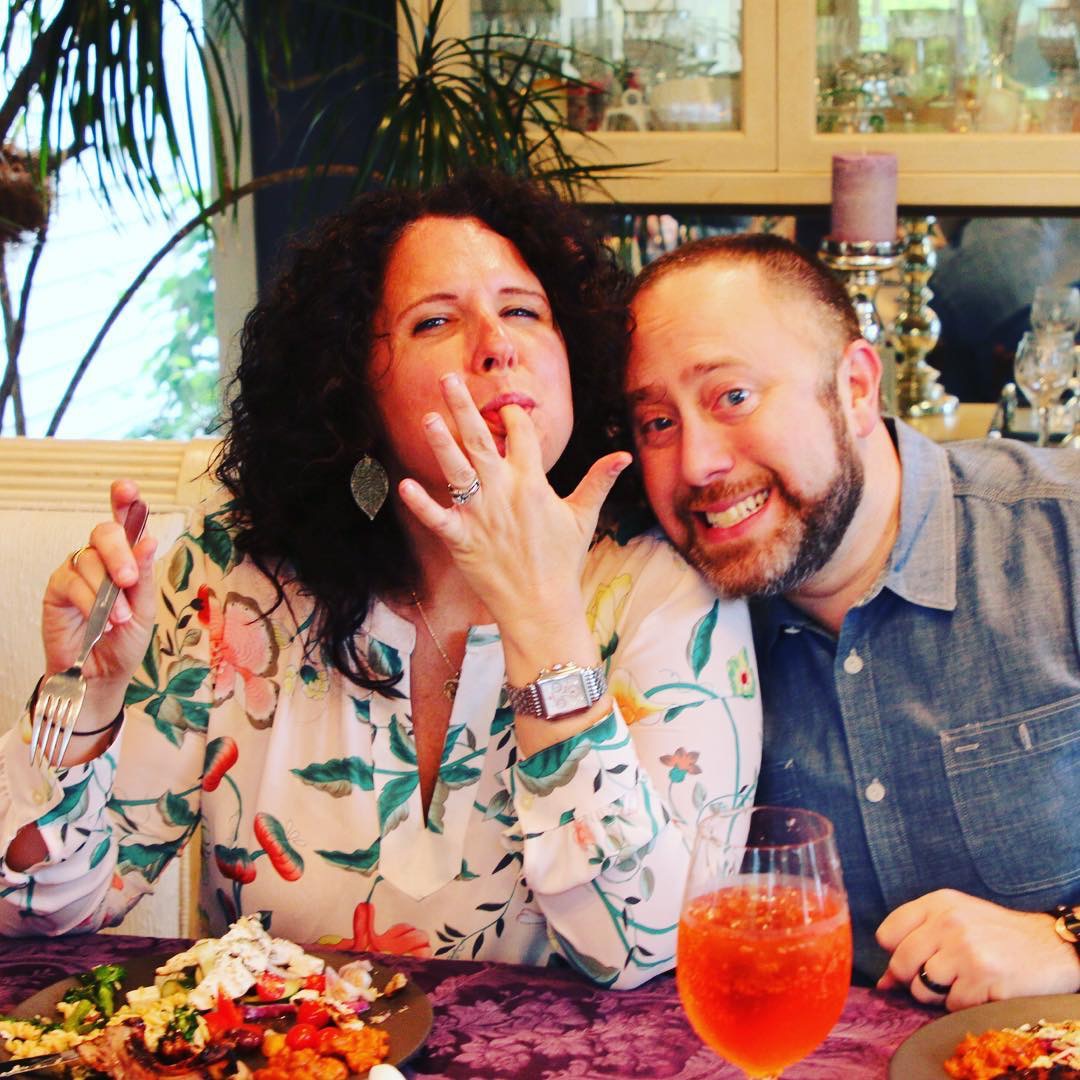 Nick and Kim both met in the corporate world. Like many couples, it first started in friendship and a joint love for food – GOOD food. Their friendship slowly blossomed into love and they were married in November 2017. They had separately lived all over in New Jersey but together decided to have their feet planted in Westfield – close to family nearby. This decision was perfect for the newlyweds as they like being close to restaurants in all surrounding towns!
Tell me how you came up with this concept…and the name!
Nick: The actual coming up with the name and starting toward the book happened in Italy and solidified in Aruba. It's a play on words – it evolved very naturally among our friends. We just we get our friends around a table and all kinds of magic happens – fun stuff, powerful stuff. It's really fascinating the conversations that come up! There's something there. People coming together for a reason!
Kim: There's something about sharing a meal together, drinking coffee, a glass of wine – whatever it is. Fat, Drunk & Fancy is all about being full of possibility and having your imagination and dreams take over you and you feel like you are capable of doing all those things. It all comes back to the experience around the kitchen table – and how powerful that is. You want to share that with people. We want to bring that back to being the center of people's homes again. When everyone is so busy now doing a hundred things and going in a hundred directions – it's so important. We've been playing around with "making the kitchen table great again"!
Nick: You literally feel something different – you feel centered and things happen with the right people – great food and drink bring people together in a way that nothing else does.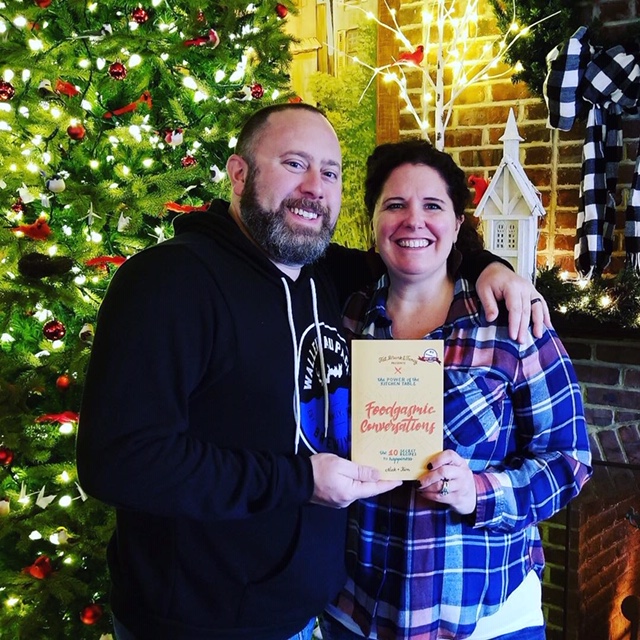 The Book
Kim and Nick just self-published "Fat, Drunk & Fancy Presents: The Power of the Kitchen Table – Foodgasmic Conversation – the 10 Secret Recipes to Happiness". It came out in June 2018 and became a #1 Amazon.com Bestseller by October! Each chapter is a recipe connected story that is meaningful to the couple and teaches a lesson – such as Kim learning to make the family's secret gravy from her grandfather or Nick tackling a fear of trying new food or how to host a Sunday dinner!
Kim: The book is really about taking these stories about family, food, and experience and then linking it to a recipe. The book is titled "The 10 Secret Recipes to Happiness" and there's a recipe and story in each chapter for each experience we've shared. And that's how the book came about – it's the basis for how we built Fat, Drunk & Fancy. Trying new things, being with family, shared experience – all these different concepts that I think naturally happen when you are in this place of sharing a meal and being around a kitchen table. It's about a feeling. That's what we are doing with these events in the community at local restaurants. It's starting out very small, but my dream is that it grows into these events where you come together over food and then go home and recreate that experience.
Foodgasmic Conversations – Happening Now at Your Local Restaurant
Nick: We really want to bring people together around the kitchen table in our community. Surround yourself with people you enjoy being around and let the magic happen. We want to create events around town where you are compelled to go because you enjoy the conversation so much and want to keep coming back.
Kim: We did the first one in our own home with the chefs from A Toute Heure, 100 Steps, and the former chef of the Cranford Hotel. We had them over for dinner and it was a fabulous evening and one that solidified our mission to go out create special experiences at our local restaurants. We all wanted to start stories that go beyond the kitchen table!
Kim and Nick have been quite busy with all of their "Foodgasmic Conversations" in the area! They have been to ATH and 100 Steps Supper Club – bringing neighbors together for a chef prepared dinner and wine tasting – and leaving knowing each other a little better! They are excited to announce their next dinner soon and I will be sure to post that immediately!
Be a Part of the Concept…
Make sure you follow Kim and Nick on Facebook at Fat, Drunk & Fancy FB Page and frequent their blog "Living Life with No Regrets" at their fabulous website https://fatdrunkandfancy.com/ where you can also buy a copy of their book! Kim and Nick are busy writing reviews on restaurants, telling tales of their foodie travels, describing their Sunday Suppers at A Toute Heure, and giving tips on "Food for Thought Monday"!
Nick & Kim: We want you to leave our events feeling like a family and hope you understand the concept of the kitchen table. We want you to carve out a little time each week to come together– to bring people back to that – and then it's a success for us. Food is truly symbolic of love when words are inadequate.