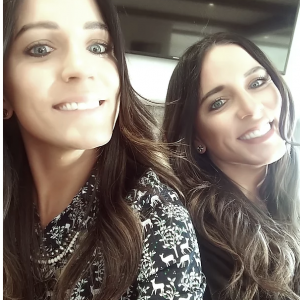 What Dana and Danielle Malcolm are doing over at Farm to Board is pretty unique and spectacular! This twin sister team is taking cheeseboards and charcuterie to a whole new level and will hand deliver these gorgeous arrays right to your front door!
Dana and Danielle Malcom are currently residing in Cranford and both are teachers who were looking for a creative outlet. It all started with cheese board creations for family and friends. They were loving the positive feedback they were receiving after each event! Along with their mother, Cindy, they decided to start their own business. This past summer of 2018 everyone sat at the kitchen table and started on the focus of Farm to Board and creating the essence of their business -the website and a strong social media presence. If you haven't visited their Instagram profile at farmtoboard – head over there right after you read this! Their creations are simply stunning…period.
The ingredients used in Farm to Board charcuterie boards
Let's talk about their ingredients – at Farm to Board, Dana and Danielle "believe in sourcing only the finest cheeses, freshest meats, and most unique and delicious accompaniments". They hand select every item from local sources whenever possible – such as cheese from Valley Sheppard Creamery in NJ and Murray's Mini Brie from NY state! You will also find decadent cheeses from California and Vermont as well as charcuterie offerings from the East Coast and local wildflower honey.
Boards range from small to large and there's even a choice for a Sweet Farm Board (indulgent, sweets, fruits), a Picnic Box (think brewery, corporate, wineries, workshops, retreats), and the latest Palm Leaf Tray (grazing snacks for two at a sip n' paint, picnic, shower). You can choose "Meat + Cheese" or just "Cheese" for your board. Everything is seasonal and the eye candy accompaniments throughout the year could include apricots, pistachios, mission figs, wildflower honey, almonds, dark chocolate…just to name a few! My favorite added touch is the placement of the most beautiful flowers on the spread!
Who should order from Farm to Board?
Immediately – my mind starts thinking about all the perfect uses for these delectable boards! They are PERFECT for local business owners, realtor open houses, grand openings, board meetings, picnic boxes for breweries, Girls Night, Sip 'n' Shops, party buses – the possibilities are endless!
Farm to Board is currently accepting orders in New Jersey and Eastern Pennsylvania (Allentown and Lehigh Valley area). Ordering is so simple! Dana and Danielle ask that you give them a 72-hour ordering time frame. Order through their website at www.farmtoboard.com. Click the link, choose your board size, enter your delivery date/time, and you will receive your confirmation email. After that – it's one of these amazing ladies delivering your cheese board right to your home/business address!
Future plans for a storefront
Dana and Danielle are very excited about the future – and they should be! They would love to have a storefront one day and are already talking business with a seaside hotel! Farm to Board is a very unique local business and I hope that everyone can find a use for this company in their upcoming holiday, special occasion, or business event! There's really nothing like this around!
"When we began brainstorming about Farm to Board, we did a good amount of research to see if there were many businesses here in NJ with the same concept. We found a ton on the West Coast and even more in Australia but not really any businesses in NJ that focused primarily on curating cheese + charcuterie boards. In addition to that, we pride ourselves on sourcing products that are 100% domestic, often sourcing solely from NJ. We also love curating our boards around the seasons. This allows us to give a fresh take on boards we are creating from week to week, season to season."
What are you waiting for? I can't wait to see pictures of these boards at your own events! Make sure to follow them:
Website: www.farmtoboard.com/
Facebook: farm2board FB
Instagram: farmtoboard IG