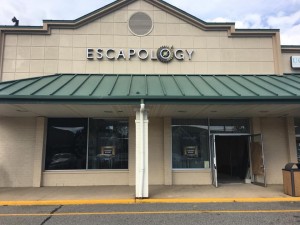 Many of you may have heard about the escape room frenzy – they seem to be popping up and no one knows exactly what they involve unless you have actually participated in one. I'm here to tell you that the very BEST escape room around is opening up just minutes from the Cranford/Westfield area and is going to be around for quite some time because it's just that exciting!
Adults, like kids, get bored easily with the same old thing. The new Escapology Escape Rooms in Garwood (Escapology Home Page) at 300 South Avenue next to Crunch Fitness has the most intriguing and gorgeous rooms around! They will keep changing as long as you keep visiting with your friends and family! Read all about the latest in group entertainment and what you can expect when they open their doors.Their soft opening is scheduled for NEXT FRIDAY, November 24 at 11:00 am! Walk-ins are welcome while they work on training their fabulous staff!
I sat down over the summer to speak with one of the owners, a Westfield resident – Michael DiChiaro. Believe it or not – he's an airline pilot with a passion for mystery and riddles! He filled me in on why the partners decided to start this business in Garwood, why escape rooms were on the mind, and what keeps them excited every day when they go into work!
The franchise owners are Michael DiChiaro and his wife, Michelle DiChiaro. They joined with their friends, James Minniti and Ana Minniti. Michael explained, "This is a family entertainment business". They discovered the fascination with escape rooms while his eight-year-old daughter was playing similar games on her IPad one day. She loved them so much that he scoured the internet to see if they existed in real life. They found the impressive company, Escapology, and Michael and his wife went for a visit. "We really loved the entire concept – it's fun being a detective – like playing Clue!"
They wanted to open up a local entertainment center that was geared towards family entertainment, corporate team building, and hanging out with friends. The owners fell in love with the franchise Escapology because each room is intricately designed with televisions, amazing scenery, and hidden clues that could possibly open secret doors! This is the largest franchise in the business of escape rooms and is an overseas company that started in the United States in Orlando and Las Vegas. Michael stated, "There is no match to the quality of this particular company – amazing quality with computer based training!" Escapology is really like live "Clue" – you have some facts and you go and solve a problem.
With 42 escape rooms already in New Jersey, the partners felt the need to set up business in Garwood because the area was rich with families and so close to neighboring towns and NYC area residents! The Garwood location will be the first Escapology in the Northeast.
Unique to Escapology -there will be a large lobby and private lounge perfect for hosting gatherings of friends, business events, or epic parties. Six people will be able to play a mystery in any of the six themed rooms! Each experience is approximately 60 minutes – or depending on how quickly you are able to solve the mystery! With the addition of a private party room – this makes for a great afternoon or evening night out!
One can host huge events perfect for 80-90 people. A business could do a presentation in the lobby with breakfast or a birthday party with a chance to mingle afterwards. The presence of a large television can be used for any purpose – photo slideshow, business presentation, and videos! Escapology is also offering catering from local restaurants to add to the party experience!
Michael recommended that the age for playing the escape games is 8 years and up due to the complexity of the puzzles (however any child under the age of 8 is welcome and FREE). Individuals ages 8 and older will be asked to pay the special Grand Opening Price of $29 (Saving Santa room slightly more)! Children 18 and younger must have a signed waiver. The business welcomes everyone to come out and enjoy the excitement of escape rooms – perfect for large families, scouting events (earn a patch for a scavenger hunt/detective work), birthday parties for kids and adults, corporate events, mingling with friends, and holiday fun!
Here is a peek at the six rooms that you can experience at Escapology…
Cuban Crisis: You are Don Frederico, a CIA Field Operative, your code name is Gerrard "Gerry" Droller and you work directly for the President of the United States, J.F. Kennedy. Your mission is to infiltrate Fidel Castro's palace, locate the secret KGB office, and find out who was responsible for shooting down the American plane.
Arizona Shootout: The whole shoot out takes only 30 seconds – the most terrifying 30 seconds of your life! After the dust settles, 3 bodies lay in front of you. Quickly, you notice two of your people are injured but the rest are unharmed. The marshals have won the fight! However, there is some bad news: the other 2 outlaws are nowhere to be found. The marshals must quickly identify who has been shot and who is on the run. You will have 60 minutes to complete this task or the 2 outlaws will surely escape to Mexico!
Antidote: You are a team of scientists investigating Dr. Brandt's abandoned laboratory. You've been tasked with finding the only known antidote to virus TS-51 before it gets passed into enemy hands.
Budapest Express: Moving through the cabins and gathering evidence, the killer knows you are hot on their trail and has decided you are their next target. With you out of the picture they would be free to escape when the train stops. Solve the riddles and puzzles, gather the evidence and solve the murder before it's too late!
TH3 C0D3: You are an FBI agent and know that Nitr0 always provides a kill code for every crime in case things go awry. You must find that code, kill the program, and escape within the hour so you don't take the fall for the biggest crime in American history
Saving Santa: (Just in time for the holidays!) PLEASE NOTE! This game is designed for children and is perfect perfect for 5 to 14-year-olds. Adults will find this game too easy so bring the children and let them solve the puzzles! Four-year-olds may be a little young but the room has a fun design and there are special treasures to find along the way! Their Secret Elves will guide you through the game and let you know whether the adults may need to help the youngsters along! Escapees MIGHT actually get to meet Santa who MIGHT have a small gift to thank them for saving him!! But don't let on….
It's just too much fun and I can't wait to bring my friends and family to experience a PRIVATE game room – because you NEVER play with strangers! Make sure you book online NOW for any date on or after December 7: Escapology Online Booking. Again, there is a soft opening on Black Friday, November 24 – just walk in anytime starting at 11:00 am!
With the holidays right around the corner– it's a great time to visit with friends and family. Visit their website at Escapology Garwood to find out more information on your visit and to order gift certificates! Make sure to "Like" and follow their Facebook page EscapologyNJ for current deals and promotions! Call 908-232-2222 for any questions or email Michael or one of his partners at garwood@escapology.com
Garwood's original real-life escape game experience! Located in a prime spot next to Crunch Fitness in the Kings Shopping Center, up to 6 players will be challenged in this new attraction by working together to find clues, solve puzzles, and pick locks that will free them from the game room. Do YOU have what it takes to escape?