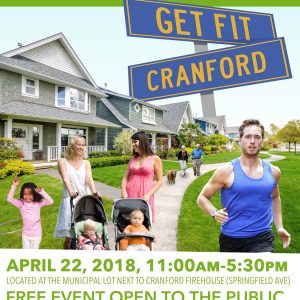 Everyone is invited – young and old – to the 1st Annual Get Fit Cranford on April 22 from 11 am – 5:30 pm. This FREE event will take place at the Cranford Firehouse on Springfield Avenue and portions of North Avenue will be blocked for kids activities. This is a partnership between the Cranford Community Connection, Mayor's Wellness Campaign, Cranford Township, Cranford Jaycees, and the Cranford DMC.
I spoke with Ashley Legg of Legg Day Fitness – who is also a huge community supporter and vital member of the Cranford Community Connection. This is a group of volunteers dedicated to bringing the neighborhoods of Cranford together to celebrate community and friendship. If you went to Porchfest 2017 – you know the amazing things that this organization can pull off!
"This is my baby!", commented Ashley. "I am so excited about this event and hope it continues year after year!"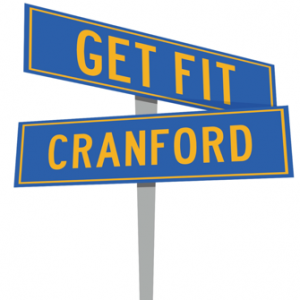 The goal of Get Fit Cranford is to promote healthy living in the community and it meets the goals outlined in the Mayor's Wellness campaign in that it involves everyone from youth to seniors and community to business owners. "This entire day is about getting everyone excited about working out and making healthy choices!", stated Ashley.
The event will kick-off with a welcome message from Mayor Tom Hannen. It's also Earth Day – so he will connect the events of the day to being "green" and "environmentally conscience". Every half hour till 4:45 pm there will be classes taught be local businesses!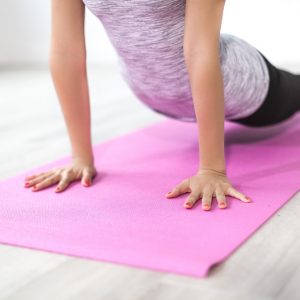 Get excited about Tai Chi, Earth Day Boot Camp with the Farmer Carry, Hands of Life Martial Arts, Hot Yoga Revolution, Strength and Fitness, KOA Cross Fit, the new Home Yoga soon to open, and Alluem Flow Yoga. And that's just to name a few! Get Fit Cranford will conclude with a special dance instruction by the Arthur Murray Dance Company!
The Senior Citizens of this community will be in the spotlight at Get Fit Cranford! Our lovely Cranford Community Center instructors will take center stage and have their classes on-site! Dancercise and Brainercise will be sure to get you moving and thinking! Spoiler alert…Mayor Hannen will steal the show while he gets the crowd amped-up with Senior Simon Says!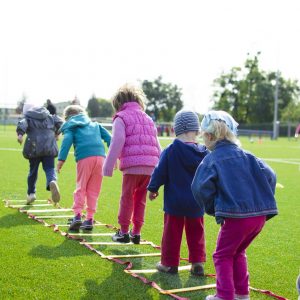 Don't forget about the special Kids Section! There will be a special designated space on North Ave with firefighters spraying their hoses, Alluem doing kids yoga, the CHS Hockey Team showing off their stick handling, and a special appearance by the CHS Football team!
Ashley suggests that everyone dress in clothes ready for working out, a pair of sneakers, bring a water bottle, and pack your yoga mats if you have them!
In addition to all of these classes there will be live music by our local DJ Randy Geis (also a CCC member) from 5:00-5:30 pm! Your favorite local and healthy businesses will be making a special appearance! Enjoy samples of healthy eats from Cranford Playa Bowls, Juice House, and Subology. Local physical therapists and Cranford Acupuncture will be on site for some demonstrations as well! Bella Organici, Think D'Sign Print, Yogiscents, and many more vendors will also be at the event! You can't get any better than this!
Please see the schedules and vendor list for the big day!
In keeping with the Earth Day tradition and being fit – all families and neighbors are asked to walk into town at the conclusion of the event to take part in some healthy and clean eating at our phenomenal selection of restaurants in Downtown Cranford!
Make sure to follow all the news and updates at their Facebook page: Get Fit Cranford
So go out there Cranford – HAVE FUN and GET FIT! Thank you so the Cranford Community Connection for always organizing such fun events in our town!