Fall Design Inspiration and Unveiling Secrets Ahead of Cherry Home Design's TV Premiere!
In our latest blog, we unravel the inspiring journey of the dynamic husband and wife duo, Christine Escribano and John Pizzi of Cherry Home Designs in the heart of Westfield, NJ. This husband and wife team embarked on a journey that blends their passion for design and unwavering commitment to helping homeowners turn their houses into homes.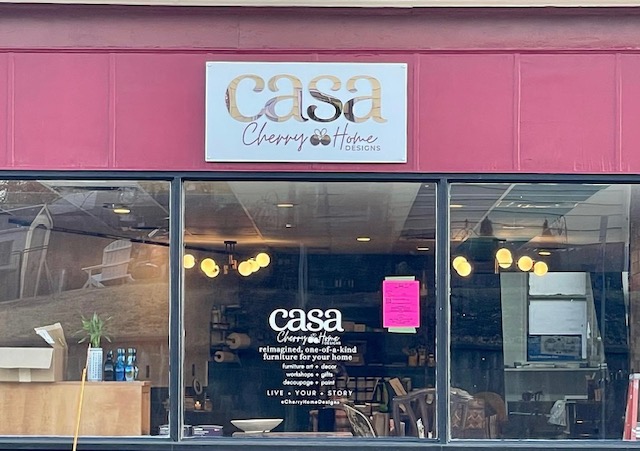 Curious about how they started their Cherry Home Designs venture, what inspires their creativity, their secrets to impeccable home decorating, and what's on the horizon for the fall season at their Casa storefront studio? Also, join us on an exciting journey with Cherry Home Designs, as they take center stage on Beachfront Bargain Hunt: Renovation, airing on the Magnolia Network this Friday, September 22 at 9pm ET. This is an exciting time for this new Westfield, NJ business!
A little bit about Cherry Home Designs
Cherry Home Designs, in partnership with Unique Concepts Builders, is a design and general contracting firm that helps our clients live their story. We elevate the design of homes with an eye on personalization and salvaging vintage and sentimental furnishings and decor. Together, we help clients reimagine their home to reflect a life well-lived while making it functional for their present and future.
Cherry Home Designs and Unique Concept Builders DBA Casa Construction bring five decades of combined construction, development architectural design and project management experience to the proverbial table to make them a complete interior and exterior package. We also have a design studio that we opened in March of 2023 at 401 W Broad Street in the heart of Westfield NJ Living called Casa by Cherry Home Designs.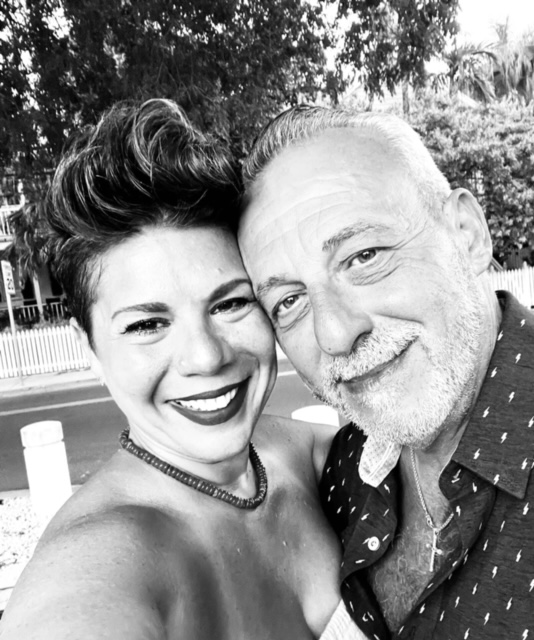 What did you do in your "past lives"?
CHRIS: For the past 27 years, I was in the advertising, media, and marketing business, most recently at NBC Universal for 14 years. There I worked with blue chip brands to create national, local, digital, events, content, and social marketing campaigns. While doing that work, I learned about building brands, marketing to consumers and the human condition. Marketing, like design, is about people. I always considered the needs and wants of people when creating a marketing program or developing content.
I planted the seed for my interior design business in 2017 while still working in corporate marketing and did work for family and friends on the weekends. Two years later, with the support and encouragement of John, I decided to pursue my passion full-time…and Casa by Cherry Home Designs was born.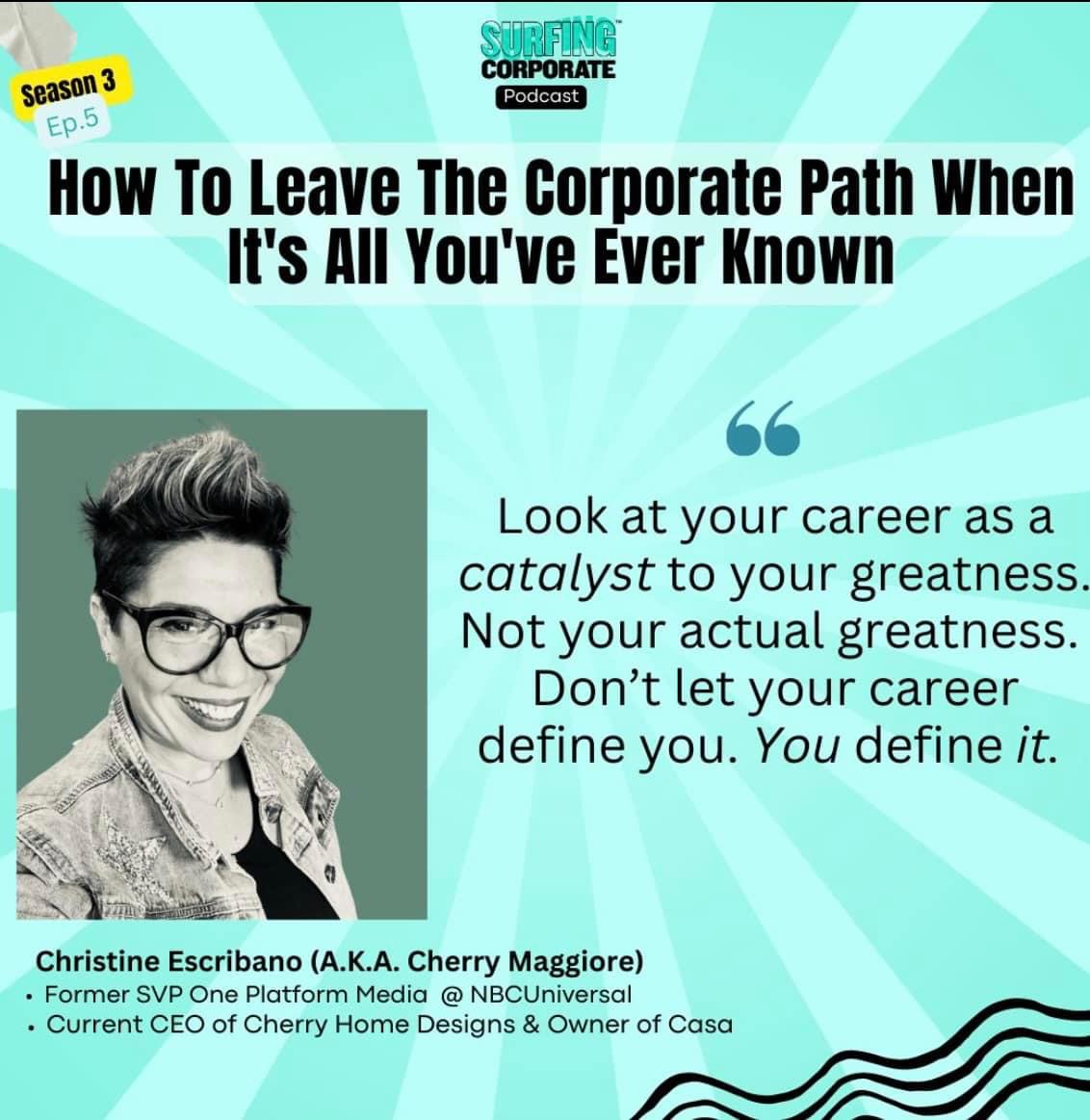 JOHN: Prior to starting my own business, I was the SPM/VP at a mid-size commercial construction firm out of Long Island. We built and renovated retail, commercial, industrial, and big box stores. I started my private residential construction business in 2017 and paused that business after about two years due to my primary work being so demanding.
After renovating our Wildwood vacation home and launching the short-term rental business, I caught the bug and decided to make that dream a reality. Plus, Christine and I are a great team! We make each other better as people and business owners.
What is your own personal design philosophy?
CHRIS: Live your story. Simply said, we each have a unique story and throughout different phases of life that story evolves. My hope is to work with people to get them to create their design around WHO they are today and how their family will grow and change in the future. Not to just consider design trends and be driven by the masses. What makes a house a home is the people in it. If you want a showroom home, I wouldn't be the right designer.
If you had to choose 3 words to describe your personal style, which would they be?
CHRIS: Steam Punk Glam
JOHN: Modern Italian Villa
What do you look for in every room?
CHRIS: Generally, when designing a room, I look for these five key elements:
Personal items: pictures, antiques, art, etc. that tell me a little bit about the person/people living in the space.
Layout: flow and function. With function, I ask my clients what they are using the room for today and do they have a new vision for its usage in the future.
Purpose: understanding how and who uses each room and what they use it for is critical aspect of my design consult. I also consider current function and future purpose. For instance, if a client is using a bedroom as a guest room but it will be a nursery in the future, that future purpose plays into my furniture and decor recommendations so the design can grow with the family.
Light source: natural vs. artificial; generally, I love to see my clients' homes in the day and at night so I can truly get a sense of how light plays into the story of their design. This influences color selection, furniture placement and overall lighting design.
Energy: Our homes are living and breathing places. Call me crazy, but I believe each home has a distinct personality that speaks to me when I walk through the front door. Older homes have a strong presence and it's important to "listen" to the family living in the home as well as the energy and history of each home.
What space in the house is the most overlooked?
CHRIS: Doors, hallways, and staircases. When I was a little girl, I used to walk around my Brooklyn neighborhood looking at all the houses, imagining what the homes looked like beyond that front door. After growing up in an 850 sq. ft apartment with my family of four, these front doors became a symbol of a better life. While they are transitional spaces, they offer BIG opportunities for functional benefits and personalization. Since no one "lives" in those spaces, those are usually the last on the project list.
JOHN: To me, a TV room/den has become very impersonal because people access content everywhere now with their phone. So really, the kitchen, dining and living room are where people end up together.
Current favorite color?
CHRIS: Green. ALL the shades of green; from deep rich forest green to sage to Kelly green. It's the color of abundance and nature and it brings me peace.
JOHN: Blue is my personal favorite, as it reminds me of the color of the ocean by the beaches around southern Italy where my family home is located.
What inspires you lately at Cherry Home Designs?
CHRIS: In terms of design, my time has come! I'm a complete maximalist and it appears that this design movement is on the rise. What I love about the maximalism is that is can show up as bright and cheery or dark and moody. There is a fine line between maximalism and design chaos, I love to walk the edge of that line. I'm also obsessed with sensory design. When I walk into a home, I become attuned to the visual, of course, but there's also the sound, smell and texture of a room that inspires me.
JOHN: Lately, designing exterior spaces has been an obsession. With interest rates so high, many people are looking to expand their livable space into the backyard and porches. We have projects that start on the inside and then naturally flow to the exterior. One project I'm especially excited about is converting a garage into an outdoor resort with a container pool, bar, lounge area and game room.
Recommendation for "what to do first" in a decorating project?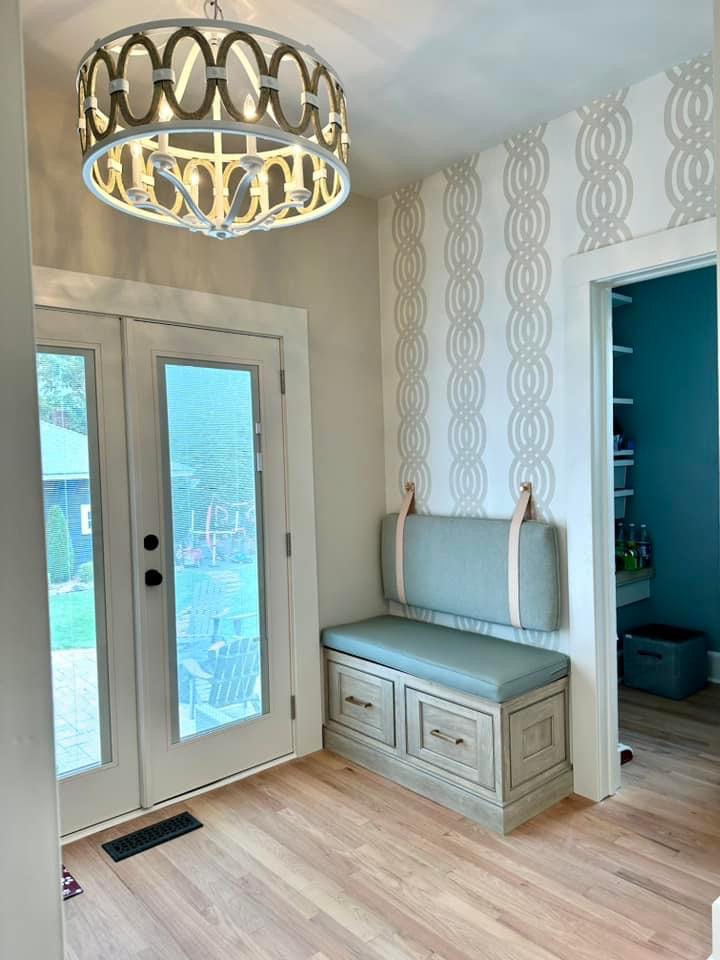 CHRIS: Find a point of inspiration. Whether it's a piece of art, a wallpaper pattern, furniture piece, a pillow you love, or a room you admire. Once you have your inspiration, take note of the colors, shapes of that item and draw those into the room through different elements.
How does Cherry Home Designs combine functionality into your aesthetic?
CHRIS: Functionality is paramount. It should be considered above all things. A good designer can make any space beautiful but making it functional AND aesthetically pleasing can be a challenge!
Favorite design project to date?
CHRIS: Truth be told, each new project becomes my fave. At the moment, John and I are working on a massive kitchen, bar and pantry reno that expanded to almost the entire first floor of a local Westfield, NJ family. Also, I'm obsessed with our new 100-year-old vacation rental in Wildwood, NJ which is complete design overhaul. Every single room being painted, floors being restored, and everything being furnished. The exterior has a two-phased approach.
JOHN: My favorite has to be the kitchen reno Christine and I are working on together. It's for an awesome local family and I love that we can assist in making their kitchen more functional. The best part of this project was when we discovered that we could raise the ceilings by 7". This was not in the original scope of work, but when the client surfaced the idea, I was thrilled we could make it happen.
What advice do you have for someone with a new house to decorate and a limited budget?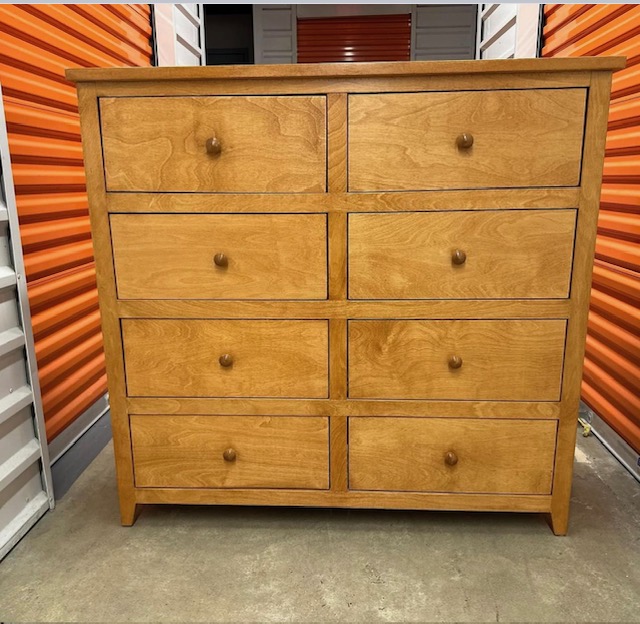 CHRIS: Shop your home! Look at what you have that you love and start there. Shop your parents' house. And while you're at it,
shop your friends' houses! If all else fails, go to Estate Sales, Facebook Marketplace, or join the groups where people give things away in the town where you live.
The most amazing aspect of design is that a can of paint can completely transform a piece of furniture or a room for under $100. Additionally, think of your home design in phases. Start with the bigger pieces and then fill in the blanks with decor. This is an important part because the larger items, like a couch or dining set, are the biggest investments. You can fill in the blanks once those pieces are set which makes the entire process more enjoyable.
I also recommend putting one investment piece in each room. The Hi-Low design approach. The higher end piece will elevate the entire design and make it all look more expensive. I love designing on a budget. I find it to be one of the hardest and most rewarding aspects of design.
What services does Cherry Home Designs offer clients?
We offer a one-hour free design consultation to begin the design journey. Then you can choose your design path! You can always find us at our storefront, Casa by Cherry Home Designs in Westfield NJ. Come in for a cup of coffee or a glass of wine and we can chat about your home dreams and desires.
Please tell us more about your Front Door Project!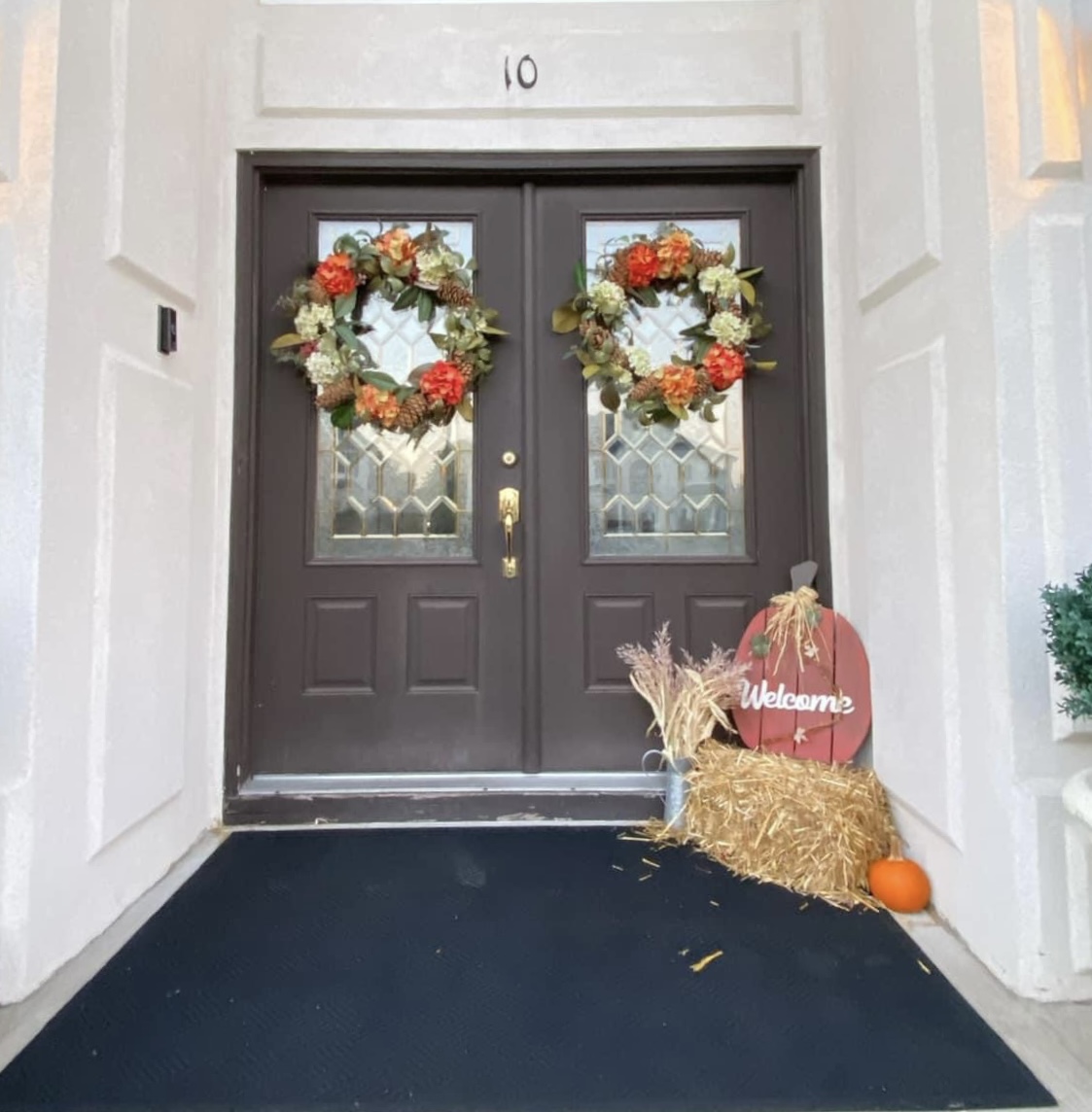 I believe that the front door of a home is the first impression of your style. Interestingly, front doors are the bridge between your
interior and exterior design and often the most ignored part of the process. My vision is to make front doors the next big movement in interior/exterior design.
Any special events coming up?
YES! One of our vacation home renovations will be featured on an episode of the popular beach-inspired show, Beachfront Bargain Hunt: Renovation on Magnolia Network this Friday, September 22 at 9pm ET! It's titled "The Italian Job in Wildwood, NJ" – Season 6, Episode 10. Look out fo
r a Westfield, NJ cameo in the episode. and come shop with us and get the scoop on the renovation!!! Our 25% Back to School sale is happening now at Casa.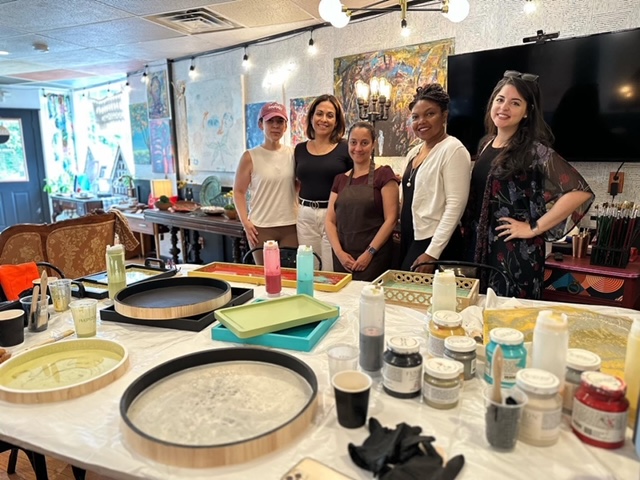 I also host monthly workshops at Casa, for people to learn how to transform furniture using different artistic mediums like paint pours, decoupage, appliqués, stenciling and much more. I also host private events if you can bring four-six guests.
Follow me @cherryhomedesigns, to stay abreast of all our events and design work!