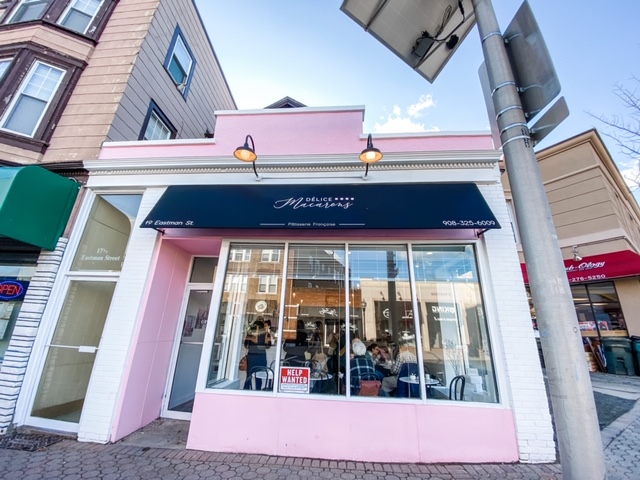 Délice Macarons brings sinfully delicious French desserts to Downtown Cranford. Let's face it – these dull, winter days can get the best of us. The gray skies, brisk air, and drab colors can put even the cheeriest of us in a slump. Then along comes this new shop to Downtown Cranford – with its bright pink facade, its cozy and bright ambiance, and its display case filled with colorful French delights!
The opening of Délice Macarons at 19 Eastman Street was a welcome sight at the start of 2020. Upon arriving on opening day for an interview with owners Chef Pierre Chahine and Raja Iqdeimat, the French pastry shop was too packed to even get a minute of their time! Of course, I was more than happy to come back at a later date. After snapping a few pictures, purchased a whole sleeve of macarons, and smiled as I saw customers of all ages sharing a moment over a delicious treat and a cup of espresso or warm tea. I mean – isn't this what it's all about?!
Cranford Embraces Délice Macarons
The following week I snuck in after the morning rush to meet with Pierre and Raja. They both recounted the smiling faces on little ones who had enjoyed their delicious sweets throughout the week. In fact, they posted videos and photos on their Facebook page – capturing the excitement for their delicious macarons! Both Raja and Pierre are overwhelmed at the community's reception of their new shop and are looking forward to becoming a French pastry establishment in this area. I sat down with them individually over a cup of delicious Lavazza espresso and a scrumptious Madeline to find out what makes this new bakery and café so special!
Délice Macarons Springs From A Shared Passion
Last summer, Raja was living in her home in Long Island and commuting to Manhattan where she was a high-powered businesswoman- with a background as a stockbroker and investments. Pierre (originally from France but now living in NJ) was working with his business partner at another pastry shop in New Jersey. They had been friends for more than 15 years, meeting in abroad in Europe and remaining friends and reconnecting back in the United States.
Raja recounted that last July everything happened all of a sudden. "We had spoken to each other and Pierre wanted to open his own pastry shop. I was quitting my job also because I didn't want to do the same thing in Manhattan. I wanted to find my passion for myself in this age in my life. You want to become independent. We both said we are unhappy so let's just do it!" It was a perfect fit – Pierre being able to make his pastry creations and Raja running the business aspect of Délice Macarons!
When asking about her move to help Pierre open up his first French pastry shop in the United States, Raja commented that "Pierre has 18-years' experience as a pastry chef. We were friends for years and years. The minute I tasted his pastry, I said, 'Pierre, you are amazing!' And I'm a businesswoman and a finance person. Even for my friend, I won't do anything unless I'm convinced he's the ONE. And he's exceptional. I came into this business because I'm a single mom and I just want to empower women and convince everyone to follow their passion. And everything here – the design – it was mutual between us. What we thought about colors, the artwork, the packaging…we work really well together."
Cranford: the Perfect Home for Délice Macarons
So why open up their first pastry shop in Cranford? Raja relayed that "Pierre's family found this town. I had never heard about Cranford before. His family told us we should check out this town. When we looked at Manhattan versus Cranford – it seemed to make the most sense. We looked in Cranford and couldn't find anything. Then Gabe from Downtown Cranford helped us find this building that would be available soon. I'm so happy we picked here because of the support we have gotten – people who don't even know us! We are speechless -I can't even describe it. The first week – the words from children did it for me. Like, 'Finally, we have a lovely French pastry!' They smiled and we were so happy. And they all keep coming back. The minute they leave they say, 'We are coming back!'"
So, what is their vision for Délice Macarons for the future? Raja indicated that "We want to maintain a high quality of French pastries. We want to build a brand for Délice Macarons and can go from there and expand. The second step will be shipping and delivery in about three or so months. Right now, we are just enjoying being here. We are testing the market and seeing which items people like the most. We like our Lavazza espresso – coffee is such a convenience. You need the espresso for taste and the tea to pair for cakes. We just want to raise the bar. Customer service is our most important aspect!"
The Meaning of Délice Macarons:
And why the name "Délice"? Raja answered that "It means "delight". We were talking on the phone one day and Pierre said, 'What do you think about Délice Macarons?' His macarons are very soft and light. I said, 'I love it!' I immediately went online and bought the name and – voila!"
Pierre was then able to take a quick break from the kitchen to sit down to talk with me about his experience and hope for his new pastry shop. Regarding his business partner Raja and their opening – "Yes we were friends and we met again here in United States and our destiny was to make a business together. She is good at finance and I am good with the pastry so that's the best way to combine the two things! I need to focus on creating the pastries and then also managing finances can be very hard. I wake up at 2:00 a.m. every day to work on the pastries and to prepare for the day. It's a very hard job. The first day of opening I only slept for 20 minutes! The weekends are bringing more and more people…"
A True Artisan:
When describing his training, Pierre informed me was working in France in a large, four-star hotel. He had a long career as a pastry chef and was constantly participating in personal training to create new innovations. He commented that "In the pastry world – you constantly need new techniques, new decoration, and new recipes.
I worked with very famous, very talented chefs in France. I took about 10-11 trainings in three-years' time to improve my skills. Then I knew I was ready to take it to the United States. I came back four years ago to work with a friend to help create his business. I now want to do my own business. My two sisters live here, and they told me about Cranford. I came to eat here, and I really liked it! I thank Gabe Bailer from the Downtown Cranford office who helped me find this place because it's very hard to get a spot in Cranford. It's all taken!"
The Vision Becomes Reality
Pierre's vision for Délice Macarons? "All my ideas when I open something in a different country is to bring the recipes from France and do it in that place. I want everyone to know what kind of pastry we do in France. There is completely different pastry education in France. I never change something to make it more like how people are used to eating that dessert. I take all my ideas from Northern France – it's risky. Pastries there are not too sweet -it's light, it's different texture than the cakes people are used to."
Pierre shared with me his favorite pastries to make in the kitchen. Without hesitation, he said his macarons! I have to admit they are absolutely delightful! Coming from rose, lavender, champagne and salted caramel- the the flavors are a true indulgence for any day! One of his dessert house specialties is the "Le Délice" which is a dark chocolate mousse, brownie sponge cake, and hazelnut créme brûlée. Pierre also touts his French cheesecake "It's not so dense. I use a mousse, raspberry filling, and chocolate sponge cake. It's light, fluffy and not too heavy. And, unlike the American cheesecake, if you eat it you will still want to come back another day!"
So Many Délice Macaron Flavors: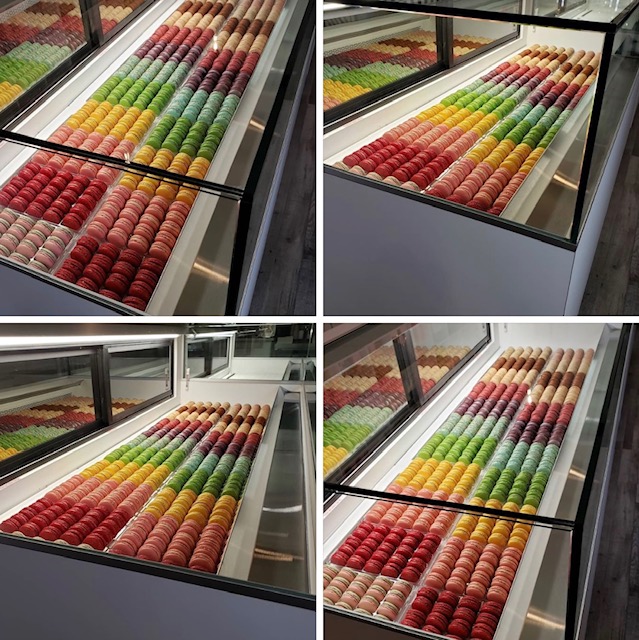 I asked him about all of his new flavors of macarons. The colors are so vibrant and explode with happiness in the display case! "We started with 12 and we now have 19. We will soon have our Signature House Macaron called "Le Délice". This will be a big surprise. In France, when you open a shop you always name it after your shop. Once our specialty is announced, it will stay here always!"
Délice Macarons Menu
Pierre then revealed that his menu will change by the seasons. "I don't like people to get bored with my cakes, so every 2 months we will create new cakes. My idea is to bring people in all the time and offer new pastries to change it up. We will keep the main ones that are everyone's favorites. I anticipate new ones for Spring and in Summer I would like to introduce ice cream & sorbet!"
"Everything is always fresh and made that day – it's quality that I care about. I don't do too much – so if it runs out you'll have come back tomorrow! Nothing is ever brought back a second day. We open from 7am -7pm every day except we are closed on Mondays. We hope to stay open later in the summer!"
THINGS TO KNOW BEFORE YOU GO:
· They serve breakfast and lunch! Take a seat, order a coffee, and enjoy a light sandwich on a croissant/brioche bun!
· All orders are placed at the counter! It's the European way! Once your order is placed someone will serve you at your seat!
· Try to bus your table if you can- it's a quick turnover in this small café – there is a bussing station near the back.
· Condiments for your coffee/tea are also in the back! There are bowls of sugar on the table, but the stirrers, honey, sugar-substitutes and to-go cups are all at the back of the store.
· They cater! Order a six-tier tower of macarons for a special event – or smaller or larger versions of your favorite desserts!
Make sure to follow Délice Macarons on Facebook at Délice Macarons FB and on Instagram at Delice Macarons Instagram