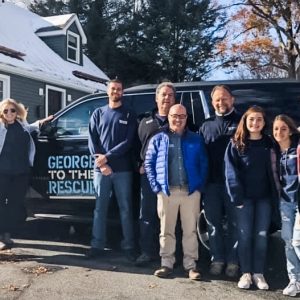 Make sure your television is set to record the latest George to the Rescue on NBC this Saturday, March 23. The air times are at 9:30 a.m. and 7:00 p.m. or Sunday at 12:30 a.m. after Sunday Late Sports! Local construction company TimberRidge Construction once again creates an incredible home transformation in Livingston, NJ on the season premiere of this acclaimed give-back home renovation show! If you didn't already know and love this local building and remodeling firm – you'll grow more attached to them after you watch this story with the best happy ending!
The team behind TimberRidge Construction
If you remember – Anthony and Lisa Carbone of TimberRidge Construction – based out of Cranford, NJ – and their star-quality team were featured in a 2016 episode of "George to the Rescue". They previously transformed a basement for the Lissade family of Plainfield, NJ. This time around, the company was quick to say "yes" to another project as they realized that this particular family was near and dear to their hearts.
The TV feature on George to the Rescue
The season premiere features Gabby DeFilippo and her family from Livingston, NJ. She is a 16-year old Livingston High School student who has spent the last several years of her life fighting Leukemia. She and her older brother had been sharing a bedroom since childhood. Their parents' plans to reconfigure bedrooms so everyone had their own space had to be delayed due to her condition.
Gabby's illness and treatments took a toll on the family – both financially and emotionally. Now in remission and starring in her high school plays – the family reached out to "George to the Rescue" in the hopes of finally getting the help to give everyone their own, unique space in the home.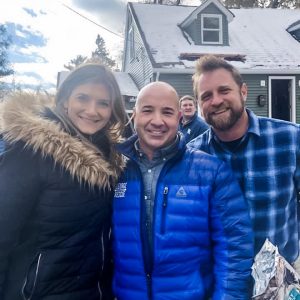 "George to the Rescue" reached out to TimberRidge Construction in September and showed them a short video of the DeFilippo family and their current living situation. Lisa Carbone mentioned that "the story spoke to us since we also have teenage daughters and a close family member that has recently been diagnosed with cancer. We immediately reached out to our suppliers and subcontractors to see if they would come along with us on this journey for Gabby."
The project
Anthony Carbone commented that this small cape cod home housed the brother and sister in one room and the parents in another. A second-floor room served as a hangout room for the kids. They were never able to reach a point to remodel everything to provide individual bedrooms. "We moved the parents upstairs and they each got their own bedroom".
The insulation and heating/air-conditioning teams came in and made sure that every room was properly secured. "We were originally approached to do the two bedrooms – but as we were working on the project – we got more materials and time donated by the entire team to do the upstairs for the parents. They didn't know we were going to do that bedroom – it was such a bonus – their reaction was the best!"
"This was a very tight timeline to get everything done but it all worked out. Once it becomes personal – you are in it 100%!"
How they got it done
The DeFilippo family was away for three weeks while the TimberRidge Construction crew worked closely alongside visionary interior designer, Lavette Shrem, to create personalized and creative details for this renovation.
Gabby is an avid reader and loves the theater. Her favorite stories are "Anne of Green Gables" and "The Chronicles of Narnia". Her room was created around this theme with trees on the wallpaper, a closet built to look like the wardrobe, a loft bed with a desk underneath, and a special built-in bench with a lamppost meant for the most unique reading nook!
Gabby's brother also received a new bedroom tailored around his engineering interests. His floating bed and industrial desk are all highlights in this college freshman's bedroom! TimberRidge Construction would like to give special thanks to Ed Menapace, owner of The Farmhouse Store in Westfield, NJ and The Outlet @ The Farmhouse Store , for specially designing and donating the desks that would go into both rooms!
Thank you's from TimberRidge Construction
The team at TimberRidge Construction would also like to thank their extended family of suppliers and subcontractors who worked tirelessly and without compensation on "The Gabby Episode" – everyone felt connected to the DeFilippo Family and poured their hearts into the construction and renovation of all the rooms: Guido Montero of Montero Painting in Kenilworth, NJ, Bill & Anthony Crecca of Discount Electric in Roselle Park, NJ, S & S Harwood Flooring in Mountainside, NJ, DSGK Drywall in Clark, NJ, American Building Systems Weather Seal in NJ, Huston Lumber & Supply, and Cipollini Carting & Recycling
Why another episode?
So, why did the TimberRidge Construction team decide to do another GTTR episode? They believe it comes down to their mission:
We strive to leave a positive footprint on our community, not only through our craftmanship, but through our support of the community in which we operate.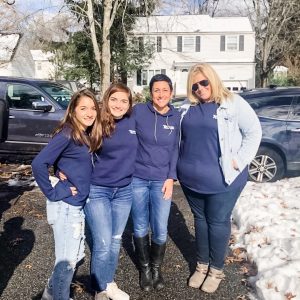 Anthony and Lisa Carbone both commented that "We stand behind our mission. This isn't a statement that was created by some corporate head…instead this is about us sitting in our den and coming up with what we are passionate about in how we do business.
Over the years, we have done a lot of work in Livingston from custom homes to renovations. This gave us an opportunity to give back to that specific community. We, along with our children, believe strongly in the importance of volunteering our time as well as providing all types of community support whenever we are fortunate to do so!"
The Carbones haven't seen the episode yet and will be watching with their family tomorrow morning! Make sure you tune in as well and realize what a truly unique community we live in – how wonderful to have all these local companies come together to impact a local family in need.