The Most Coveted Gifts for the Holiday 2021 Season!
Lindsey Shevkun Aguayo​ of Cranford, NJ recently made headlines as her modern and stunning pottery pieces were displayed in the Thanksgiving issue of Real Simple Magazine. I had been following her social media feed for some time and was so excited that her work was being recognized on a national level. If you are a collector of bold, modern, and interesting pottery pieces to display in your home and on your dining table, then you will take delight in everything that Lindsey creates for her Indigo Road Studio.
A creator at the heart, her "visual play with texture and color" will make you fall in love with every piece she proudly displays on her Indigo Road Studio website. And while her pieces sell insanely quickly online – she's popping up at local holiday markets and there's still time to grab come coveted pieces that will surely be treasured! I caught up with Lindsey to see how her art journey began, how she developed her pottery skills, and what's the secret to owning a custom-made piece!
Where did you grow up in New Jersey?
I grew up in Warren County's Washington Township, New Jersey. After graduating from high school, I was fortunate enough to experience life and art beyond the borders of the Garden State studying in Philadelphia and Rome, Italy.
Cranford, NJ was calling her name!
Shortly after getting married in 2012, my husband and I began our "house hunt" from Montclair, New Jersey to Raleigh, North Carolina. We ultimately chose to purchase our home in Cranford, NJ in 2013 because of the very "walkable" downtown area, the great schools, the strong sense of community and the proximity to destinations we frequent – such as New York City and the Jersey Shore.
Fun facts about Lindsey!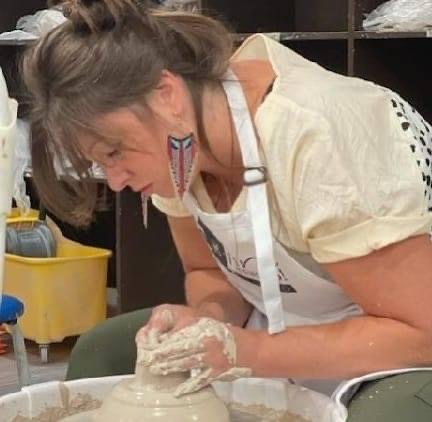 Simply put, I'm a "maker" at heart! I love the arts in its many forms and mediums–including painting, weaving, cooking, and gardening. In 2014, my first son was born. For the next five years or so my art took a "backseat" to motherhood until recently.
A creative family background
Creativity is definitely in my genes. My mother worked for Crayola so we always had tons of art supplies around the house. Relatives on both sides of my family were crafters of all sorts. Since he worked in Manhattan, my father would often take me into the city to experience art and live music. My parents thoroughly encouraged my love and pursuit of making things my entire life.
Lindsey's artistic journey
It has definitely been quite a journey! Knowing I wanted a career that was creative, I majored in Art Education at Temple University where I studied Art in Philadelphia and Rome. After college, I started a job teaching high school art and was given the opportunity to explore a multitude of mediums through my 14 years of teaching. They included painting, drawing, printmaking, and ceramics. I was busy mastering different skills to teach my students, but also had my personal art business growing on the side.
Lindsey's first art show
During my first year of teaching, I met a math teacher who a few years later would become my husband. When he saw my apartment full of paintings, he couldn't understand how they were just sitting around and asked me what I planned to do with it all. Every time I would take him to an art show he'd tell me, "YOU are more talented"- and I would laugh at him. Long story short, in September of 2009, he set up my first art show in Jersey City. Since then, I haven't stopped selling with him by my side.
How Indigo Road Studio was born
Originally, I began as Lindsey Shevkun Fine Arts and was producing and selling paintings and furniture. We would rent trucks and move an entire house load of chairs to street festivals. Then, art production naturally slowed down when we decided to have children. There was an 18-month window of time when my second son was born that I did not produce any art. I was soon craving the ability to make my own art again. This is when I re-branded my business to Indigo Road Studio. Indigo Road stood for my path back to my happiness and my best self. Although I didn't know at that time it would eventually be pottery!
What led you to begin weaving?
When I rebranded to Indigo Road, I was still a mother of young children and had to find a medium that was kid-friendly. That medium happened to be yarn. My art always was a visual play with texture and color no matter the medium. Weaving was like a calculated textured painting!
How did the pandemic spark the pottery journey for Indigo Road Studio?
Indigo Road Studio was thriving on teaching weaving workshops, and I was loving it. In 2018, I reached out to Amy Howlett when she was opening The General Store Cooperative for space to host weaving workshops. She didn't have the space for the workshops but instead suggested I make pottery to sell. I started with 4" tiny pots and boy it was a struggle, but I was determined! It had been nearly a decade since I worked on a pottery wheel, but I bought my own and really focused on learning. In March 2020, I was cooped up at home with COVID and my pottery Pop Up was cancelled. So, I held my breath in fear of failure and posted all my pottery work on Facebook and shared it to the local mom groups.
Indigo Road Studio's pottery business took off
I began selling my wares one pottery drop at a time and the items kept selling. It was shocking and I kept on going. Every time I sold more, it would motivate me to keep building my skills as a potter and I would buy one more piece of furniture or equipment for my studio. The timing was perfect since the pandemic caused life to stop and I turned to my little space in the basement and would stay up all night practicing. Parenting and family life was very hard throughout the pandemic and pottery was my therapy and my escape. It truly was my Indigo Road, my path to something greater for myself…my ability to release the stress of life during that year and my ability to have time to myself and to reconnect with an art form that I loved back in college.
How would you define the style of your work and how did it develop?
A few characteristics identify my work overall, no matter which medium I'm using: my work has always had a modern abstract edge, it has always focused on texture, it has almost always been a product that was functional and typically had a lot of bold colors, and I never seem to produce two items exactly the same. In regards specifically to my pottery, it is greatly developing as I only really began throwing in 2018. The planters were a great start to really explore fun colors. As I advanced to more challenging forms and dinnerware, I found myself sticking to more subtle colors.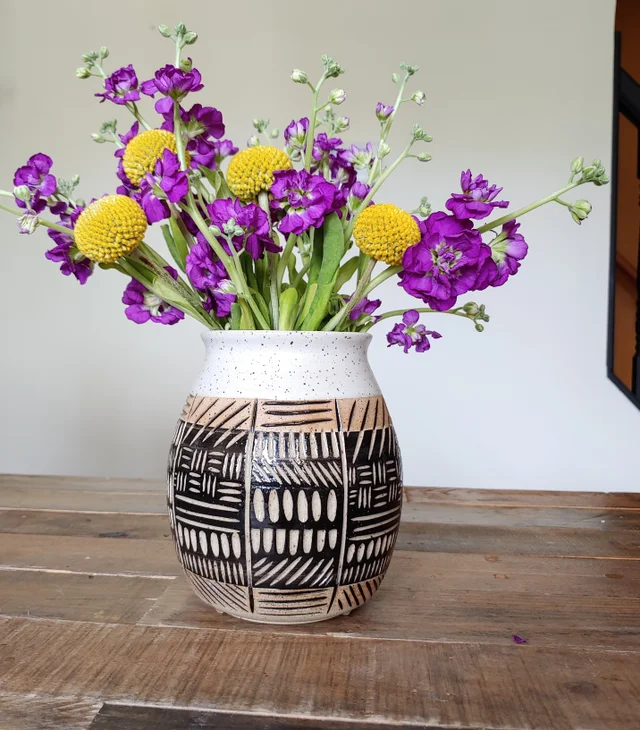 The colors of your pieces are one of a kind—how did you develop your own color palette? Does it change with time?
The color palette is really dictated by certain trends and colors that I think play well together or may be unexpected, but work. While layering and experimenting, I like to have fun with the planters and keep note of the combinations that work. My dinnerware is more consistent and subtle with so that food can stand out on the plate and people can collect and add pieces over time.
How do you choose your color combinations?
Lots of experimenting and practice. Glazes are a bit different than paint. You don't see the results until after it has fired and it's hard to control. The type of clay, the number of layers, and the temperature of the kiln can all greatly impact the results of the color. Sometimes it's a total surprise!!
Congratulations on being featured in November's Real Simple Magazine! How did this all develop?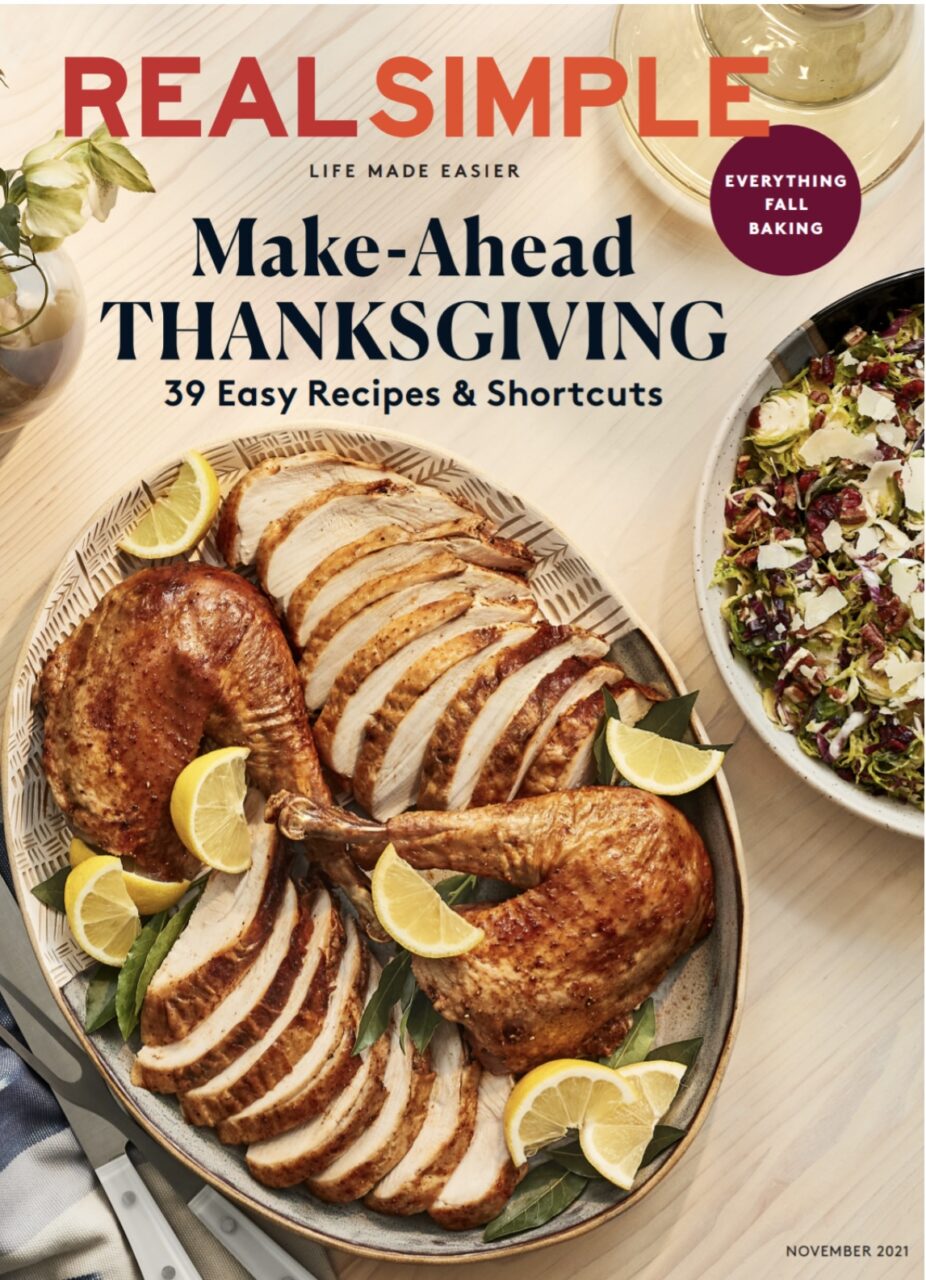 One summer afternoon, I checked my email and had a message from a prop stylist from Real Simple. She asked if I was able to produce custom pieces since the website was sold out. At the time, I had no idea how they had found me. I soon discovered that one of my customers, Emily Kehe, who always had an eye for the greatest pieces on my virtual drops, is the Creative Director for Real Simple magazine!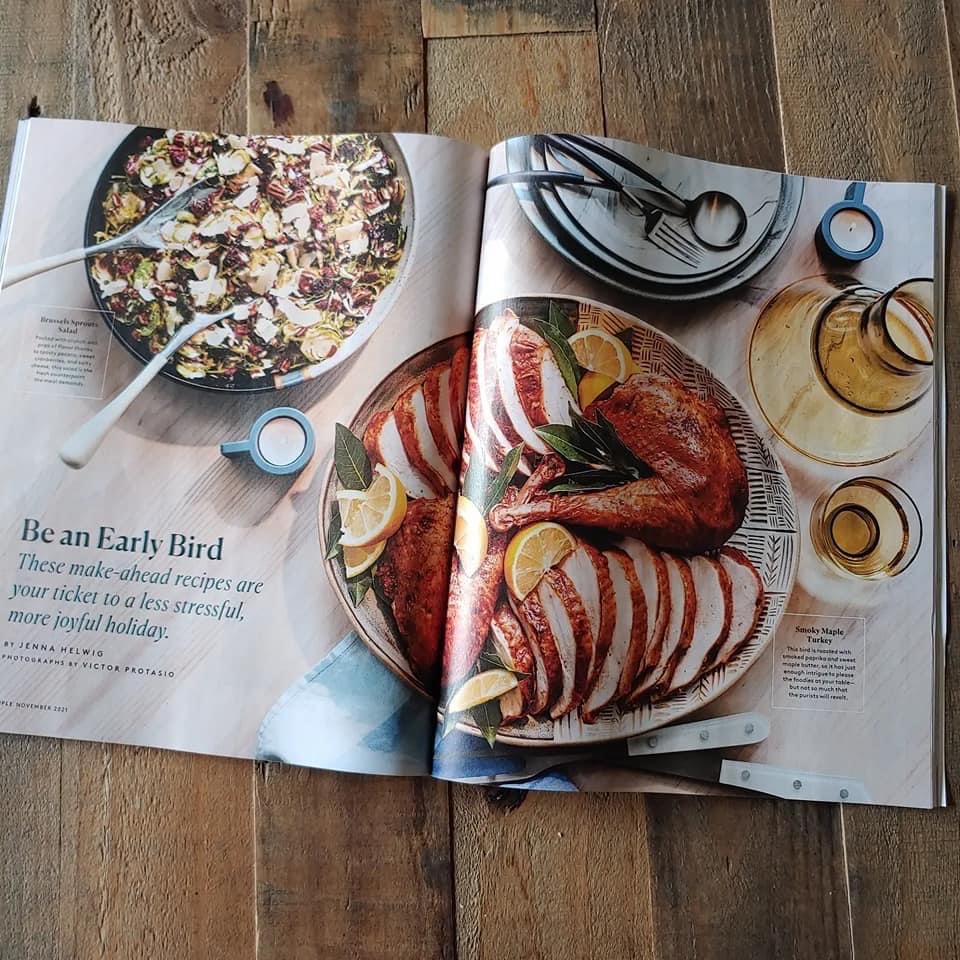 Feelings once you held that issue in your hands?
It's such a beautiful gesture to utilize a small local artist and give them a great opportunity when you are the director of a large platform. Indeed, I'm really just so grateful for what Emily did and the faith she had in me. Seeing the work staged in the magazine is a little surreal. I'm super proud, but still seem to always look twice thinking "Is that my work?"!
What are your favorite holiday pieces that will be featured at the upcoming holiday markets?
Recently, I ordered mini 4" trees to go in my planters. More specifically Boxwoods, Olive trees and Pine trees. For every tree we cut down this season, let's give back and plant another!
Can you share some of your favorite Indigo Road Studio gift suggestions for gifting?
Wedding gift idea for the newlywed- A beautiful vase for the bride's bouquet and for the husband to fill with flowers on anniversaries!
Holiday hostess gift- Large serving bowl with olive wood serving spoons or a collection of pinch bowls for fun dips and sides
Holiday gift for someone who has everything- Tapas serving set -each plate has a unique design, and they are paired with really fun wood tapas trays and utensils
Indigo Road Studio will be at the local holiday markets!
Timing to produce varies since pottery is made in large batches at a time. It could be anywhere from two weeks to two months. Much depends on the waitlist, timing of the order (what stage of production I'm currently on), and what the item is. The good news is, I currently have hundreds of pieces in the works that will be available at all six different holiday markets I plan on attending. Local Maker's Market dates can be found HERE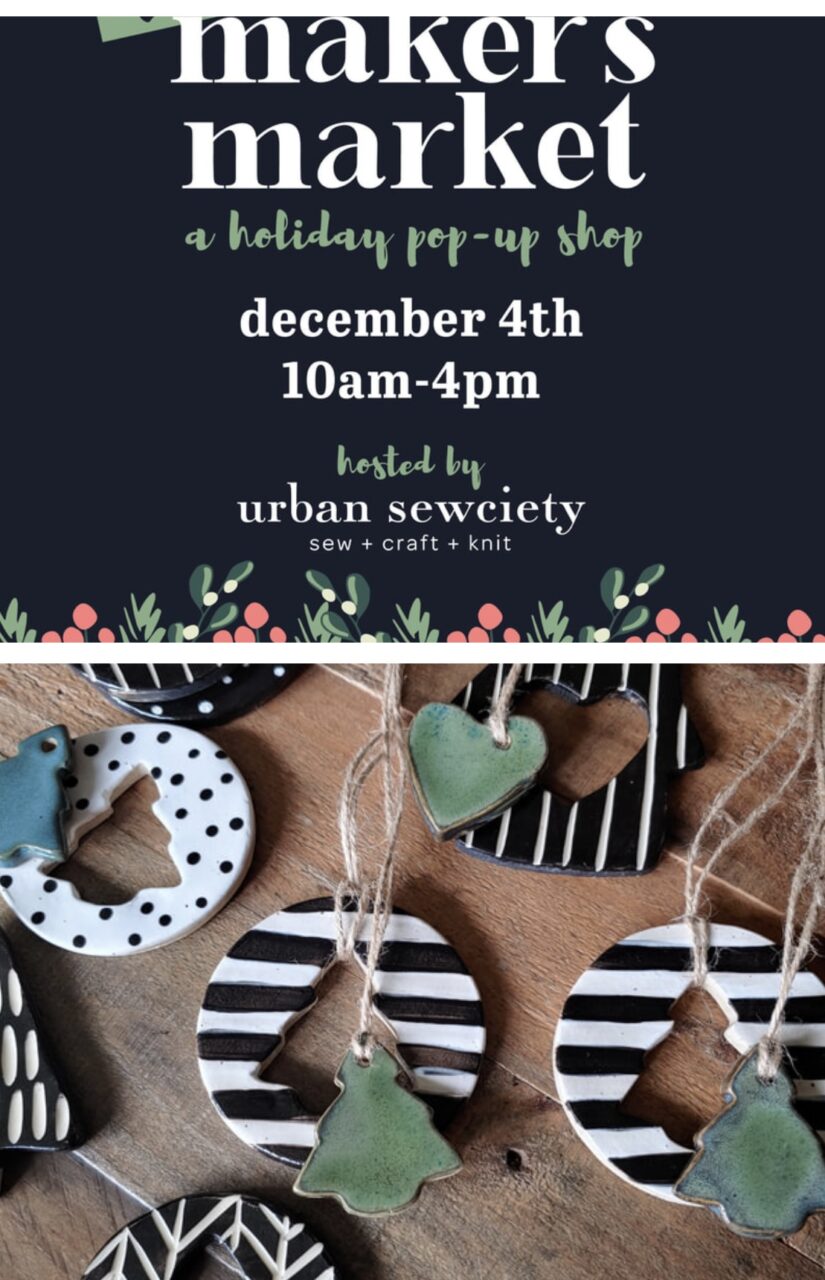 Placing a custom order from Indigo Road Studio
Also, if anyone wants to place a custom order for a gift, the recipient can be gifted a card that says their handmade piece is currently in production. In addition, I also have gift card options that are immediately emailed. These are perfect for last-minute ideas. People can shop whatever item they love the most in the New Year. My website sells out fast and I do my best to keep up. To get a heads up on when the site is restocked, I post on social media and notify my subscribers list. They typically occur every month, with new pieces at a variety of price points. The website has the option for shipping or local pickup.
Do you have a dream project you would like to realize someday?
It seems I always have a ton of visuals in my head that I am hoping to realize. Currently, I want to complete and stage a table with a full dinnerware set. One day, I also hope to have a public studio space where I can connect with the community and they can see, touch and feel the quality of the work.