Cranford YarnStormers Took Over Eastman Plaza for "Knit the Town"!
"All of us, some time or other, need help. Whether we're giving or receiving help, each one of us has something valuable to bring to this world. That's one of the things that connects us as neighbors-in our own way, each one of us is a giver and a receiver." Mister Rogers
During this pandemic, I was so moved by various groups coming together to add meaningful ways to bring the Cranford community together – whether it was neighbors decorating their windows, yard signs, ribbons by the Girl Scouts, banners of hope, chalk messages, etc. If you drove around town – it was apparent that this was a community coming together in a difficult time. As we tentatively start to re-open, I would like to look back at one of my favorite displays of support.
During the shut-down, Eastman Plaza was "stormed" by a group of knitters who enveloped the area in their beautiful and colorful woven creations. It was as if the plaza was the epicenter of hope and the perfect timing for our downtown to begin coming out of shelter and opening its door to the community again. I just had to find out more about the "YarnStormers" group and the story behind these designs!
Meet your Cranford neighbor – Teresa Murray!
Tell us a little bit about yourself and how you were introduced to the group: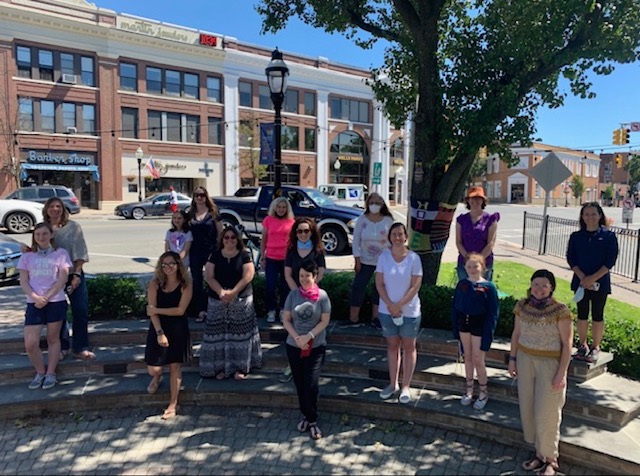 My name is Teresa Murray and I have lived in Cranford since 2008. I love knitting because it's very relaxing and a great creative outlet. Knitting gifts for friends and family is a passion of mine, and I like to challenge myself to learn new skills. I started to teach knitting a few years ago and I really love it! I've met some great people and it's been a wonderful experience to watch my students learn and grow as knitters.
I've been intrigued with the idea of "yarn bombing" and knitting as an artform for a long time. It's been very exciting to be able to do a project like this and collaborate with such a great group of artists. I have really enjoyed putting this project together and I hope it brings the same joy to everyone who experiences it.
Tell me a little bit about the Cranford YarnStormers and how it was founded:
YarnStormers was founded just a few weeks ago by the desire to coordinate a group art project that the whole town could enjoy. The name is a play on "yarn bombing" which is a style of public art graffiti made with yarn. I started yarnbombing my porch in March during the stay at home order and it was such a great experience. I wanted to share my idea with the town, but I couldn't do it alone. And the plan was to have it ready to install on June 11th, International Yarn Bomb Day. "Knit the Town" by Yarn Stormers was born!
How can someone join this group and how old do you have to be?
We are not an official group, but all are welcome. I can be reached at Yarnstormers.Cranford@gmail.com. There is no age limit as long as you have the ability to knit or crochet independently. Our two youngest YarnStormers are finishing 3rd grade and one is a freshman at CHS!
How are you gathering during this time of social distancing?
The entire project was organized and managed remotely. I provided some guidelines via email and everyone worked at home on their own projects. I was always available by phone or email to troubleshoot and answer questions. The finished projects were dropped off at my house and five of us did the installation over a couple of hours one hot, humid evening. We got together as a group (with masks) for the first time on "Worldwide Knit in Public Day" to celebrate the installation at Eastman Plaza.
What was the inspiration behind the project at Eastman Plaza?
My own front porch was the inspiration for the Cranford YarnStormers. Knitting is great for relieving stress and anxiety, and there was no shortage of either when the lockdown started. I found myself having trouble staying focused on more challenging projects, so I decided to knit simple strips of rainbow colors and attached them to my front porch. I started adding a new project each week to the porch for my neighbors to enjoy on their daily walks. A sunflower, a butterfly, bee, ladybug, a bird and Newman the Owl who is currently residing in a tree in Eastman Plaza.
How did you organize the Cranford YarnStormer event?
Once I had the idea, I asked local knitter friends to gauge if there was enough interest in participating in a group project. The town was very supportive of the idea and once we got the okay from town officials, we got to work.
Who are your participants? What are some of the stories behind the designs?
I teach beginner knitting classes to both kids and adults through the Cranford Recreation Department. Many of the Cranford YarnStormers have taken my classes and a majority of them just learned to knit in January. The remainder of the YarnStormers group is made up of local knitter friends.
Everyone was free to be creative with their own designs. I didn't want to dictate the style. I just asked everyone to keep it bright and fun and since this was self-funded, to use what they had on hand. Yarn bombing is a great opportunity to use up scrap yarn from old projects. I just love the variety of submissions, that's part of what makes it so fun.
How long will this installation stay up at Eastman Plaza?
It will stay up at least until the end of June, but we are open to leaving it up longer over the summer for everyone to enjoy. YarnStorm projects require very little maintenance, so as long as it looks good, we'll let it stay.
Any thoughts for further projects around town?
I'd love to do more projects around town and I always have a lot of ideas, but no plans just yet. At the very least I hope that YarnStorm will become an annual event in town. I am thrilled that it is being well received and I hope it brings happiness to the community.
Thank you, Teresa, and fellow YarnStormers! I think everyone can agree that the YarnStorm installation brings cheer and happiness to our downtown hub. This is just one more reason Cranford is the BEST! This is a project we would love to see continued! Thank you for the creativity and the sharing of knitting talents – young and old!