"Debra's Simple Garden" Channel Hits the Road!
I love "Debra's Simple Garden" Channel! Meet your neighbor, Debra Nicholls, and quickly fall for her passion for gardening! At the beginning of the pandemic when many of us didn't know what to do with all of our "stay-at-home time" – Debra started a YouTube gardening series that caught on very quickly! So many people were desperate to start some sort of project – to dive into a new hobby. Gardening was at the top of many of our to-do lists! During a time where it was nearly impossible to go to a store and buy fresh flowers or produce – the first thought for some was, "I'll just grow it!". The arduous task of weeding, sowing, planting, growing, and harvesting was the pause and hesitation.
Debra, a long-time gardening enthusiast and local garden club member, found her niche in the world of social media. With the help of her family, she started recording videos to help make gardening look attainable, easy, and fun! Debra was spunky, charismatic, and we just loved to watch her! She named her channel, "Debra's Simple Garden", and followers eagerly anticipated each weekly episode! Soon she was helping local neighbors and individuals from all of the country with gardening ideas and tips!
People were coming together in a time of needing connection and purpose. After fifteen episodes during the quarantine period, Debra is now venturing off on a new path. She is taking her show on the road – visiting local homes where people have a story to tell…about a special tree, plant, or gardening delight.
Tell me a little bit about yourself and how you ended up in Cranford:
OriginallyI am from the Midwest, Ohio, and moved out to the Northeast for a career advancement within the professional beauty industry. As a single professional I wanted to find a quiet, quaint town that was close to NYC, airports and the shoreline. I had moved from other large cities and was ready for a pretty quiet suburb. Eventually, I ended up meeting my husband, on Match.com (Ha)! He is from Cranford, so I knew I was going to be part of this community for a long time.
What do you love about Cranford?
I love so many things that Cranford offers. The downtown merchants and restaurants became part of my personal community. Throughout my 23 years here, I was able to have my children in strollers and walk all over town and feel part of a tight-knit town family. Now my young kids work in Cranford and my husband and I have found time to go out and about with each other. The family activities are endless with the wonderful seasonal events. There are so many beautiful qualities to our town, including the people who have embraced living here.
How did your love for gardening start?
I grew up surrounded by farms and my parents enjoyed gardening and creating beautiful outdoor spaces in their woods. Although I did not pay much attention to my parents' outdoor passion, it must have been inside me. I moved throughout the country for my profession and found tiny plots of land to plant flowers and herbs. When I had my twins, I was approached to join our local garden club. I accepted the invitation so that I could have a few hours to myself. I had no idea of what I was planting, but I loved the ladies and learning a little at a time.
What local gardening clubs do you belong to?
I have been a member for 15 years of the Floraphile Garden Club of Cranford, which was founded in 1950. I am also involved with the Hanson Park Conservancy.
Favorite flower/plant/shrub currently in your backyard?
I have a hard time picking one plant and flower because they all offer such fun, color, texture, dimension, and balance. My Knockout Roses were the first flowers I planted once our home addition was complete. They remind me always of my signature to my home.
Tell me a little bit about beginning your video series "Debra's Simple Garden". What are your hopes for your viewers who are novice-seasoned gardeners?
I started my "Debra's Simple Garden" videos on a whim in the backyard with my teenage son when the COVID-19 pandemic lockdown was put in place. I wanted to offer something stress free, easy and positive for my friends. My yard was to be in the local kitchen garden tour, so I thought it would be fun to document my journey and progression up to the tour date.
I am not a professional gardener or video personality. I am just a gal that wants to offer some joy and garden inspiration during a very difficult time in our country. As a novice in the garden world, I hope my videos help take away the fear of trying and expecting perfection. It is so fun and therapeutic. I hope novice viewers can experience great garden therapy without fear.
How have people been reacting to your videos "Debra's Simple Garden"?
The reaction from viewers has been overwhelmingly positive.I had no idea that would happen!
Are they reaching out to you for gardening tips?
I have had several people reach out to me from all over the country. I have seen photos, videos, Zooms and have had conversations. It has been so much fun! I have an upcoming Zoom Garden Event for young mothers in the Central NJ area and some venues planned for Fall 2020 from my videos!
I'm excited about your new "Road Trip Beautiful" series"! What prompted this and tell me a bit about your first visits!
I started my "Road Trip Beautiful " series because I see so many other garden enthusiasts all over. Their outdoor living gardens inspire me, and I love seeing what others have done in their space. I felt if I loved seeing what others have done, small or large, other people would love it too. Also, it is so motivating to be recognized for all the hard work and tender loving care put into gardening. It is all positive energy.
My first visit is at a local Cranford home where the backyard living is absolutely "magazine material". The outdoor furniture, flowers and plant material is perfectly placed. All with hard work from the owner. She planted a flower that relates to the 4th of July. So, I thought it would be a wonderful kickoff to this garden video journey. You can view the first "Debra's Simple Garden" video here: Road Trip Beautiful by DSG: 4th of July Gardens
The second video just aired last week and it's a home that I think all of us want to know more about! For a sneak preview – this is a 1910 Cranford home built in the image of a cottage from the Rhode Island seaside coast. The original owner had a vision and a dream from her summers spent on the coastline to have the same house. The current owners brought this beauty back to it's original charm and we had the best time exploring her THREE gardens! Watch the segment here: Road Trip Beautiful by DSG: Snow White House
Everyone loves your "Debra's Simple Garden" videos – what can we expect from you in the future?
For my "Debra's Simple Garden" Channel videos, I hope to keep people inspired, motivated and offer some knowledge and fun at the same time. I have a feeling we are all going to see more spectacular homes and gardens. You never know where or when though…that is the cool part of life!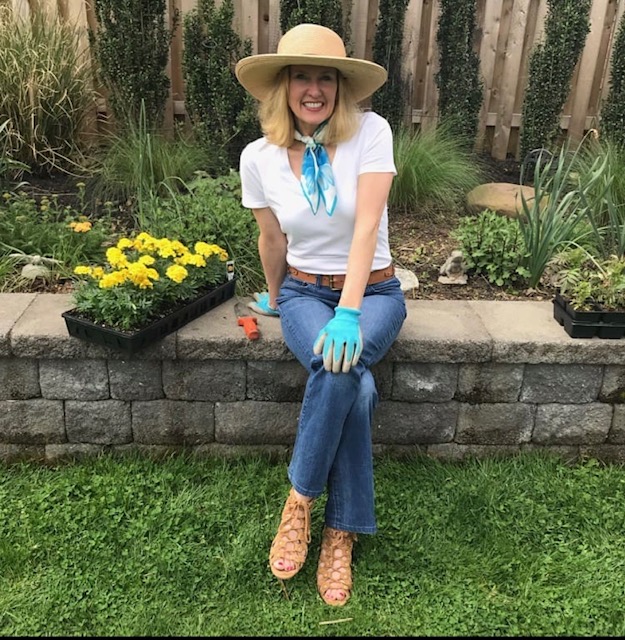 What's the best way for someone to get in touch with you? Where can we find your videos to watch later?
I can be reached through my Debra's Simple Garden YouTube channel (Debra Nicholls) or follow me on Instagram at https://www.instagram.com/debrassimplegarden/
If you live in the area and have something unique that you would to show Debra, please reach out to her! During these times, we realize that the "simple" pleasures are truly what we crave. Debra's motto is, "It's never too late to start your new adventure! Plant your own seeds of love, peace, and courage." Getting back to our homes and gardening can bring relaxation and delight to so many homeowners. We are all looking forward to visiting local homes via "Debra's Simple Garden" Channel and seeing what treasures may unfold in someone's backyard!