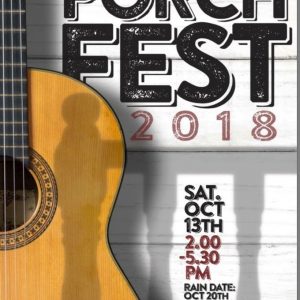 Make sure your calendar is cleared for next Saturday, October 13 between 2:00-5:30pm! This is the second year that the Cranford Community Connection is bringing you Cranford Porchfest – a FREE musical event open to EVERYONE and completely powered by the "do-it-yourself" concept and orchestrated by local volunteers, space provided by the homeowners, entertainment by musicians donating their time, and a day enjoyed by the community! Remember that the purpose of the CCC is to bring the neighborhoods of Cranford together to celebrate community and friendship. Randy Geis, a core member of this committee, told us that "every porch host, performer, and attendee is a co-creator and real-time manager of the event." He hopes that members of all surrounding communities will take the afternoon to walk around Cranford and "enjoy time together and the music we have put together!"
Here's what you need to know to plan your Saturday:
Randy was excited to inform me that this year they have 12 porches participating and 36 acts! The committee has homes placed all over the four quadrants of Cranford! Use their handy interactive map to plan where you will be and when! Interactive Map
Simply click on an icon and see everything happening at a particular home/venue! Keep this map handy and use on your mobile device for the day of the event. Each place has 2-3 performances and the set up and take down will all occur within the hour.
This year we are excited to have Cranford business participation! White Lightening and KGB will perform at Dreyer Farms starting at 2pm and Augusta Mae Boutique will also be hosting 3 awesome bands!
What to Bring:
There will be no closed streets during the concerts. The committee encourages everyone to walk or bike around town and bring chairs/blankets. The CCC and Cranford Police Department would like to remind everyone that this is a family event and public alcohol consumption laws still apply. You are welcome to pack a picnic and enjoy throughout the day! Please keep in mind that these are individuals' homes to please take your trash with you!
There will be increased police presence during the day and areas directly in front of each participating home will be sectioned off to allow crowds to enjoy the music. Each house will have a yard sign saying, "Future Cranford Porchfest Location". If you have any questions at all, you can quickly identify a Porchfest staff member by their Staff Roadie Shirts!
Performers:
The Porchfest committee has been spotlighting performers on their Cranford Porchfest Facebook Page. They received an outpouring of applications over the summer, making this year's Porchfest doubled in size from last year! They are pleased to announce a variety of musical acts and performers and some highlights are BINGE, Clark School of Rock, Alden Street Band, Claudine Flynn, 2AM Breakdown, KGB, White Lightening, High Street Collective, Jampagne, and Valencia School of Rock. And remember – this is just to name a few! Thirty-six amazing performers are taking over Cranford and we couldn't be more excited!
The grand finale featuring Lovehandles will take place at 5:30 pm at the Clock Tower in Downtown Cranford. After enjoying the music at the porches, everyone is invited to come together to enjoy one last act!
Everything you need to know for Cranford Porchfest 2018 is at their Cranford Porchfest Website – including the interactive map! The best advice Randy gave was to plan your day in advance and try to get to as many porches as you can!
Don't forget to take lots of pictures and use the hashtag #cranfordporchfest…and of course #coolerincranford!!