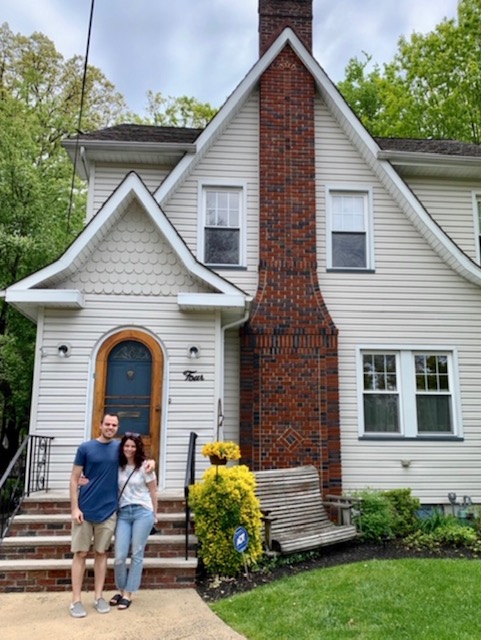 This is Katelyn and Thomas' own Sold by Sharon Story – the tale of two people who fell in love with Cranford NJ, had to move away, and then tried to move back during a worldwide pandemic! Imagine house hunting totally virtually and then seeing their home for the first time on MOVE IN DAY!!!
Thank goodness they lived in Cranford before and had their parents nearby to help with the process. It made the moment twice as special when they walked through the front door and knew they had made the right choice – it felt like home. Their new house is a lovely four-bedroom, two-and-a-half-bathroom Colonial in the highly sought-after Herning neighborhood.
This is a storybook home with a woodburning fireplace, spacious bedroom, and a fantastic screened-in porch overlooking an expansive back yard (turns out this is their favorite aspect of the house and their pup adores the yard!)
Let's see what these new homeowners have been up to since they moved back to Cranford!
Cranford NJ Sold by Sharon Stories: Meet Katelyn and Thomas:
Thom grew up in Edison, NJ and I'm from Woodbridge, NJ. We shared mutual friends so we would see each other out on the weekends here and there. I'd heard Thom had a little crush on me for a while but always brushed it off until he finally had enough liquid courage to ask me to dinner… 10 years later, here we are!
In our free time, we really just love spending time with family and friends. We have a nephew and two nieces that we adore having for sleepovers. We have kayaks that we take out on the river and a lot of new house projects to keep us busy!
You lived in Cranford, NJ and worked with Sharon prior to moving to California…tell us about how you found this town in the first place and what did you miss while away?
We initially moved to Cranford in 2013. During that time, we rented an apartment above Bell's Pharmacy. One of the reasons we chose the town was the easy commute to my job and the train for Thom's NYC commute. We fell in love with the town and lived in that apartment for a couple of years before buying our first house. After a couple of years in the house, Thom was offered a great opportunity that led us to California for a while.
When we were away, we really missed the sense of community. It was really lacking where we were living in California and we were excited to get back to friendly/neighborly vibe here.
What prompted your decision to move back to Cranford, NJ?
We were out in LA for a couple years for Thom's job. We knew it was not a permanent move and we would be back in NJ as soon as his contract allowed.
What aspects of quarantine house hunting were you not expecting?
We weren't expecting quarantine! We started our house searching in late February/early March and my family was able to check the house out for us right before things started shutting down.
Sold by Sharon Stories: Buying a home sight unseen can be incredibly nerve-wracking.
We were totally comfortable with it. It's our second house so we knew what we liked and didn't like at this point. My sister did the initial tour and FaceTimed me from the house. We sent my dad to look at it before making an offer (he's brutally honest and very handy) and I trusted him when he said it was a great house.
Thom's parents went to the inspection for us and they loved it. There was no doubt in our mind we would love it, too. We're lucky to have family that was willing to help us with that part!
Did you specifically want the Herning neighborhood when you moved back?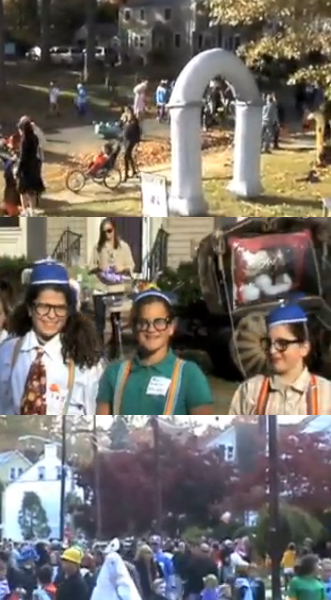 We loved the neighborhood our first house was in, so we wanted to find something around that general area. We knew Herning was a popular street during Halloween, but it wasn't on my radar to find a house on that particular street. Sharon knew we were ready to move back and called me one day to say she was getting ready to list a house and thought it was perfect for us. She was right! The fact that it was on Halloween street was an added bonus!
What was something that you HAD to find in your search for a new home?
Absolute must-have was two full bathrooms. It's the best thing for our relationship, LOL!
Any bumps along the way during the buying process?
Not really! The sellers were so easy to work with and everything went smoothly.
Describe your feelings attempting to make a move across the country during a time when the world was shut down:
Anxious! We were sure the movers would cancel on us or we wouldn't be allowed to fly – which would have been very understandable, but everything worked out right on the original moving date.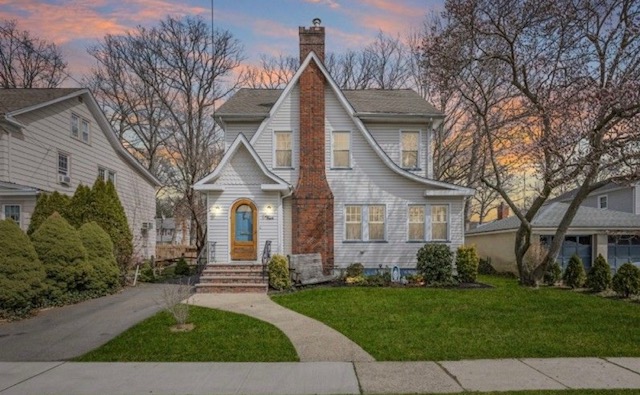 What was going through your head as you made your way from CA- NJ to see your home for the first time? What were your first impressions as you entered your new home?
I was excited to see it in person and Thom got last minute nerves that it wouldn't be what we expected. As soon as we walked in, we both knew this was our forever home. We were immediately impressed with the woodwork and charming details!
Any advice for homebuyers like you…going through a buying a new home during this pandemic?
Work with a realtor and lawyer you really trust! We had worked with Sharon before so we knew she would have our best interest at heart and we'd also worked with our attorney, Mark Hobbie, from our first home purchase. They were both amazing and responsive throughout the whole process.
What's the biggest change in the home since move-in-day?
The floors! We had a ton of old teal carpeting ripped out and refinished the original hardwood floors. We're so happy with how it turned out!
Have you done any renovations yet or have plans to renovate? What are you thinking about changing?
We're hoping for a full kitchen remodel next summer. Fingers crossed!
How would you describe your personal design style?
Mostly traditional. We love keeping the original character of a home.
If you have painted, what is your favorite color you painted a room?
We painted the hallway upstairs Saybrook Sage by Benjamin Moore. I think it's such a soothing, relaxing color, which is exactly what we wanted heading up to the bedrooms.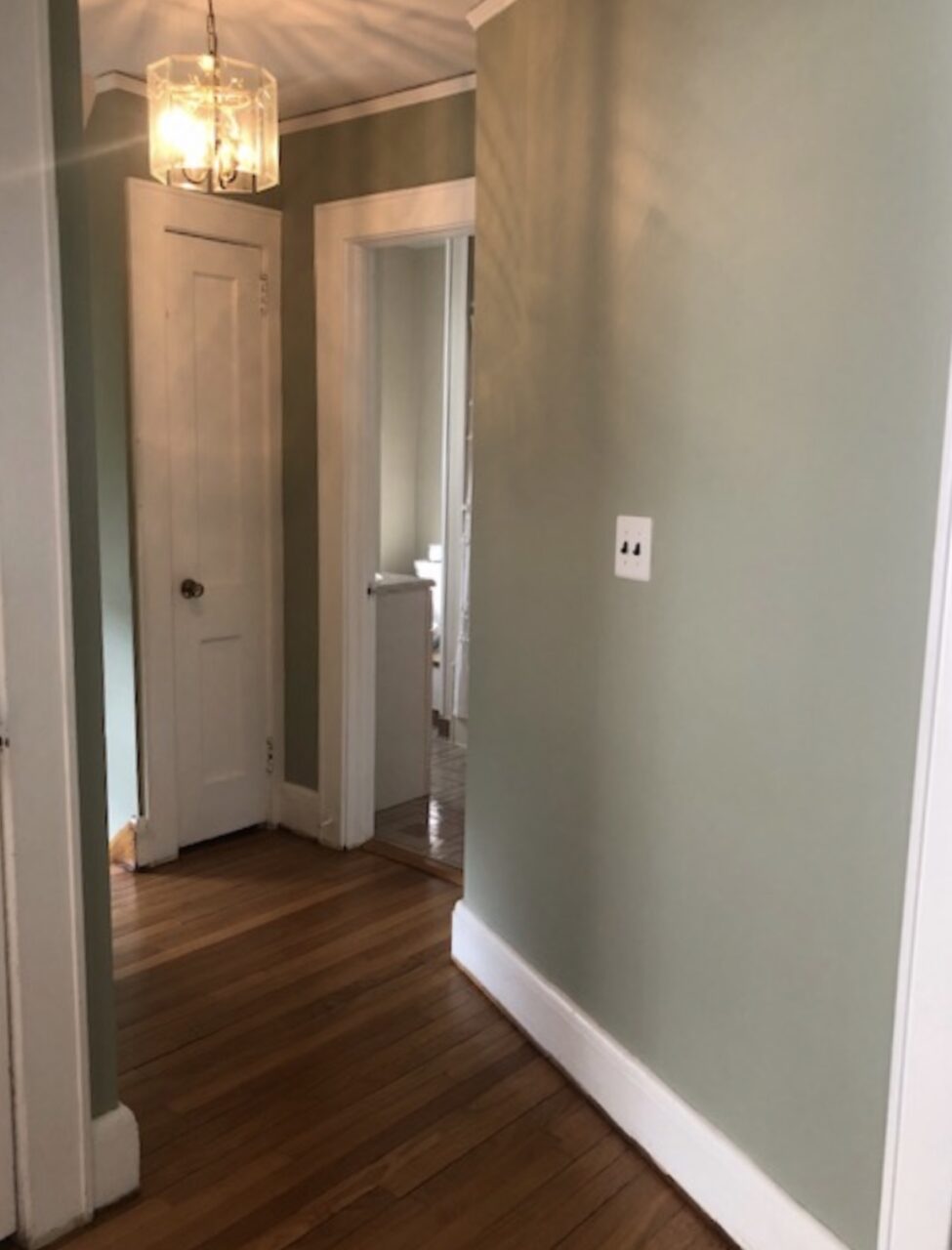 The BEST room of the house and why…
The screened-in porch! But inside the house, I love the dining room! I love old homes and a separate dining room is the epitome of old-home charm, in my opinion.
What's one more thing your house needs?
A new kitchen! Hopefully next year : ) We love everything the former owners did to the home, but we would love to put our own stamp on it!
What's a new memory that you cherish in your new home?
Right after getting our fence installed, we brought our pup outside to let him run free (he always had to be leashed in LA since we lived in an apartment) and he had the exact reaction we were hoping for. Sprinting back and forth and rolling in the grass – like he knew this was his yardfor the rest of his life.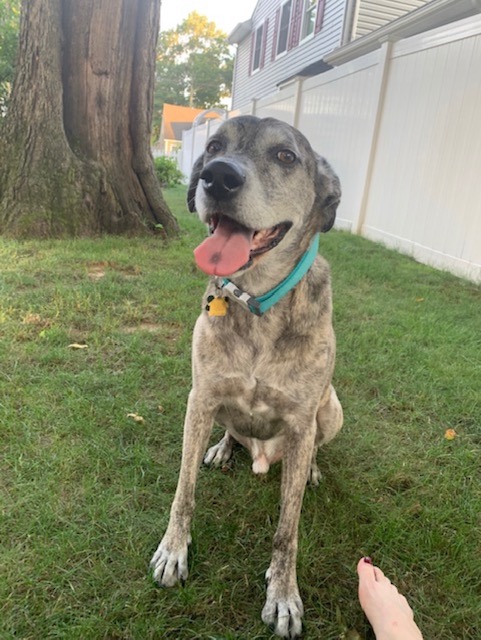 How would you describe your neighborhood?
It's Halloween Street and we love Halloween! Aside from that, everyone has been so welcoming and friendly. We couldn't have chosen a nicer group of neighbors if we tried. Our first night here, our next-door neighbor left a cooler full of beer on our porch to welcome us!
What was your first major splurge?
We fenced in the yard right away for our dog. We used to always joke that we worked hard to afford Duke the backyard he deserves some day. Once we got it, we had to fence it in so he could finally run free. He loves it!
What were you MOST excited to do in Cranford, NJ the minute you moved back?
We walk to Track 5 almost every weekend. Nomahegan Park and Dreyer Farms are regular after-work walks for us. Our favorite places to get dinner downtown are Mizu, Vanilla Bean, Grill Creations, Ambeli (the list goes on and on…)
What feature of your home do you specifically appreciate due to the pandemic?
Screened in porch, for sure. We've been able to have friends over without being indoors while still enjoying the sun not beating down on us. It's my absolute favorite part of the house.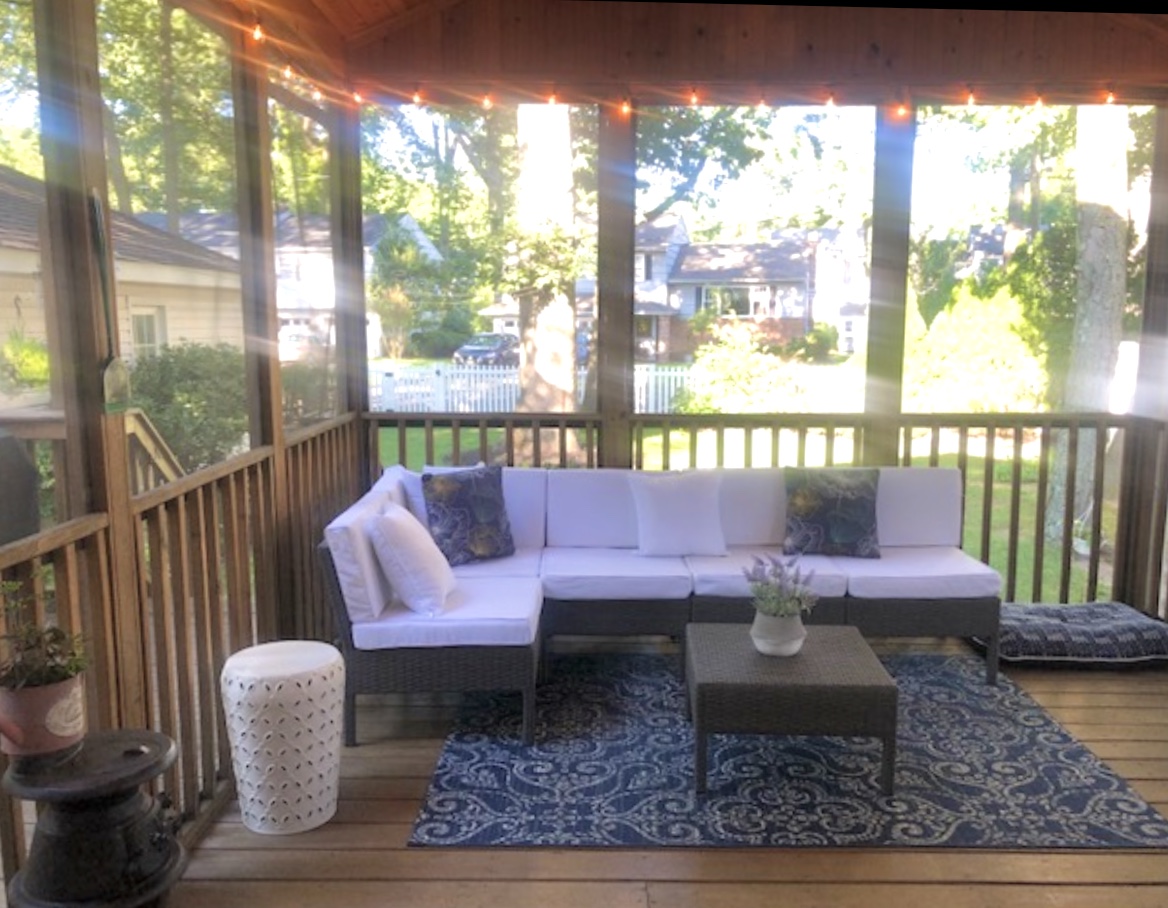 When the world opens back up again…what are you most excited to do?
Get a drink at the Cranford Hotel with our favorite bartender, Tony. We missed him while we were in LA! Also, hug our moms, LOL!
I appreciate the trust that Katelyn and Thomas put in my skill during this pandemic. I'm so happy that that this lovely couple fell in love with Cranford early in their relationship and couldn't wait to move back! I was so honored to work with them again and find them their forever home on Halloween Street in NJ's Best Downtown Cranford, NJ ! I am sure they will have many great memories to come. If you are looking to make a move, get in touch today. I would be happy to answer any questions you may have. I would love to feature YOUR journey in a "Sold by Sharon" story!