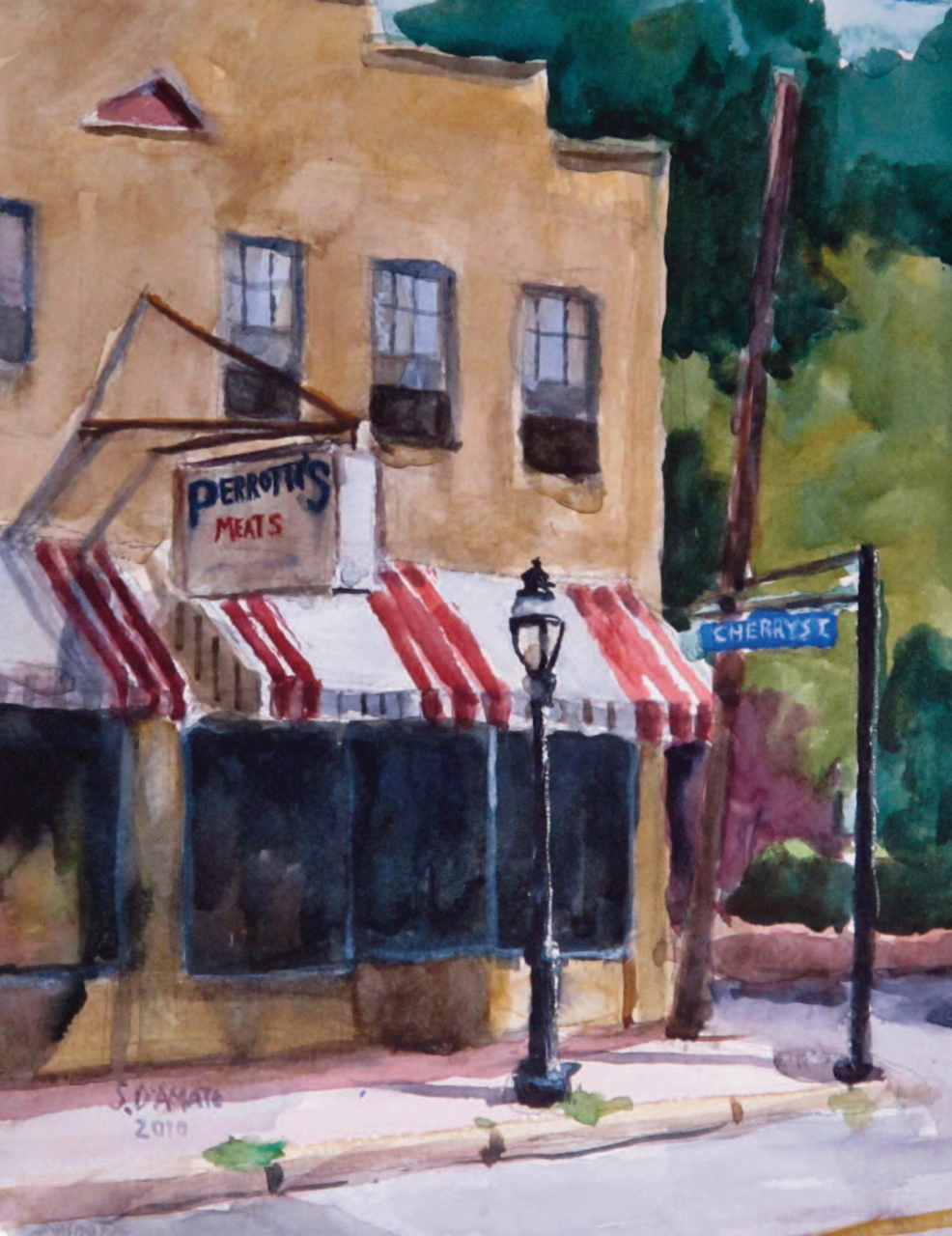 Perrotti's by Stephen D'Amato
There are certain places that just epitomize "small town." The barbershop that's been cutting hair for generations . . . the ice creamery that still churns its ice cream from scratch…and of course, the local butcher. Cranford happens to be home to one of the best old-fashioned butcher shops you'll find anywhere: Perrotti's.

For almost 50 years, Perrotti's has been the neighborhood butcher shop where locals go for quality meats and prepared foods. Brothers Mario and David Perrotti learned the art of butchering after emigrating from Italy to Elizabeth, NJ, where they worked in a pork store for years. In 1967 they opened their own shop in Cranford, at the corner of South Union Ave. and Cherry Street, and have been operating as a family business in that very spot every since.

Artist Stephen D'Amato's painting of Perrotti's captures the timelessness and charm of a neighborhood shop that has stood the test of time. Stephen studied fine art in college and continued his art training with the Art Students League in New York, where he trained five days a week for five years. Watercolor is his medium of choice, and an exhibit of his work titled "Paintings of the Jersey Shore" is currently on exhibit in Springfield Library's PalmerMuseum. Of the Perrotti's painting, Stephen said, "I went through a period of feeling intrigued about Cranford and what it meant for me to be a resident and to discover the history of Cranford, exploring these old buildings with so much charm and character that are still standing. Perrotti's struck me as one of those hidden treasures of Cranford."

Indeed, Perrotti's is a treasure in every sense of the word, the kind you can only find in a very special town. Cranford continues to be a wonderful place for Living . . . Loving . . . Working . . . LOCAL!