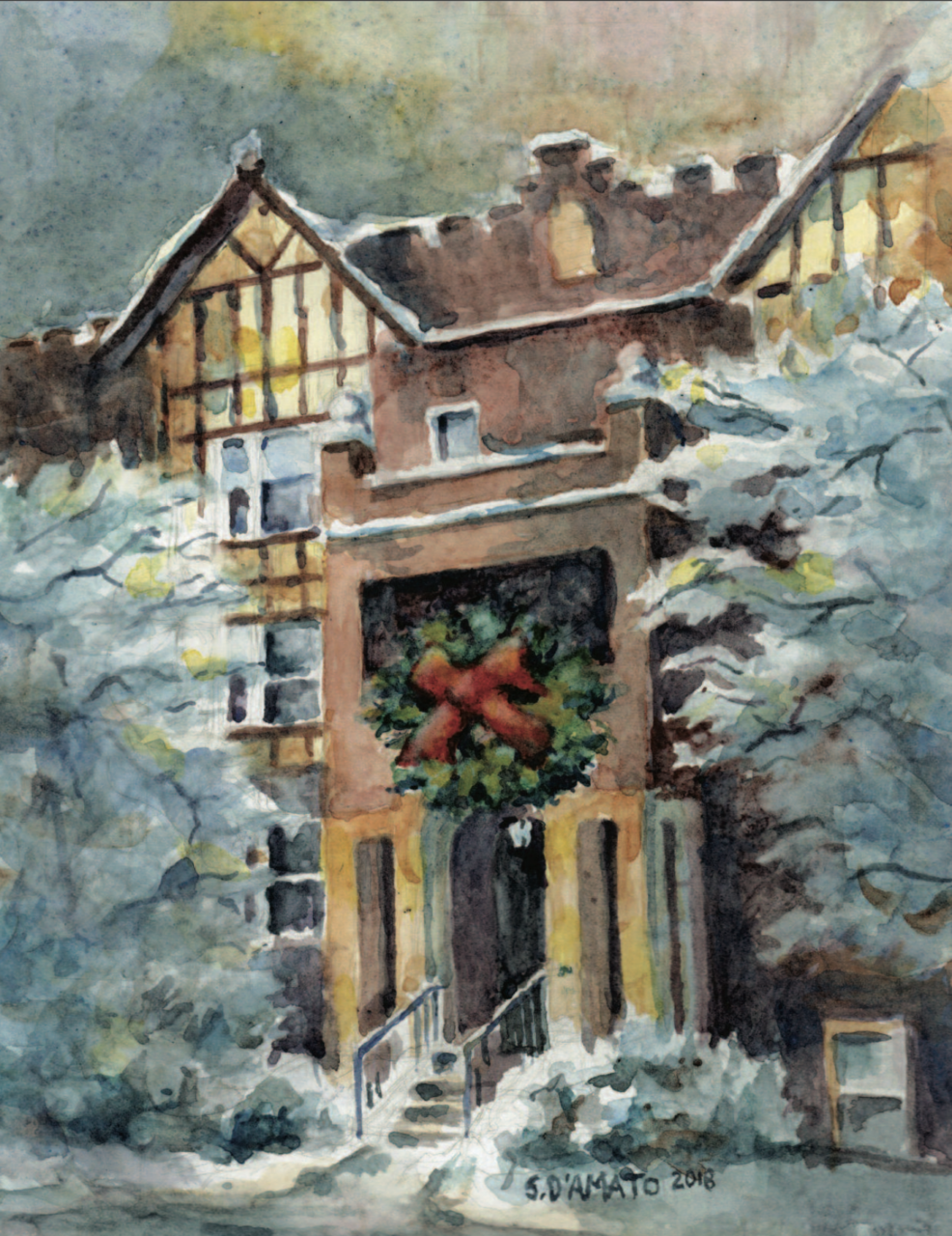 The Riverside Condominiums are a beautiful sight to behold in the center of Cranford NJ. Their English Tudor architecture and perfectly positioned setting near the riverbank- they are a coveted location to take up residence! This land was once the location of the original home of Joseph Purcell and later purchased by William Sperry in 1907. After Sperry passed in 1927, Riverside Apartments were constructed on the site.
Cranford NJ's Riverside Condominiums:
Local artist Stephen D'Amato has lived in these condos for the last 30 years! He mentioned that "the design is so unique, and the park nearby is very picturesque and convenient. The people who live here are very friendly and we are so fortunate to call this home!"
This rendition of the Riverside Condominiums in winter was Stephen and his wife's annual Christmas card to friends and family last year. What inspired him was the "dramatic light of the winter skies- that gray/blue sky that's overcast. Then through the opening of the clouds there is this warmth of light that's so spectacular." Stephen took a previous photo of the condominiums and added the effect of the sky opening up to "juxtapose the warm light and cool shadows and how they create form".
Cranford NJ Artist Stephen D'Amato

Stephen studied fine art in college and continued his art training with the Art Students League in New York, where he trained five days a week for five years. Watercolor is his medium of choice. In his spare time, he teaches students at the Union County Teen Art Festival and is pursuing his songwriting skills!
This winter scene is so calming and peaceful – making a cold winter's night in Cranford that much dreamier! Another reason why Cranford is a wonderful place for Living…Loving… Working…LOCAL!