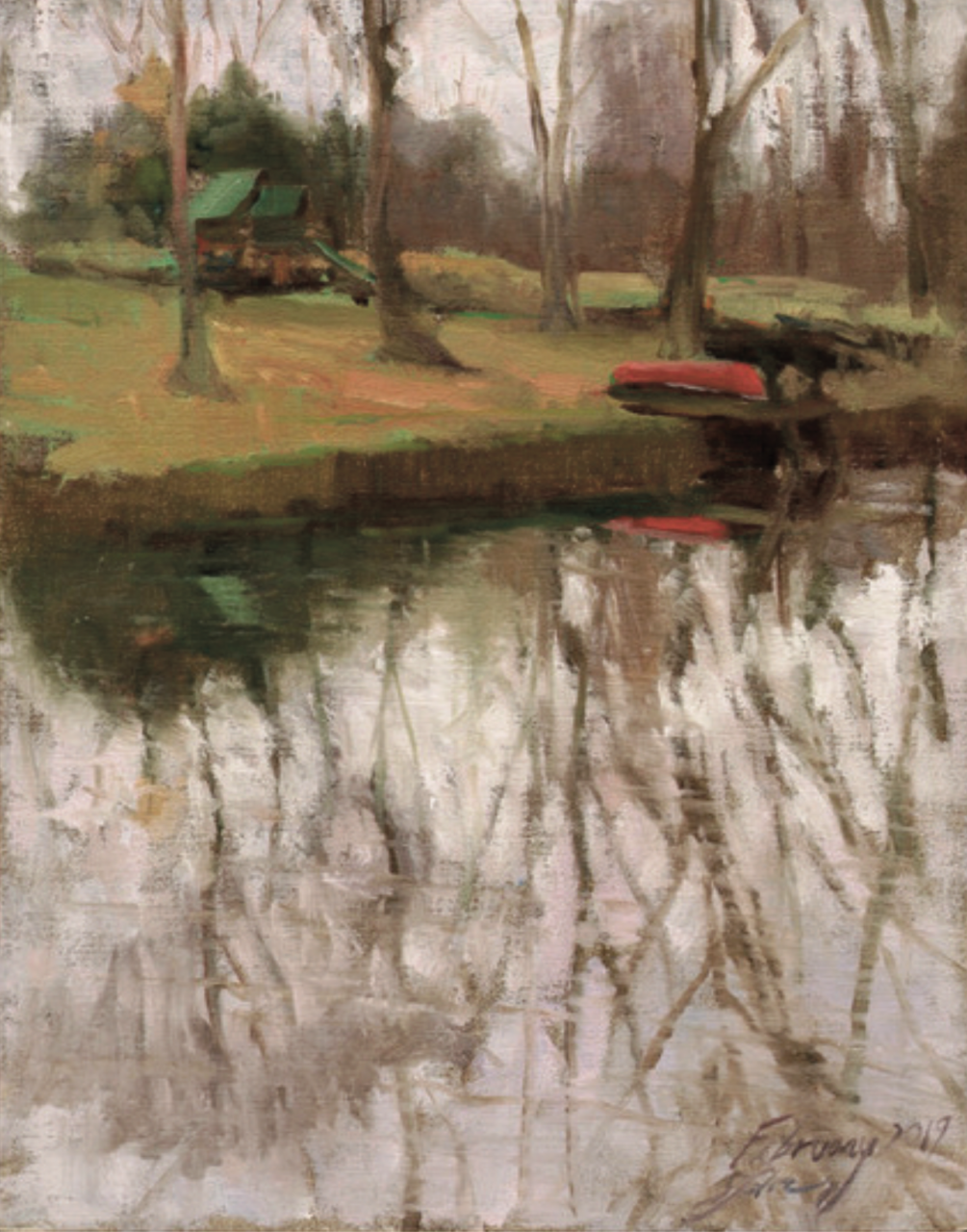 Red Canoe on the bank of Cranford NJ's Rahway River
One of the most beloved aspects of living in Cranford NJ is our claim to a portion of the Rahway River and her tributaries breathing life throughout our town. Throughout the four seasons, residents can be seen walking, running, fishing, biking, and canoeing along the riverbanks. Those lucky enough to own property that leads to the edge of the water often own a canoe (or two)! lt's a beautiful sight to see the colorful canoes proudly lined up along the river!
Local Artist and Business Owner Stefanie Lalor
Stefanie Lalor, a highly respected local artist and owner of "The Artist Framer", captured the perfect snapshot of a canoe scene that we all may have encountered on a brisk walk through town. "The red canoe waiting for Spring was my inspiration" commented Stefanie. This painting was done on a mild day in February as she stood in Girl Scout Park on the small patch of land near the water's edge. "The painting was completed in one session on location with oil paint. I see this red canoe almost daily on my way to the shop in the morning. ln the cold morning, it reminds me that Spring will come again and we can look forward to enjoying life on the river in Cranford.
Cranford NJ is the Perfect Place to Call Home!
This is just one of the so many treasures that make Cranford special!"
The circle of life on our Rahway River in Cranford NJ…ice skating in winter, anticipating canoes in spring, paddling in summer, and enjoying colorful leaves reflecting on the water in fall.
lt's truly a treasure to behold in our town where we Live…Work…Love…LOCAL!