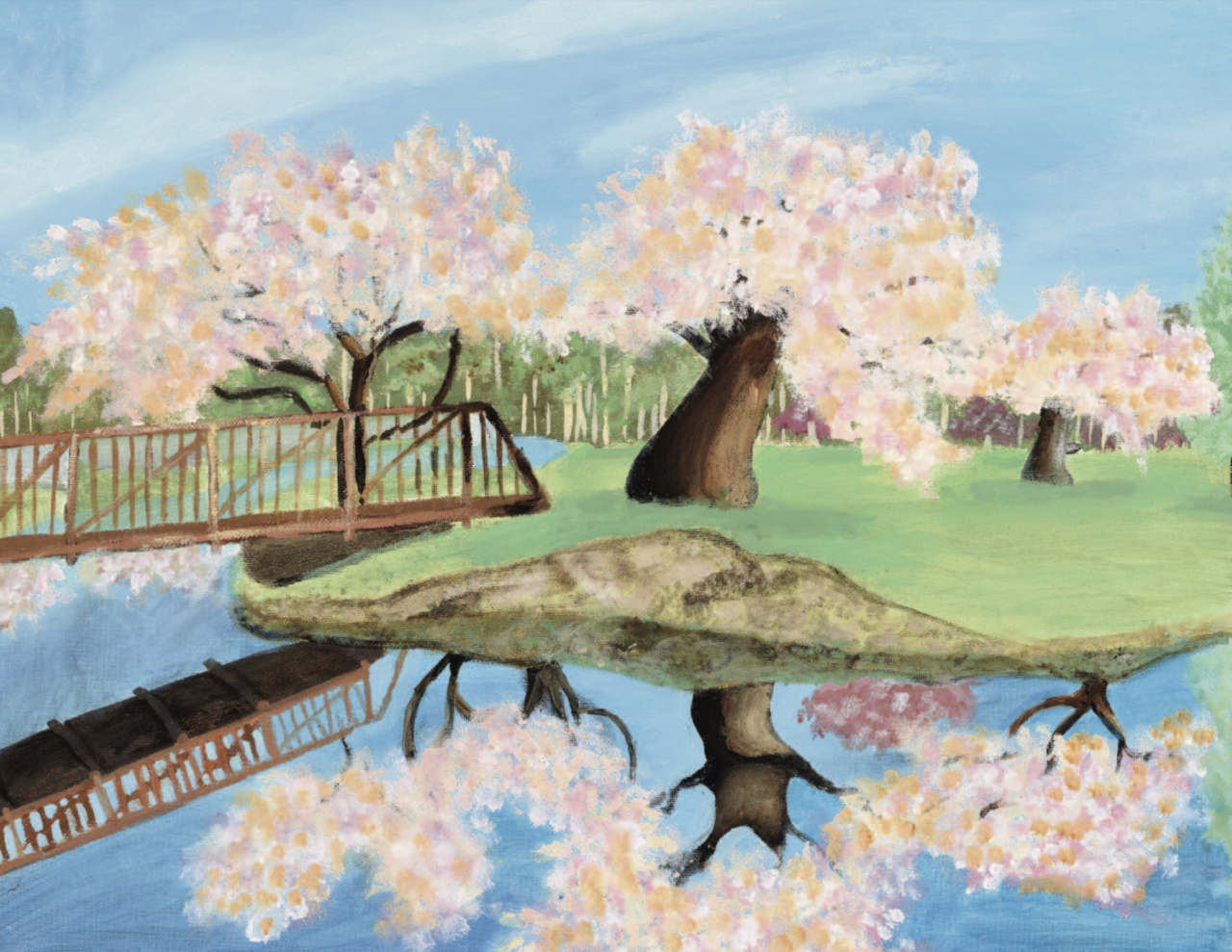 Cranford NJ's Nomahegan Park
Named for a tributary of the Rahway River that runs through it, Nomahegan Park is the crown jewel of Cranford. Acres of lush woods and fields, meandering bike paths, giggle-filled playgrounds, and a shimmering pond beckon visitors year-round. But the most picturesque area in the park is the pedestrian bridge that crosses the pond, where cherry blossoms bloom vibrantly at one end, heralding the arrival of spring. Artists flock to this very spot every March in hopes of capturing that fleeting beauty and rendering it permanent.

In her painting of Nomahegan Pond, Paige Cavaliere has portrayed the pinnacle of spring in Cranford, when the blazing pink cherry blossoms leave you awestruck. Paige said, "Nomahegan Pond in the spring is so colorful and filled with life, and I tried my best to convey that."
Spotlight on Teen Artist Paige Cavaliere
Talent knows no ages, and Paige was still at Cranford High School when she created this piece for the inaugural "Spotlight on Teen Artists" contest, a collaboration between myself, the Cranford High Art Department, and The Artist Framer. Followers of my Facebook page voted among several impressive art submissions by local students; Paige's acrylic painting won and was displayed in an art exhibition with fellow students' work at The Artist Framer. Supervisor of the Fine Arts Dept at CHS Anthony Rafaniello said, "It's wonderful that this contest brought visibility to our talented fine art students and got their artwork out in the community."

Paige currently attends Barry University in Miami studying marine biology, and perhaps tropical scenery there will inspire new stunning artwork from her. In the meantime, I look forward to discovering more local young artists who seek out the beauty of their surroundings in Cranford, where I'm so blessed to LIVE … WORK … LOVE … LOCAL!