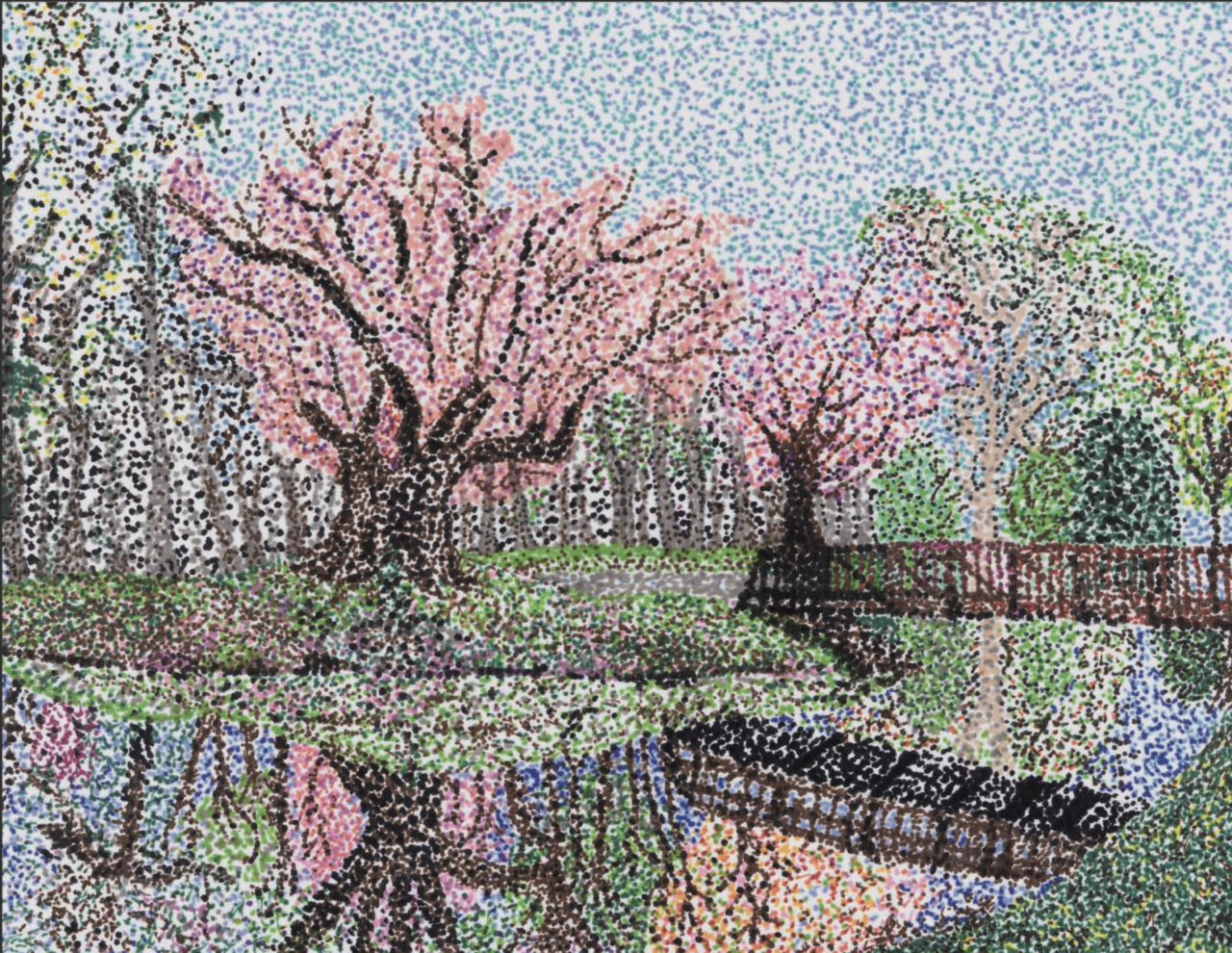 The second year of my "Spotlight on Teen Artists" once again brought forth such talented artists and unique renderings of our favorite spots in town! It's always so hard to choose a favorite and I love them all – so I let you answer a poll to help me decide the winner! It was a tight race, but Nick Garofalo and his depiction of Nomahegan Park in the Spring was the clear favorite!
Cranford NJ's Nomahegan Park
Nick, currently a freshman at Albright College in Pennsylvania, was a Senior last year at Cranford High School. Inspired by his grandmother, he has always had a passion for art and creativity. He was in AP Art Class last year when the teacher announced the contest. While running in Nomahegan Park, the cherry blossoms would always catch his eye – whether in full bloom in the Spring, or changing colors in Autumn. Nick stated, "This particular area just spoke to me and I think it's a beautiful spot in Cranford. The technique I used is called "stippling". I used many fine point Sharpies – and it's simply making dots that are formed together. I love using all the different colors and creating depth. I think it's a beautiful medium and so versatile. I used to struggle with this process, but this particular piece taught me patience. It took me 10-12 hours to create!"
A Talented Cranford Teen Artist
While Nick is majoring in psychology in college – creativity isn't far from his mind. Whatever his future may hold – we are so lucky to have a memento of his journey through art and mastering a particular technique that he grew to love! Enjoy this bright and colorful capturing of a favorite park in Cranford! The youth and future of our town – another reason I'm proud to Live…Work…Love…LOCAL!