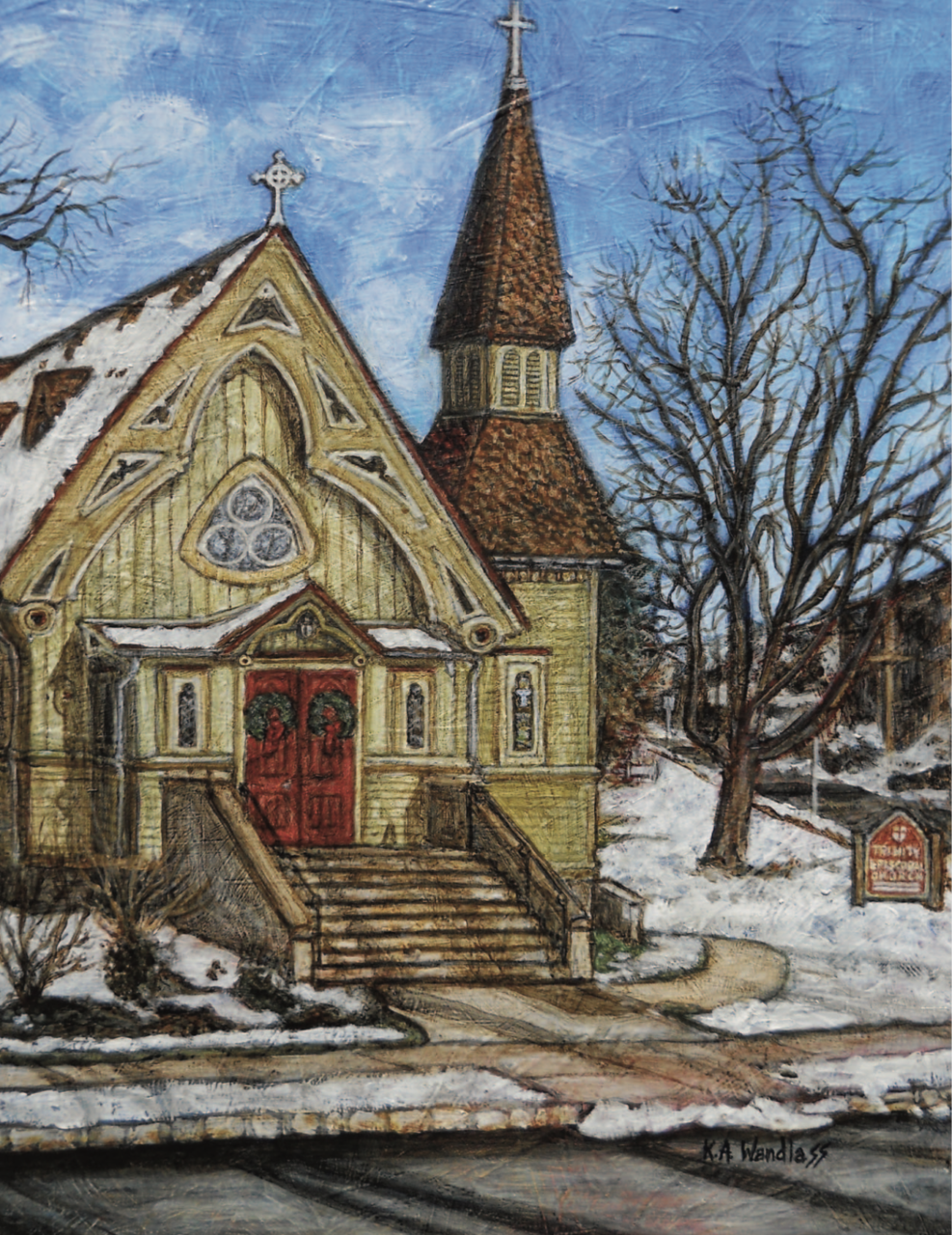 Welcome. The word comes to mind when I look upon the twin red doors of Trinity Church bedecked with holiday wreaths. Behind those doors, familiar sounds emanate: hymns piping from a grand organ, children singing beloved carols, townsfolk greeting one another. Welcome to this beautiful church that has undergone so many changes over the years, but somehow makes you feel as if time has stood still.
Cranford's Trinity Episcopal Church

Trinity Episcopal Church in Cranford was founded in 1872, and it's first church building was erected in 1875. In 2010 the church underwent extensive renovations to look like the stunning yet simple building it is today, the design a nod back to the original board-and-batten building that once stood there, welcoming all.
Kerrie Ann Wandlass lives in Cranford and finds much inspiration here for her acrylic and oil paintings. She received her BA in fine arts from the Fashion Institute of Technology, works as a graphic designer, and has been exhibiting her work in solo and group shows for more than a decade. You can learn more about her amazing work by visiting Kerrie's Website
Kerrie Wandlass Artist Extraordinaire

I commissioned Kerrie Wandlass to paint Trinity Church in wintertime, and although she doesn't normally paint landmarks, she rose to this occasion. Kerrie said, "I prayed for snowfall in December, and after the first flakes fell I went to the church to photograph it when the sun was out. The spectacular building combined with the snow and shadows to make the perfect winter scene."

I've sometimes described Cranford NJ as "bustling", but there is serenity here as well, a sense of peace that can be found amid the lovely landscape and architecture of this town. There is just so much beauty to behold while Living…Working…Loving…LOCAL!