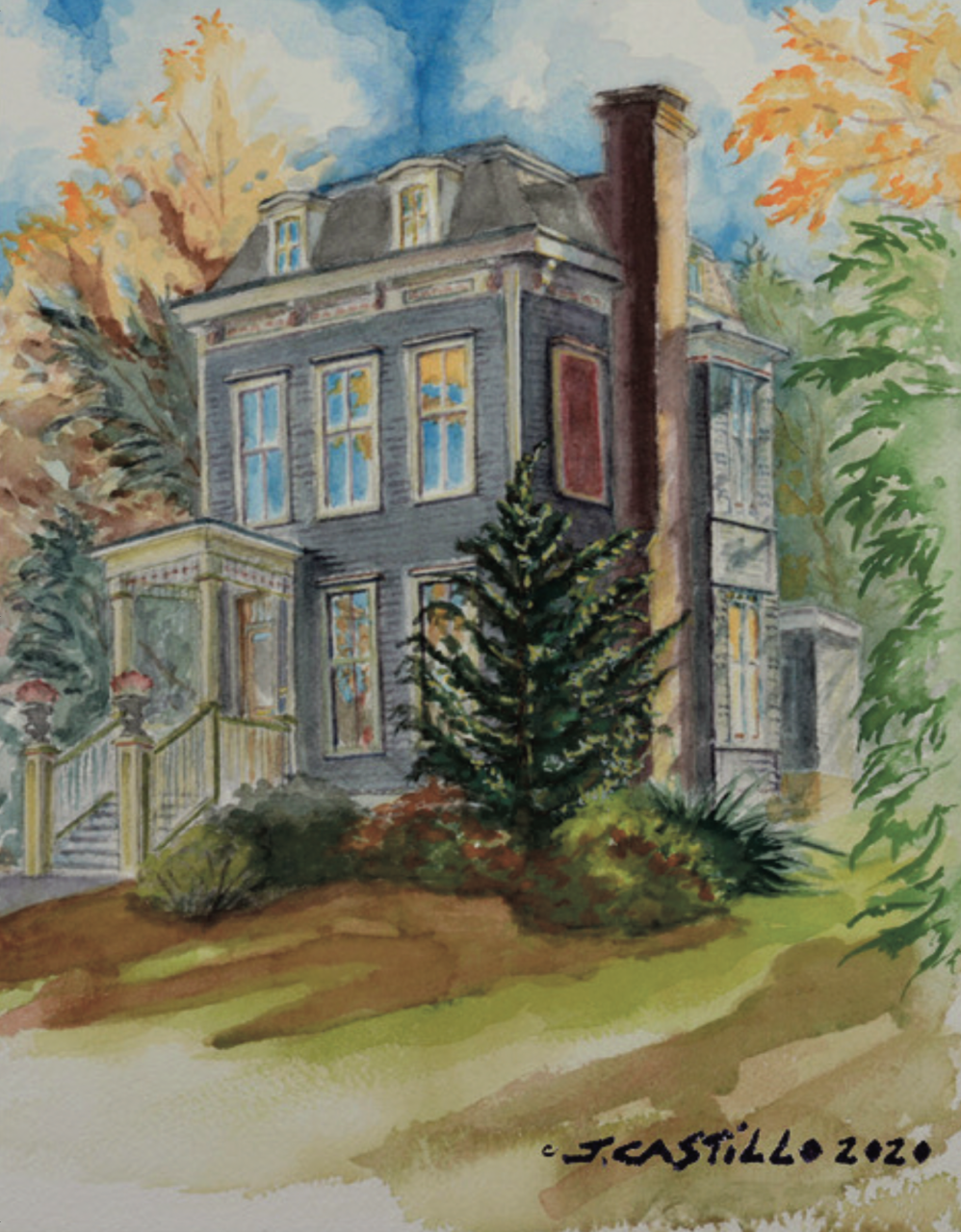 There's no doubt about it – the distinctive home architecture scene in Cranford is stunning. Our array of historic homes keep us entertained as we walk by and guess the history behind them. Local artist Julie Castillo honors us with her portrait of a Second Empire home on Central Avenue in Cranford NJ.

Julie is known for appreciating Cranford NJ's beauty firsthand through her skillful works of art. She was commissioned by the owner of 22 Central Avenue to paint the home as a gift to his wife. Her favorite feature of this house? "The proportions on this home are very challenging because of the mansard roof. The roof is beautiful and makes this home very unique." I love her use of deep, rich colors which envelop the home and bring it to life!
A Classic Cranford NJ Home with History:
22 Central Avenue was originally built for master mason James G. Moore and the stone cottage erected behind in 1890 on the bank of the Rahway River received notable acclaim. This remarkable stone Structure can still be viewed on the riverbank as "his most enduring showpiece in town". ln later years this home was famously inhabited by our Lt. Roger Norton, Jr. – the first person from Cranford lost in WWII.
Well-RespectedArtist Julie Castillo:

Prior to living in Cranford, Julie studied in California at the Art Center College of Design and worked professionally as a commercial illustrator in Los Angeles, New York City and ltaly for highly reputable clients. She is a notable painter and sculptor in the NYC area. Thank you, Julie, for capturing an iconic Cranford home that holds so much history tied to our town. You can see more of Julie's work here: Julie Castillo Fine Art.
This timeless beauty will continue to be cherished by those who dwell within its walls and the passersby who now knows a little more about the history that makes us love Cranford where we Live…Work…Love… LOCAL!