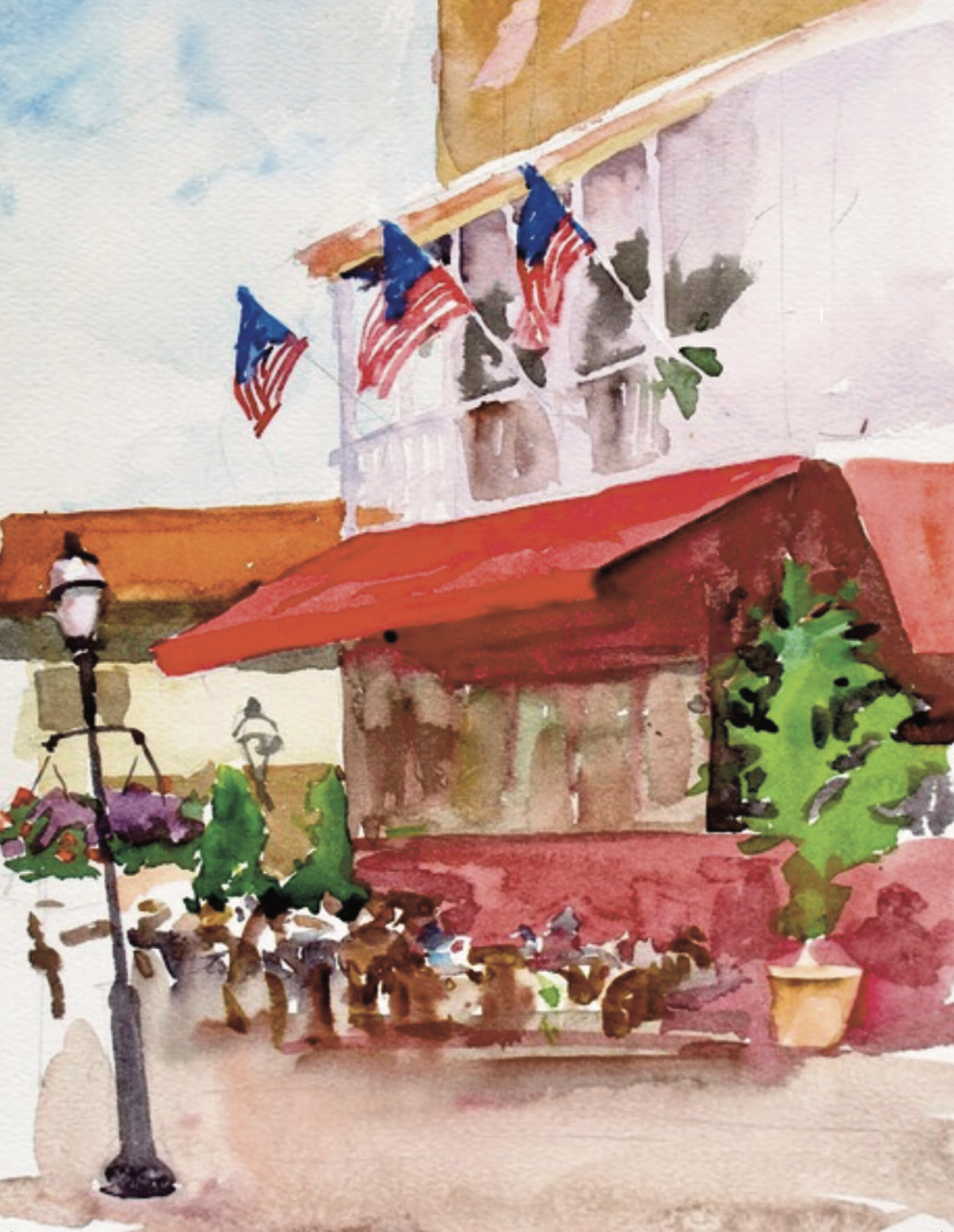 The famed Cranford Hotel Restaurant & Pub
Our Cranford Hotel Restaurant & Pub is our town's connection from the past to the present. Bearing strong resemblance to its earliest days, "The Hotel" was built in 1893 by the Hess Family. lts convenience to the railroad station made it a popular stop for businessmen. ln 1945, The Hotel was sold to the DiTullio family and remained in use as a hotel until the early 70's. lts ambiance endures today in the form of one of Cranford, NJ's favorite restaurants and meeting places that offers something for everyone. lt is truly a cornerstone of our town, and makes living in Cranford NJ fun.
Artist Elissa Gore Perfectly Captures The Hotel
Artist Elissa Gore's painting of the Cranford Hotel is one of my favorite renditions! She was participating in The Artist Framer's "Paint the Town" event and was captivated by The Hotel's cheerful red awnings and waving American flags. This watercolor was painted "en plein air" and Elissa was drawn to the Victorian era detail on the columns and the solidity of the building.

Elissa, painting professionally for over twenty-five years, graduated from the University of Pennsylvania Graduate School of Fine Arts where she specialized in landscape painting. She drew inspiration from the encouragement of her professors in college and time spent with her grandfather and his Beaux-Arts architectural drawings on Sunday afternoons. Widely recognized in the NYC area for her "plein air" landscape paintings, her works can be found in countless fine art galleries and exhibitions.
Living in Cranford NJ:
An homage to the place where "everybody knows your name", we can all proudly hang this print on our wall and be able to recollect countless memories where the Cranford Hotel was the site of a memorable event! This landmark has stood the test of time and we are continuing to meet with friends and family across the table at a beloved establishment.
The Hotel is where new memories are made as we Live…Work…Love…LOCAL!