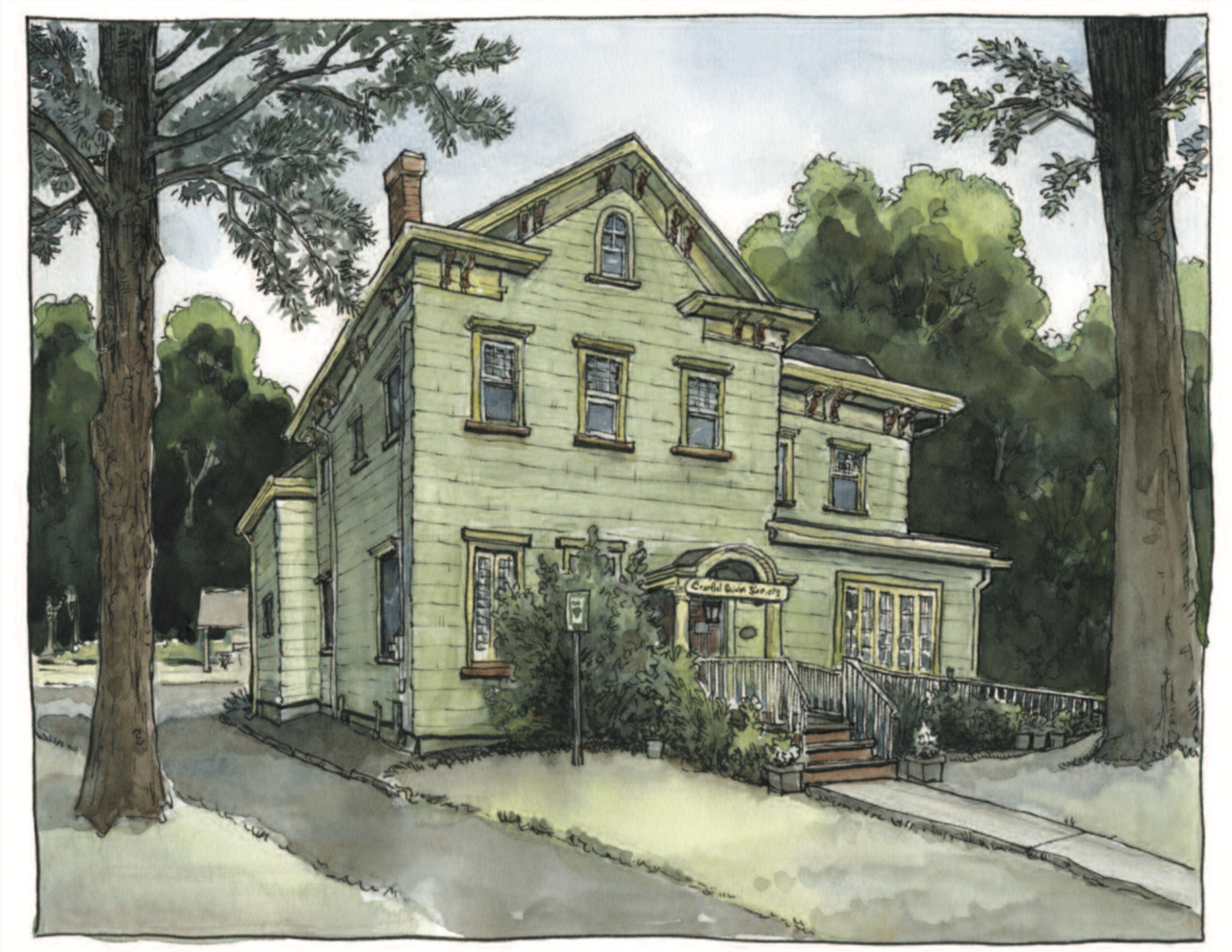 The Hanson House is one of the iconic landmarks in Cranford. Nestled in a beautiful wooded backdrop, this is home to the Cranford Historical Society and a meeting place for many beloved local organizations. As you drive down Springfield Avenue, you can't help but notice the romantic Victorian home – rich with green and yellow hues. It's the perfect setting to compliment the abundant natural beauty of Hanson Park.
Author, Artist, Illustrator Timothy Bush:

An extraordinary artist and author – Timothy Bush – caught my eye on social media. He had done some urban sketches of Cranford that were brilliant. Timothy did this rendering of the Hanson House just for this art mailer! He was born in Pittsburgh, PA and has traveled the world. He is a self-taught artist and came to drawing from life relatively late. His book illustration work had been an extension of the way he's always drawn, working mostly from his head. His children's book work includes author and/or illustrator credits on more than 25 books for young readers – characterized by imagination, humor, and high energy.
About the Hanson House in Cranford NJ:
"It's such a lovely subject. Cranford has loads of great architecture, but the Hanson House is also someplace I go passed nearly every day, and it was a great opportunity to get to know this neighbor better." I liked the fact that it's also a place where community life happens: that park has things going on in it all the time! For this particular painting, I spent a few hours drawing on-site, then took a bunch of photos and did the final piece from those.

It's nice to have someone capture a place so rich in Cranford history – and one that is continued to be enjoyed by the community. It's another reason why I Live…Work…Love…LOCAL!