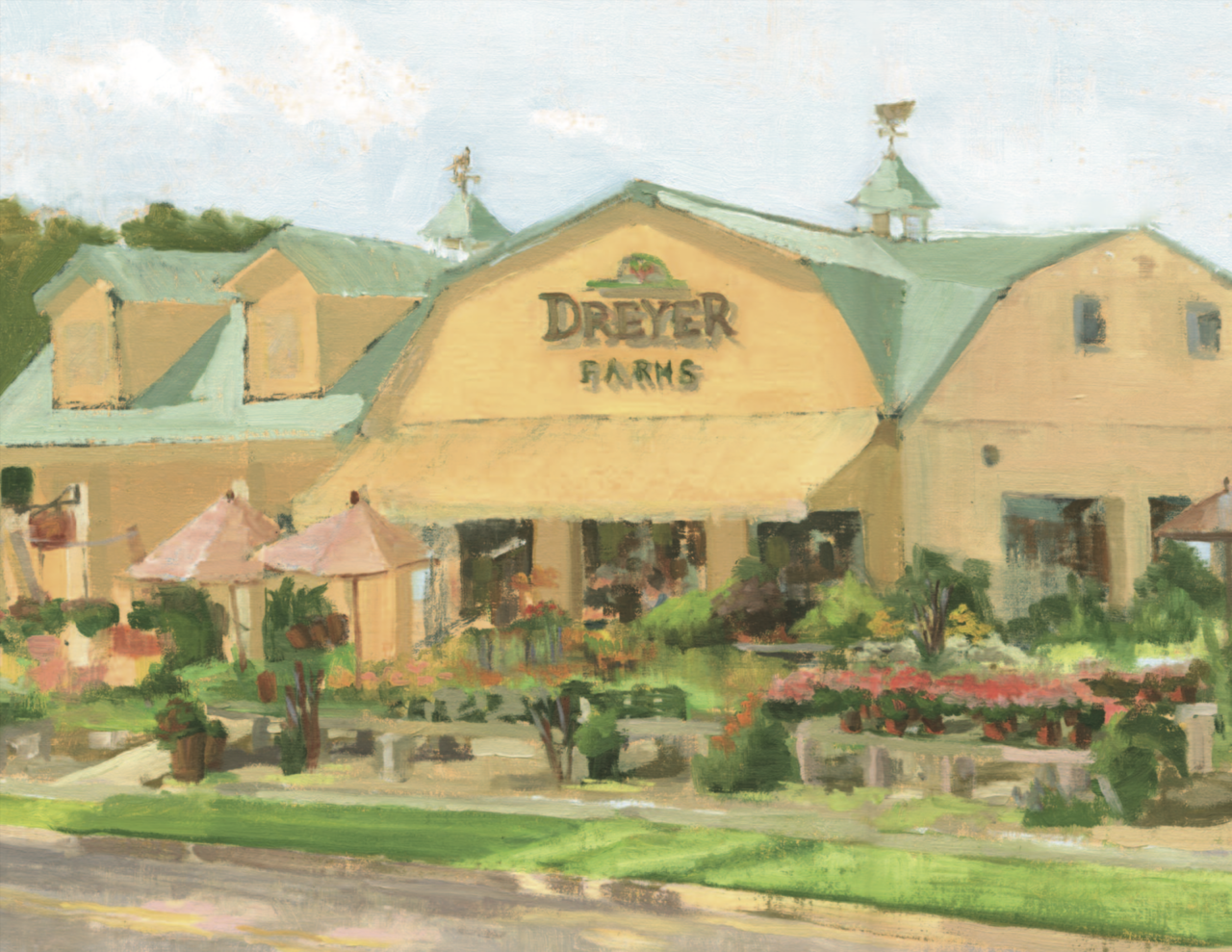 Farm-fresh. Just-farmed. Farm-to-table. These are not phrases one would typically associate with a suburban NJ town, yet they are everyday utterances at Dreyer Farms in Cranford, which is Union County's oldest continuously operating farm.
Serving Cranford and beyond for more than 100 years, Dreyer Farms is amazingly still a family-run business. The farm produces a wide variety of vegetables, fruits, and plants, and seasonally sells more than 2,000Christmas trees. But what draws in so many patrons is the recently renovated farmstand, where on any given day you can shop for fresh produce, locally sourced dairy and meats, homemade salads, from-scratch pies, and of course, a bag of Dreyer's famous hot donuts ranked among the best in the state! The cheery yellow building is eye-catching, and its design harkens back to Dreyer's original stand built in 1946.
Cranford's Beloved Dreyer Farms

Local artist Stefanie Lalor captured the essence of Dreyer Farms in her portrait of the farmstand, which reflects the timeless beauty of its past, present, and future. I loved hearing about how this special piece came to be. Stefanie said, "It was last July, and we had a crazy pouring rain one night, and I knew the sun was going to be incredible the next day. It was super hot, and the sun was phenomenal. I had four days in a row where the light was the same and I could stand in the same spot. At the time it was my biggest plein-air painting, and I completed it in those four mornings, all while smelling those delicious donuts cooking inside. It was heaven."
Stefanie Lalor is The Artist Framer

Stefanie is not only a renowned painter but owner of The Artist Framer in town, so she appreciates the labor of love that is running one's own business. That's why her favorite part of this painting is something you might have overlooked at first. She said, "If you look closely, Jessica Dreyer is in the painting! She happened to be helping a customer check out when I was painting one day, and I captured it on the canvas." Like Stefanie, the Dreyer family, and so many others, I too consider it a privilege to LIVE . . . WORK . . . LOVE . . . LOCAL!