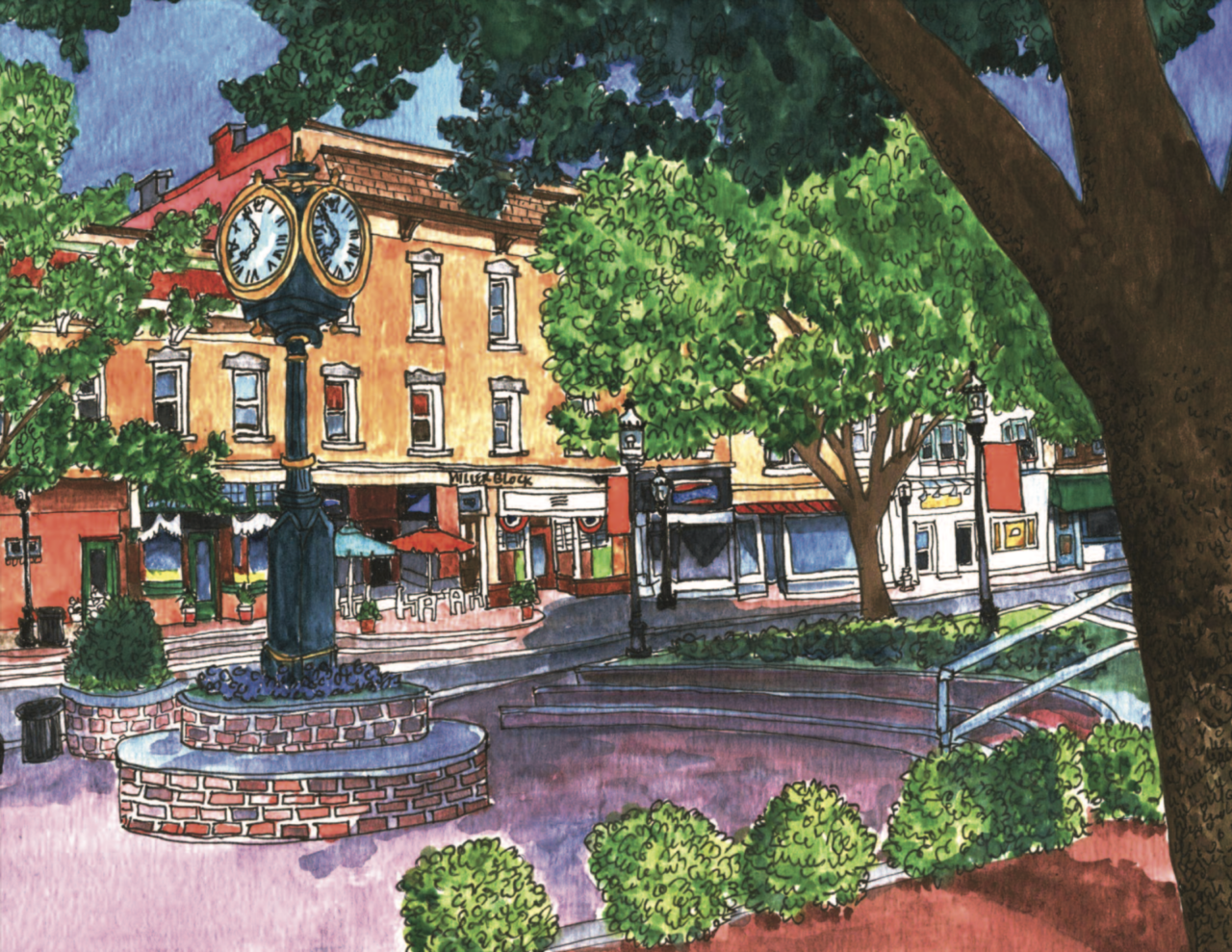 Cranford's Eastman Plaza Victorian Clock
You can't call a town "quaint" if it doesn't have a proper town square: a special spot where folks can relax on park benches while sipping lattes from the local coffee shop; where artists set up canvases and paint the lively scenery; where musicians tickle the ivories of an outdoor piano; where kids chase each other around a Victorian clock. That's Eastman Plaza in Cranford, a quintessential town square if there ever was one.
Artist Linnea W. Rhodes
Local artist Linnea W. Rhodes used her signature pen and- ink and watercolor combination to depict the ever-quaint Eastman Plaza on a bright and sunny day. Linnea received her BA in Fine Art from Douglass College, and her work has been featured in 80 group shows plus 15 solo art shows in New Jersey, New York, and Massachusetts. You may have seen her gorgeous prints and cards for sale at several local shops and galleries in our area, including The Artist Framer, The Town Book Store, and Gallery U.
Charming Cranford NJ
Linnea said, "Eastman Plaza is my favorite of all the Cranford scenes I've done. The original painting hangs in my own home; it's something I don't want to part with." Linnea went on to describe the driving force behind her artwork: "I'm not trying to paint scenes that look exactly like places. I'm trying to elicit the feeling you get when you're in those places. If someone says 'your painting reminds me of how I felt when I was there,' I know I have been successful."

I'd say Linnea has been wholly successful in capturing the feeling of Eastman Plaza, because I get that same warm and cheerful feeling when I look at her painting that I do every time I pass by that sweet little pocket park in my hometown. It's another magical place where I get to LIVE . . . WORK . . . LOVE . . . LOCAL!