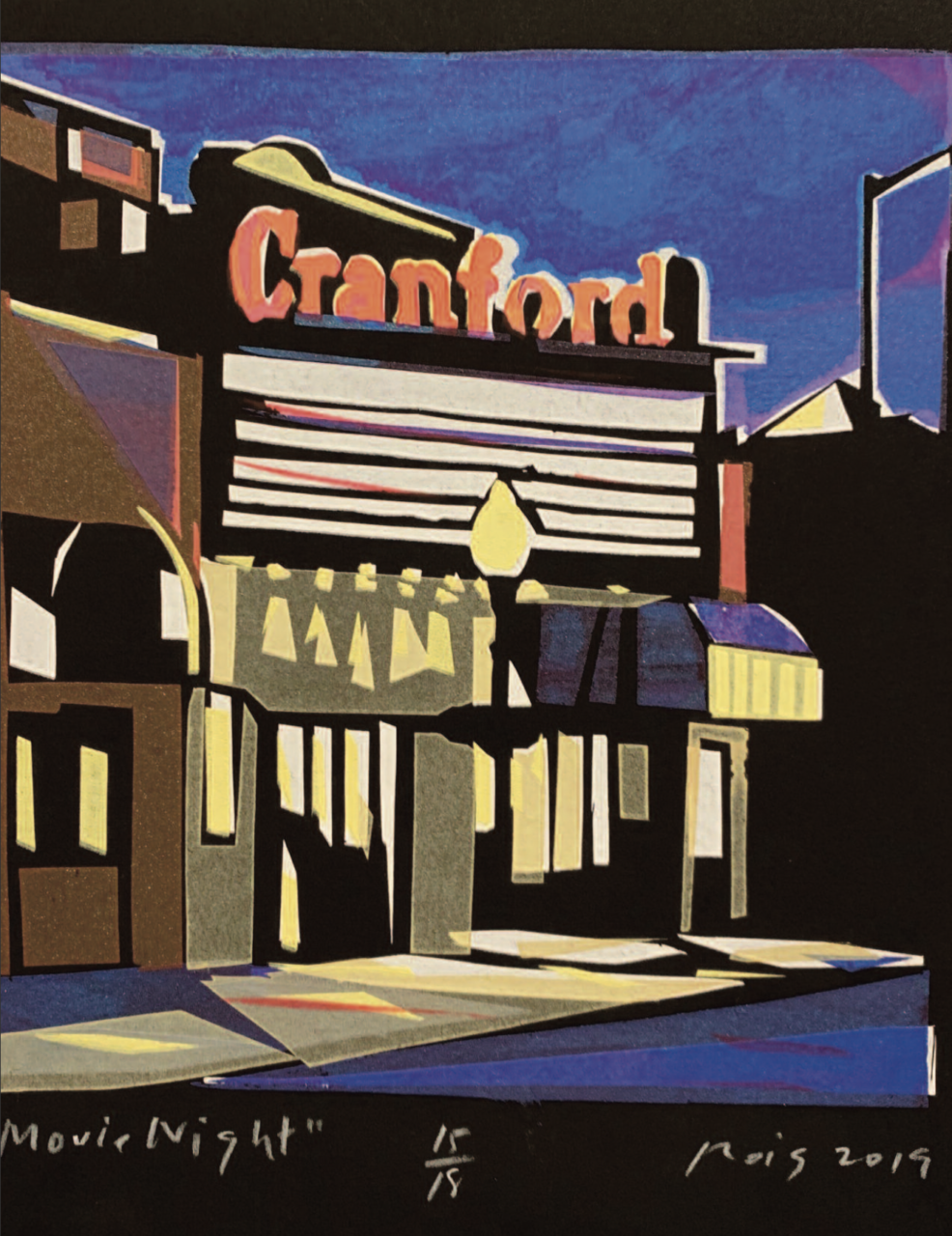 I would like for you to meet an artist like no other – Ricardo Roig, a former art teacher from Westfield, NJ. Before his gallery even opened its door at 305 South Avenue West, his stunning and vivid hand-cut prints stood out on social media. I knew I had to request a piece to feature in my blog & art mailer!
Ricardo Roig's Artistic Process:

Ricardo has created his own form of art -the "hand-cut print". From overlapping multiple layers of color through hand-cut stencils, Ricardo makes these original works of art. Paper stencils are made by cutting shapes out of paper with an exact-o knife and then uses a squeegee to push the mixed acrylic inks through these openings when it is attached to a screen. Each color is a different paper stencil that is layered upon one another as the puzzle is pieced together and the image is formed into the print. This hand-cut print becomes a culmination of color shapes built upon these relationships.
The Iconic Cranford NJ Movie Theater:

The print of the Cranford Theater was requested seven years ago by a couple who regularly went to the movies. Given the recent buzz this iconic theater has created, it's more popular than ever! Roig commented, "It has so much history, so much character – it's basically art already! For me, a theater resembles the metaphor "life is a stage". This is the setting for you to have that romantic, adventurous, or curious night – to experience something visually. The theater is the setting for a show-stopping experience and for you to refuel your creative spirit. It blurs the threshold between art and life. What also drew me to the Cranford Theater was that neon pink glow of the marquee sign!"

The Cranford Theater is a landmark in our town, and we are thankful that Ricardo Roig captured an emotional response through his rich colors and shapes. I can't wait to see another movie in a town where we are lucky we can Live…Work…Love…Local!