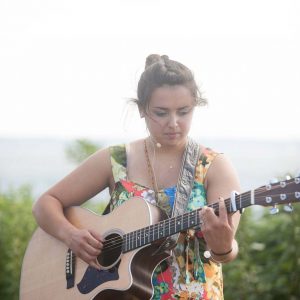 Let's call this party "a return to childhood"! I spoke with Kelli Bruno, a sensational and talented young woman, last week about her exciting Nomahegan album launch party and FREE concert to be held in her hometown of Cranford this Sunday, May 5th from 2-4pm in Nomahegan Park. Kelli has been hailed a brilliant "Indie, Folk, Pop, singer/songwriter with subtle jazz and classical influences. A melting pot of music!" Many of you may know Kelli Bruno and her rise from preschool choir singer at First Presbyterian Church of Cranford to up-and-coming songwriter in NYC. Regardless of your familiarity to Kelli Bruno, you are ALL invited to hear her perform live in Nomahegan Park!
How Kelli Bruno got her start
Kelli has had music on the mind and in her heart from an early age. She began singing in the choir at the First Presbyterian Church, played the violin in the Cranford High School Orchestra, and was a member of the CHS Concert Choir and Madrigal Choir.
She also began piano lessons at age five. She confided in me that her "biggest musical influence was the late local Cranford musician/teacher/composer- Mario Lombardo. I took piano lessons with him for most of my life and I always say that 90% of what I know about music I credit to Mario! (He sadly passed away in 2012)"
Knowing how to play the piano and violin inspired Kelli to learn other instruments. She can proudly boast that she rocks the guitar, ukulele, violin, hand bells, organ, cello, harmonica – and the list keeps growing!
After high school, Kelli pursued a bachelor's degree in English (Film/Media Studios) and Music from Bucknell University in Pennsylvania. She moved to Manhattan in 2016 and is the Project Manager for a non-profit organization called Musicians on Call. Founded in 1999 in NYC, they "bring live and recorded music to the bedsides of patients in healthcare facilities. By delivering live, in-room performances to patients undergoing treatment or unable to leave their beds, we add a dose of joy to life in a healthcare facility". Kelli is also one of the hospital program volunteers and feels she "really hit the jackpot" – being able to mesh her love of music and helping others though her gift of music! (Valium) When she isn't writing songs or performing for others, she adores hanging with her friends in NYC. She loves the advantage of a city life and then being able to hang in Cranford whenever she wants on the weekends!
Kelli Bruno, songwriter
Her discovery for songwriting began around the age of twelve – but she didn't really delve into writing music until after college. She started writing every day and then realized that she had a great collection of songs over the years with an overall theme – hence the album!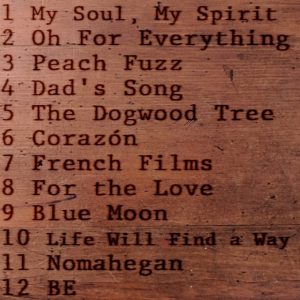 The Nomahegan Album from Kelli Bruno
Hailing from Cranford and residing on Park Avenue – Kelli grew up with Nomahegan as her backyard. "I literally saw the park every day. When I moved away from it, I really appreciated it more! I loved always being the park as a child – canoeing, ice skating, playing on the playground, walking the dog…the park WAS my childhood!"
"This album is an ode to Nomahegan Park as well as recounting my childhood experiences. Not all of the songs are tied into the park – some dive into my mid 20s, my independence in NYC, and just rambling thoughts of life. The theme of the whole Nomahegan album is my transition from that park into adulthood.
The Album Release Party!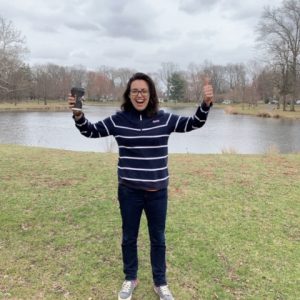 Kelli Bruno invites everyone to her free concert this Sunday, May 5 at Nomahegan park from 2-4pm in celebration of her album release. She couldn't think of a better place to share the joy of her first album than back at home, in her park, with her hometown community! She will be playing live with a small band and also bringing the food and hopefully the sun! Kelli has chosen her favorite 6-7 songs to highlight the album and is excited about getting people together to listen to her compilation! Vinyl copies of Nomahegan will be available to purchase as well as CDs and other merchandise! Make sure you check out the event's Facebook page at Kelli Bruno to see if there will be a change in the location – rain location is at the First Presbyterian Church of Cranford
What's next for Kelli Bruno?
Kelli's Nomahegan album has been out since November 2018. You can listen to her debut album on Spotify, Apple Music, iTunes and Pandora! Follow Kelli on her singing/songwriting journey at her official website at www.kellibruno.com.
She has two confirmed upcoming shows:
Sunday, May 19th @ 5:30 pm – The Stone Pony (indoor stage) in Asbury Park, NJ
Friday, June 14 at 7:00 pm at Crossroads, Garwood
If you can't make this concert – be sure and follow Cranford's rising star at other local venues! We couldn't be prouder of you Kelli! You followed your aspirations – your passion – and made an album! You are truly an inspiration for other young musicians and singers! We wish you the best of luck in your life's journey!