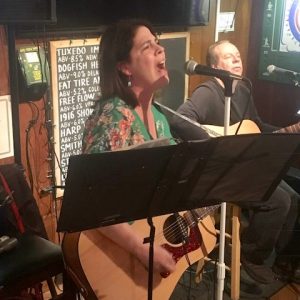 Meet Claudine Flynn – a Cranford mom of two with a lifelong dream of singing! Originally from Scranton, Pennsylvania – Claudine had a pretty "suburban upbringing". She started singing in church and realized that she had a God-given talent. She was so good that soon she was brought into her elementary school classrooms to sing for her classmates! She said she was too shy for musical theater but continued in the choral group in high school and went all the way to State Championships!
Not knowing exactly what she wanted to pursue as a career – Claudine went to a local community college and spent her free time listening to music and singing for various gigs on the side. She then found herself caught up in the exciting life of NYC living! Claudine began working at her cousin's art gallery and bartending on the side to pay for rent! She wanted to continue singing but "it was hard to get a band together and I needed to work weekends to make money!"
After spending a few years in NYC, she was craving new adventure in her life. Claudine went hiking in the Adirondacks and surrounded herself with amazing friends in Vermont. She loved the Vermont restaurant and food scene and that became her passion for a while.
Claudine moved back to New York City a few years later and that's where she met her amazing husband. They lived in Brooklyn for a while and now they have been Cranford residents with their two beautiful children for five years! Once her "mommy life" settled down a bit – Claudine found herself the perfect opportunity to get back into the world of singing.
It was Cranford Porchfest 2017 that gave Claudine the encouragement, confidence, and opportunity to let the community hear her beautiful voice! She met Garwood resident, Gary Costello, a singer/songwriter (https://www.facebook.com/GCsolo/) who asked her to join him at this fabulous local event! Cranford Porchfest opened the door for Claudine to connect with Chris Lenza, Cranford Community Connection member who assisted in organizing the event. Chris just happens to be a brass player and member of one of Cranford's favorite local bands – The Lovehandles! (https://www.facebook.com/musicoftheLoveHandles/)! Claudine started singing with this group and on December 22, 2017 – made her big debut at the "Christmas at Crossroads" concert!
Since then she's continued singing with Gary Costello as well as The Lovehandles at various events throughout New Jersey. Regarding being the newest member of The Lovehandles she commented, "It's just a good group of people and we are all on the same page. It's so nice to go out and play music. We just want everyone to get up and dance and forget your worries for a while!"
The Lovehandles' motto is "If we can fit brass into it, we'll do it". They play everything from Adam Ant to Johnny Cash, Otis Redding, Rock, R&B, Ska, Blues, Swing, and Funk. The other band members include locals Tim Goodwin, Yusuf Mufti, Chris Lenza, Vin Lenza, Michael Marchesi, Claudine Flynn, and Brett Aveni.
Very close friends of Claudine say that she "fits perfectly into the mix of the group". They also commented that she's a very shy and humble woman – but when she's on stage she comes alive and is on fire! I just love the story of a mom who had a dream and life ended up coming full circle to help her fulfill that dream! This is truly a heartwarming, feel-good story for our town! If you want to hear the phenomenal voice of Claudine -you can catch her at the events below: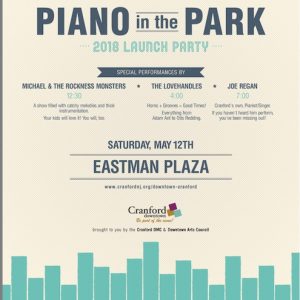 Piano in the Park (Cranford), Saturday, May 12 @ 4:00 pm: Singing with The Lovehandles at Eastman Plaza – horns, grooves, and good times!
Relay for Life (Cranford), Friday, May 18th @ 8:30 pm: Singing with The Lovehandles at Orange Avenue School for this fabulous American Cancer Society Fundraiser!
Ye Olde Rathskeller (Cranford), May 19th @ 9:00 pm till midnight: Head to "The Rat" on Centennial Avenue to see her in an acoustic duo with Gary Costello!
Little Silver Day (Little Silver), Saturday, June 23 @ 4:50-5:30 pm: Grooving with The Lovehandles! (not local but totally FUN!)