At a time when "essential" is the new buzzword, I wanted to highlight our Cranford Family Care. This non-profit organization has been the backbone of our community since 1936. It is now a vital necessity for our neighbors in Cranford in this time of need.
It is with sincerest hearts that our community honors the recent retirement of Kathy Willis, who served the role of Director for 24 years. Additionally, I hope to introduce to you the efforts of the new board and share my interview with the new Director, Julie Carroll.
First, I'll tell you a bit about the history of this crucial organization. Secondly, I'll talk about how COVID-19 has affected how Cranford Family Care (CFC) is currently operating. Thirdly, and most importantly, I'll let you in on ways you can give back during this holiday season!
We all must welcome Julie Carroll and John McSharry to the CFC Board! Julie was an active board member prior to taking on the new role of Director and John recently joined the board. Kathy Willis, the retired Director of the CFC board remains an active member.
Thank you, Julie, for taking the time to tell us a little more about this essential organization. We hope our community can help out during the winter months.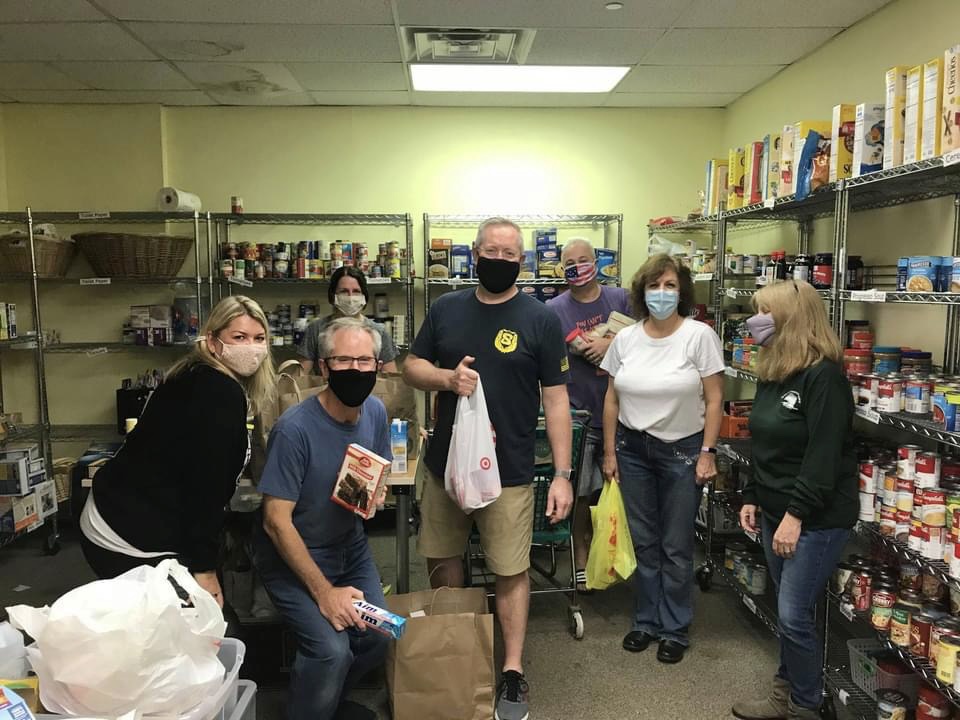 Cranford Family Care is deeply rooted in the Cranford community
Did you know that the beginnings of this organization go back to the Great Depression? Central Relief was formed to help relieve local families in need of assistance. In 1936, the Trinity Episcopal Church, the Cranford Rotary Club and concerned citizens founded the Cranford Welfare Association.
The primary objective of the association was to offer short-term assistance to Cranford residents in urgent need. In 1952, Cranford Welfare was changed to Cranford Family Care. At the present time, CFC is a 21-member board and funded through Project Home of Cranford, United Way of Union County, service groups, religious organizations, schools in Cranford, businesses, and fellow citizens.
Cranford Family Care is continuing to support Cranford during this pandemic
Cranford Family Care has been providing assistance to Cranford residents in the form of food and temporary financial support. The organization helps those in need meet financial commitments for utilities, rent, or mortgage payments. There are many residents of Cranford that have been impacted at work by Covid-19. There has been a reduction of work hours, furlough, loss of employment, and an inability to work due to the changes with hybrid schooling.
New needs are in the community as a result of COVID-19
Many families who depended on meals offered by the schools have a greater need due to the hybrid school program. (part-time homeschooling and part-time going to the school). Consquently, many families need more food and snacks for their children. In May and October, CFC sent out Shop-Rite gift cards to members of the Cranford Student Lunch Program along with a note stating CFC is here for them!
The Cranford community is helping out in a big way
Julie stated that the difference today is the outpouring of generosity of Cranford organizations, businesses and residents. Many people are finding ways to donate perishable items, gift cards and money to help those in need – even in these difficult times. Here are just a few ways Cranford has been giving back in a big way!
· Downtown Cranford included CFC in their Spider Cider Stand, Scarecrow Stroll and many other events.
· "Feed My Lambs" Outreach of St. Michael's Church provides meal bags for young people along with food and money donations regularly.
· The Cranford Movie Theater has been bringing food donations all summer through donation bins at their drive-in theater. Recently they added collecting wrapping paper for December.
· Boy Scout Troop 75 of Cranford ran their annual Scouting for Food Drive on Saturday, Nov. 14 at Cranford Family Care. They thank everyone for the outpouring of support and stocking the pantry once again!
· The Girl Scouts of Cranford will be collecting non-perishable food for Cranford Senior Housing. Girl Scout Junior Troop 40194 is running an "Adopt a Senior" for their Thanksgiving Drive. Other Cranford Girl Scout Troops, including Daisies and Brownies are making Thanksgiving boxes for Cranford seniors and families.
· Venue 104 and Garlic Rose Bistro will be making Thanksgiving dinners for Cranford families in conjunction with Cranford Family Care.
Cranford Family Care is requesting your continued volunteer efforts as this pandemic takes us into the winter months
CFC has been working more closely with Project Home of Cranford, Downtown Cranford, FLAG for Cranford, Saint Michael's Church, Cranford United Methodist Church, Calvary Lutheran Church, Cranford Police Department and other organizations for donations. Julie commented they have been fortunate to have an influx of volunteers. Moreover, utilizing social media such as CFC Facebook and CFC Instagram will help get the word out. Certainly, that is an easy enough thing to do!
Start following these sites and spread the word to neighbors and local friends! CFC is inspired by the outpouring of the community in so many ways. Julie related a recent story of a Cranford High School student asking her friends to provide food donations to CFC in lieu of presents for her 16th birthday!
"Cranford Stronger Together" Stadium Blankets support Cranford Family Care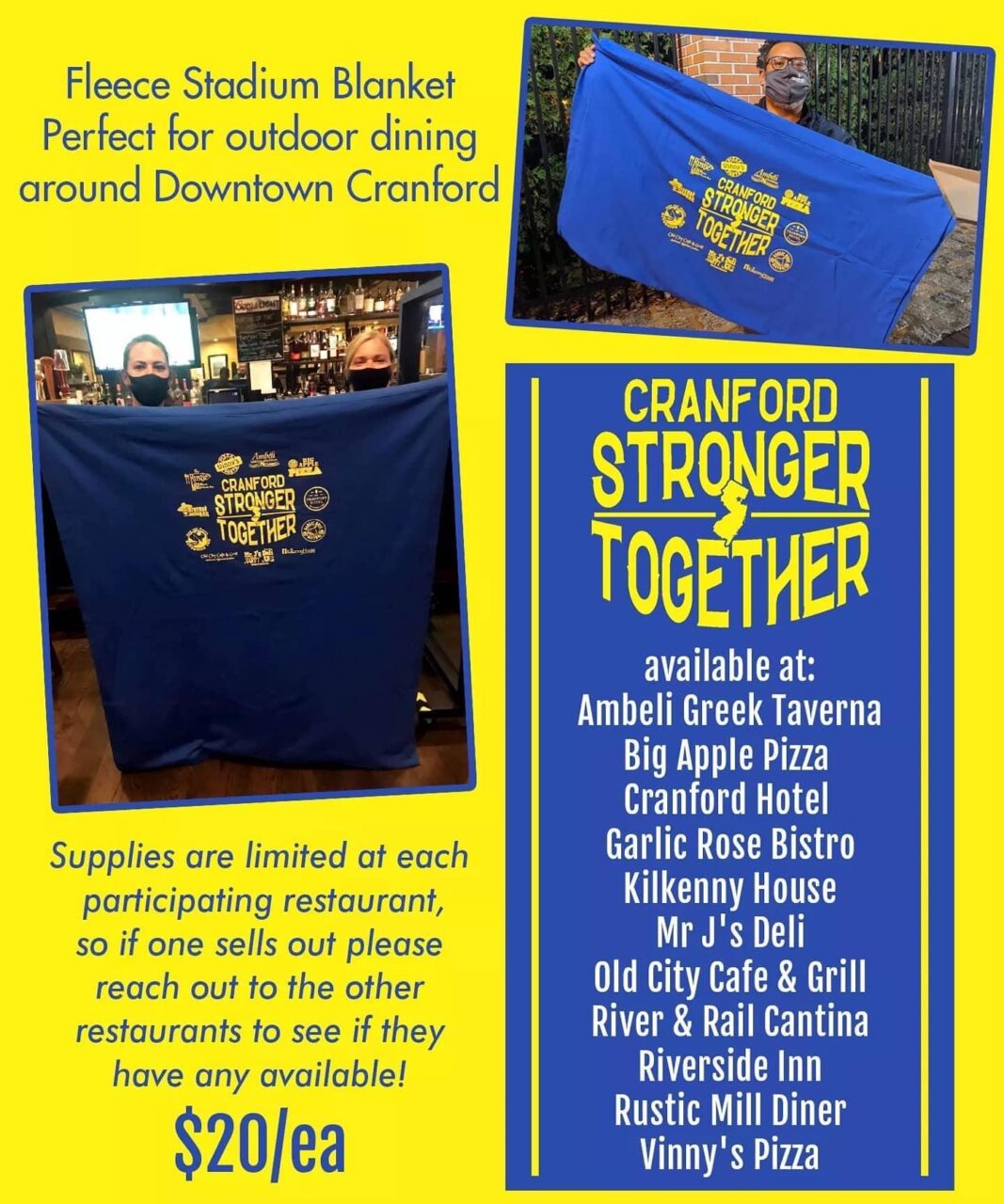 Thanks to Ambeli Greek Taverna and Think D'Sign Print, you can be cozy while enjoying outdoor dining at your favorite local restaurants! Purchase your fleece stadium blanket at one of the 11 participating eateries for $20 and proceeds from this blanket sale will go to Cranford Family Care. Supplies are limited at each participating restaurant, so if one sells out please reach out to the other restaurants and see if they have any available!
The season for helping others
Julie stated that this pandemic has shown the organization the true meaning of neighbors helping neighbors. As a result, the urgent need for assistance in our community will continue past the holidays. Therefore, we need to keep these initiatives going into the new year. Cranford Family Care is working hard to support an increased need. How can your family or organization help right now? 
· Follow this link to a running list of pantry items that are always needed: CFC Food Pantry. You can bring donations directly to Cranford Family Care at 11 Myrtle Street in Cranford during regular business hours (9am-4pm), Monday – Friday.
· Monetary donations can be mailed to: Cranford Family Care, 61 Myrtle Street, Cranford NJ. (Please write the check out to "Cranford Family Care"
· Be on the lookout for 365CranfordWestfieldNJ Facebook posts. We will be highlighting ways to contribute to Cranford Family Care in the coming months!
Above all, it is important that we keep our neighbors in need close to our hearts this holiday season! Moreover, we are all in these crazy and challenging times TOGETHER!