Chez-The Gelato & Pastry Shop: So Good You Won't Know It's 100% Gluten Free!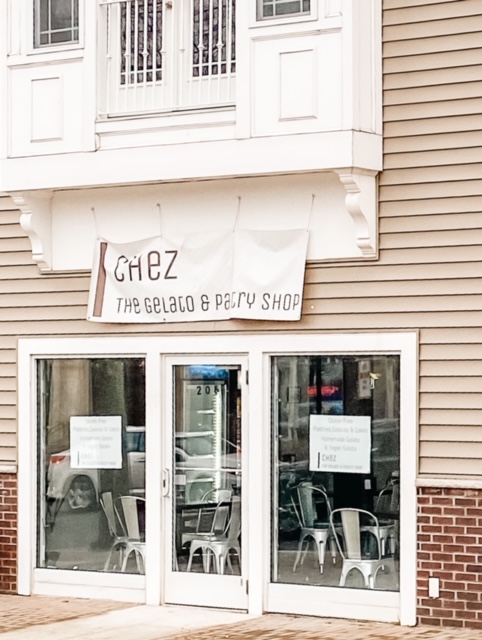 Cesare Somma aka Chez is a Cranford native, grew up near the high school, and his family has owned Calabria Pizza since 1980s. Chez' Cranford roots go deep and he's finally ready to branch out and open his own shop which has the town all abuzz!
His new shop, Chez-The Gelato & Pastry Shop next door to the family pizzeria at 206 Centennial Avenue, is something that he thinks the entire community will embrace – because everything he creates is 100% gluten free! I was excited to sit down with Chez at his new place at his new shop and find out what led him on the path to creating his own gelato, sorbets, and gluten-free pastries!
Chez has had a pretty interesting life…After high school he moved down to Florida and went to different schools down there. Unable to figure out exactly what he wanted to do, he went to school for everything! He stayed in food service industry for the most part. Eventually he ventured out a bit into retail and other things but ultimately realized that food service was for him. "I was definitely was born into the right field!" exclaimed Chez.
What brought you back to Cranford?
I moved back home 7 years ago to help out with the family pizza business after my older brother decided to go back to school to become a nurse. At the same time, I went back to school and got my degree in Psychology and, up until 2 months ago, I was working with developmentally disabled adults. That was probably the only other thing other than a restaurant that I really loved. It was really hard to leave those guys. But the good thing is that they can come visit me here now!
.
What inspired you to open a gluten-free gelato & pastry shop?
I got really sick a few years ago and was in the hospital for 3 months. The doctors had to remove my spleen. My body just didn't react the same way after that. I couldn't tolerate gluten products anymore. I was living in Florida at the time and it was impossible that many years ago to find gluten-free products. I'm Italian so I know my bread and pasta – and I couldn't find anything that I could eat! That's how I had to learn to make these things for myself. I'm a born cook – so I went home and experienced and failed many times – but I finally got it right.
I did some gluten-free catering here and there for family/friend parties and weddings. The feedback was very positive and I realized that I'm good at this! My favorite reaction is when people don't even realize that they are eating gluten-free!
I traveled to Italy later on and, other than eating their amazing food, I found that I was going for the gelato over and over again. Upon my return to Florida I was in charge of the dessert side of a restaurant, I had so much fun decorating their gelato and trying all the different flavors.
When I came to Cranford, I didn't see much in the way of gelato around here. I know we have our bakeries, coffee shops, and ice cream places. But we don't have a shop that combines all three. I also know that people who are living with a gluten-sensitivity don't have many gluten-free bakery options around.
What customers can expect from Chez-The Gelato & Pastry Shop?
This venture began in April and I am excited to be opening so close to Valentine's Day. Every item in this shop is made by me, they are 100% safe and gluten-free. Some of the offerings in the shop are also vegan. I went to the Gelato and Pastry Institute in New York for my certification.
A lot of my friends and family have lactose issues and I want to cater to that population as well. I understand what it's like to not be able to have a certain ingredient. I'll be doing vegan options for the gelato starting out. I use combinations of almond, cashew, and coconut milk depending on the flavor.
We will open with both my gluten-free gelato and pastries. There will be a rotation of 12 different gelato/sorbet flavors: 4 vegan, 4 original, and 4 sorbets. I found this really cool gelato display that rotates – I can't wait for everyone to see it!
Chez-The Gelato & Pastry Shop Offers More Than Gelato:
In my pastry display, you'll find all my favorite cookies, chocolate eclairs, mini cheesecakes, cannolis, mini cakes, and other Italian pastries. For the morning rush I will have muffins, scones, and cinnamon buns. My new espresso machine just came in and I will have a full espresso bar and drip coffee. I'm so excited to use it – I just love my coffee!
How does this all tie into the family business?
My initial "skeleton crew" is me, my parents, and my cousin. That's how I want it for now. I have to be here each day and I want to get to know my customers and find out what they like. My dad has been retired from the pizza business for about 40 years, so he was excited to get back into the construction and design of this shop. He used to help my grandma out in her bakery. We are both happy to get to work together again since our days at the pizzeria. My parents were also the general contractors for this shop as they own the space. They helped me out so much!
I definitely want to tap into the customer base from Calabria Pizza. Ever since we opened the pizzeria in the 1980s – people have been going there for the season's sports parties. Now everyone can head over here for dessert! It's so good – you don't even know its' gluten-free!
.