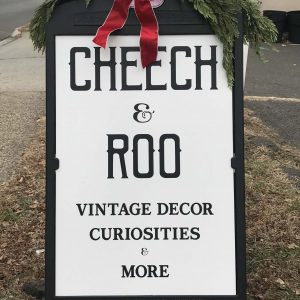 Wow – drop everything right now and head over to Cheech & Roo at 246 North Avenue in Garwood. If you are a lover of repurposed vintage finds, farmhouse décor, and collections of local artisans – it's happy holidays to you! Cheech & Roo owner Elisa Miranda has transformed this old dance studio into a wonderland of everything you can imagine to delight the senses and take you on a journey to find the cutest finds for your home! And the best kept secret…it's AFFORDABLE!
I drove by Cheech & Roo yesterday and saw the adorable sign with the balloons – I had to pull in immediately. Sometimes the impromptu interviews are the best interviews! I immediately fell in love with the owner and everything that she has brought to our area. Hope you enjoy this article and that you'll be a new loyal fan of this store! Don't forget to read all the way to the bottom learn about her monthly "Guess Who's Coming to Dinner" event!
How did this beautiful thing happen? Tell me everything about Cheech & Roo!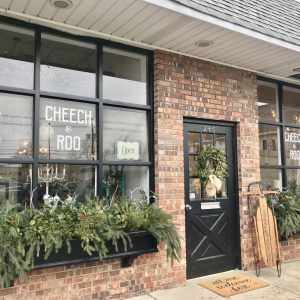 My name is Elisa Miranda but people call "LeeLee". I'll start with the name of the store. "Cheech" is my daughter Madison – we've called her that since she was little. My son is Ross and since he was a little boy he looked like a kangaroo – the one from Winnie the Poo. So my aunt started calling him "Roo". If anything, it's all about them – even though they are big now. Ross is 30 years old and a State Trooper on Interstate 78. Madison is a senior at Lehigh.
So, here's the deal. I'm really an artist. I went to Mason Gross School of the Arts at Rutgers. Fine arts was my thing. But then then my best friend of 25 years – my dearest friend forever – introduced me to chalk paint a while ago. She's always pushing me to do new things. So, I started painting furniture- my own big pieces – because nobody wants the dark stuff anymore. I started painting and then it really picked up – I began painting and restoring/re-purposing everything! Now I have warehouses full of all of my pieces and finds!
What was your inspiration for opening this store?
I love Home Goods – but they don't sell quality. I think we are getting away from what we are as a country. All these pieces of furniture in this shop are mostly finds from this area! Let's keep the stuff from the landfills! Let's breathe life into them again! This society is so disposable. Can't we take what's already here – that has history – and let's make it relevant to now! That's my whole thing!
I salvage items pulled out of warehouses and garages and I clean, seal, paint, and re-purpose them so they are ready to find a place in your home! I go for vintage images – everything has a tag on it attached to each piece with a ribbon. You'll find two tags – one for the price and measurements and one that goes with the wrapping so you can gift to someone!
The whole premise of this store is you can get anything here – you can get your traditional French Provincial, your farmhouse, your unique find for a special area of your home. I really think that I think people are really starting to love vintage and nostalgia again.
Every item in Cheech & Roo is impeccably restored – tell me about your pricing on these items!
I want everyone to afford everything here. My prices aren't unreachable. They need to belong to somebody. That's the purpose of this whole store. I want to get it out of here and not sit on it. I'm not a curator at a museum. I just painted and refinished a very large dresser the other day and sent it over to Chester – the price was $230! You don't have to go to New York City for ideas, inspiration, and finds! I want to make living affordable again!
I see some very unique items in this store – do you design them?
There's so much going on out there that is bad. I feel that your home is your safe haven. It's your rejuvenation. I feel that my home should be a place that's interesting to me! Let's think outside the box with design! I want people to come in here and let's find something for everyone! Sometimes, I take old brass chandeliers and make them new and fun. I just did a series of holiday décor with house numbers on vintage saws. The box spring chandelier over the counter is something I can make to fit your room – it would look great over a bed or farmhouse table! Another piece in my front window is done by arranging twigs and string lights to make a unique lighting option. I was also inspired to make window treatments using old ladders and drop cloth from Home Depot!
And you are also still painting and renovating furniture?
Oh yes! I teamed up a while ago with Monica from Dainty Dandelion in Chester. We do kitchen cabinet restoration together. I will always be painting my furniture finds, but if someone has a piece that they've had forever- don't junk it! Just update it! Bring me your piece, we'll pick a color together, I'll paint it and you have your piece back!
Tell me a bit about the local artisans you feature in your store…
In this vintage suitcase I have the softest baby blankets handmade by Barbara Birmingham from Roselle. She and I go way back, and I call her "Red" – so these blankets are my "Red Birms"!
Then I have a guy from Fords, NJ – his name is Patrick and owns his own apiary. He has a company called Bees Nuts and these soaps are flying off the shelves! He just sent me more amazing skin care products from his company – I love them all!
I also love Justin from The Pogo Beard Company out of Wayne, NJ -his products I just set up in my newly refurbished toolbox. He makes handmade natural beard care products that smell wonderful – the guys will adore this!
I also carry Bridgewater Candle Company candles – every candle you purchase provides 3 meals to a child in need!
And you said you had a big idea for this store using a local company?
The big deal is this – at Cheech & Roo, there will be a table for sale here from Howard and Leah Jungkind of Barn Door Gypsy out of Blairstown, NJ. She does amazing staging for home sales and they also craft amazing pieces from wood. They are locally famous for those farmhouse doors on tracks and their unique dining room tables. They are in this shop with me. What I am going to do is always have a table of theirs for sale.
So, anyone who comes in the door- I want to get their email. Once a month – if it's a table for six – I will pull 6 names. We will do dinner here. No one pays – I pay. I will treat them to Rudy's in Garwood because I love Rick. He's such a great, nice guys. I want six people that might not know each other to have dinner. We'll have dinner together and just come together to relax and it's called "Guess Who's Coming to Dinner". Let's bring the good stuff back – there's too much negative going on this world!
Wow, Elisa – this place is amazing! What else do you want people to know?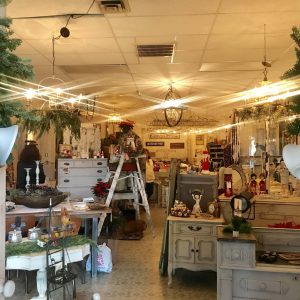 Everything is the real deal here at Cheech & Roo – never a knock-off. This is my clubhouse. I want this to be a place where people can come and sit down, have a cup of coffee, and enjoy the store!
And I promise you will LOVE the store! Here's how you can follow Cheech & Roo and their store hours…
Facebook: Cheech & Roo FB
Instagram: Cheech & Roo IG
Website: Cheech and Roo Website
Business Hours
| | |
| --- | --- |
| Mon: | Closed |
| Tue: | 11:00 AM – 6:00 PM |
| Wed: | 11:00 AM – 6:00 PM |
| Thu: | 11:00 AM – 8:00 PM |
| Fri: | 11:00 AM – 6:00 PM |
| Sat: | 11:00 AM – 6:00 PM |
| Sun: | 11:00 AM – 5:00 PM |