Big Jeb's Homegrown: The Easiest CSA in New Jersey Comes to Cranford!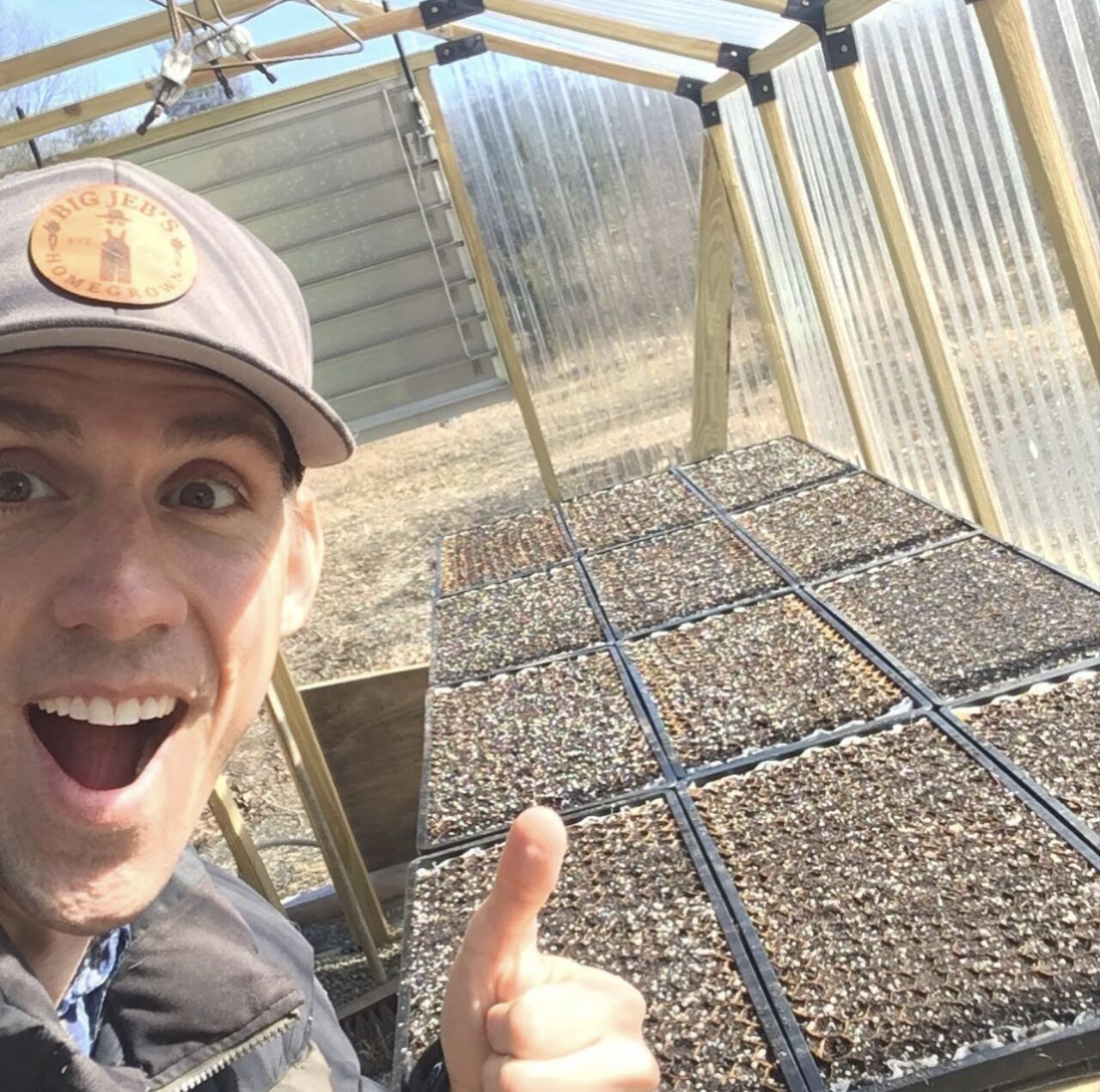 Meet Jeb of Big Jeb's Homegrown. He's a high school teacher turned small-scale organic farmer and he's got a CSA that I think you'll want to hear more about! His lovely wife, Erin, is from Cranford, NJ and we are lucky enough to be a site for one of his Salad CSA locations! If you love "freakishly fresh" salad greens that don't go rotten after a few days, then you'll want to sign up for this easy CSA that offers two bags of fresh greens each week starting April 16 and running through July 2! Jeb, Erin, and their dog Gunner bought a little farm in Lebanon, New Jersey in spring 2017 and Big Jeb's Homegrown salad farm arose from the "dirt". Big Jeb's Homegrown is "harvesting fresh, organically grown, pre-washed and packaged salad greens of all different varieties, flavors, and colors to your neighborhood". If you hurry, you can be a part of this salad movement! Read more to find out how Jeb and his family acquired a farm, why they are "salad-exclusive", and how you can sign up for the Homegrown Greens CSA today!
Tell us a little bit about Jeb, Erin, and Gunner the Dog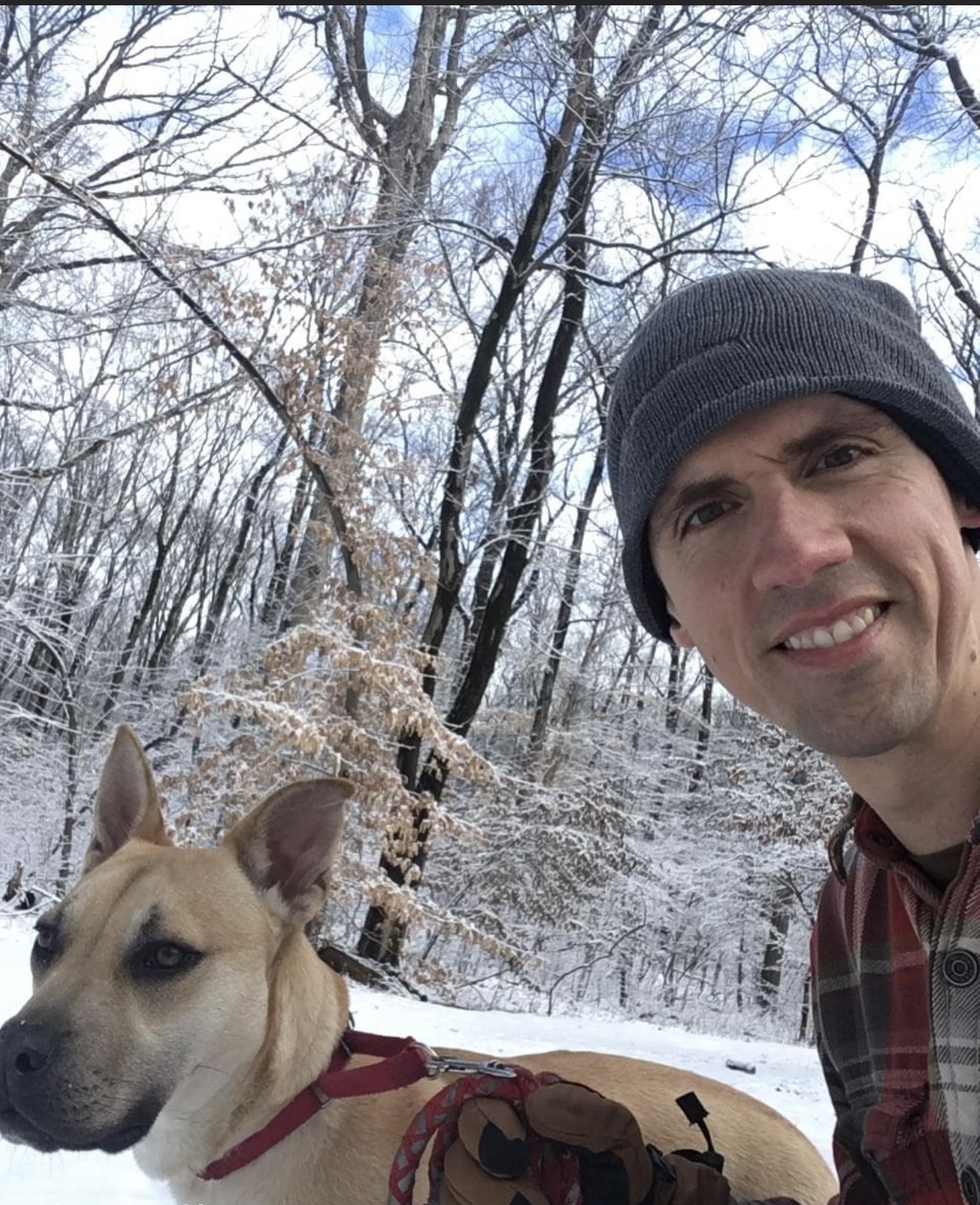 I (Jeb) am from Georgia, and my wife is from New Jersey. We met down South when my wife in grad school at Georgia Tech. We actually met running an ultramarathon in the Appalachian Mountains of northern Georgia. Gunner is just my trusty sidekick on the farm (as I work alone) – the mutt of all mutts, so don't look at him sideways!
What is your greatest passion?
I love seeing a barren, neglected property turn into something fruitful and regenerated – AKA a "farm". Farmland is expensive, and farming doesn't typically pay mortgages for farmland (ironic?). But if you're patient, a really crummy and affordable piece of earth can become a masterpiece if she's treated the right way and you're willing to put in the work for the transformation.
Non-professionally, I like fly-fishing, deer hunting, sleeping outside, and reading poetry and fiction by the firelight.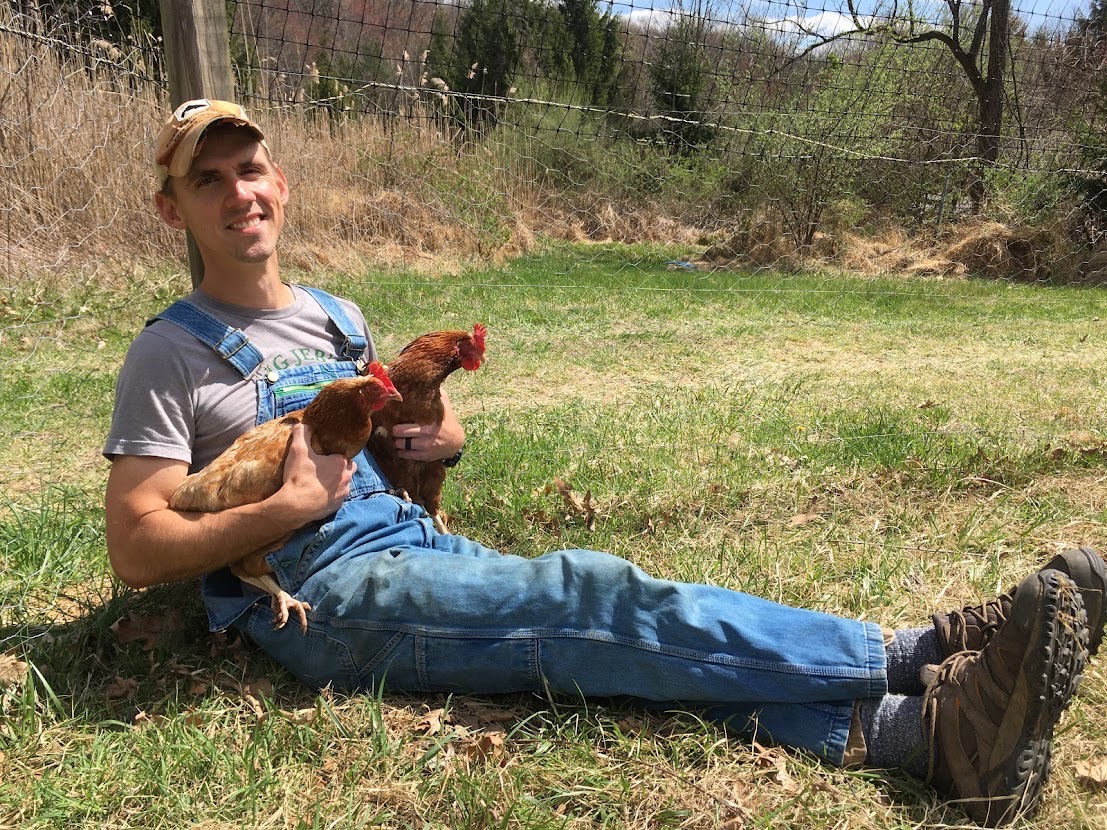 Why did you want to get started in farming?
This one's a doozy. I think the "spark" came from working as a farmhand one summer (off from teaching high school) and just falling in love with the physical work of it. That's how it started. Ending the day always felt adventurous and accomplished. I was working in education prior to this, and it just kind of seemed that I was starting to sit around on a computer a lot (even pre-Covid) with a neckache. It felt like the right shift for a guy that loves being outside.
Who did you learn the most from when you were getting started?
Definitely Jean-Martin Fortier's book about a small-scale organic grower with lots of notoriety. There aren't a lot of organic farmers, so it's hard to find a "mentor". At 29 years old when I started, I didn't exactly have time to fiddle around with internships or apprenticeships. I had to teach myself by reading many agricultural tomes. I still had a full-time job when I started this thing. Because of this, I am endlessly grateful for the small-farm leaders who've paved a way for newer guys like myself.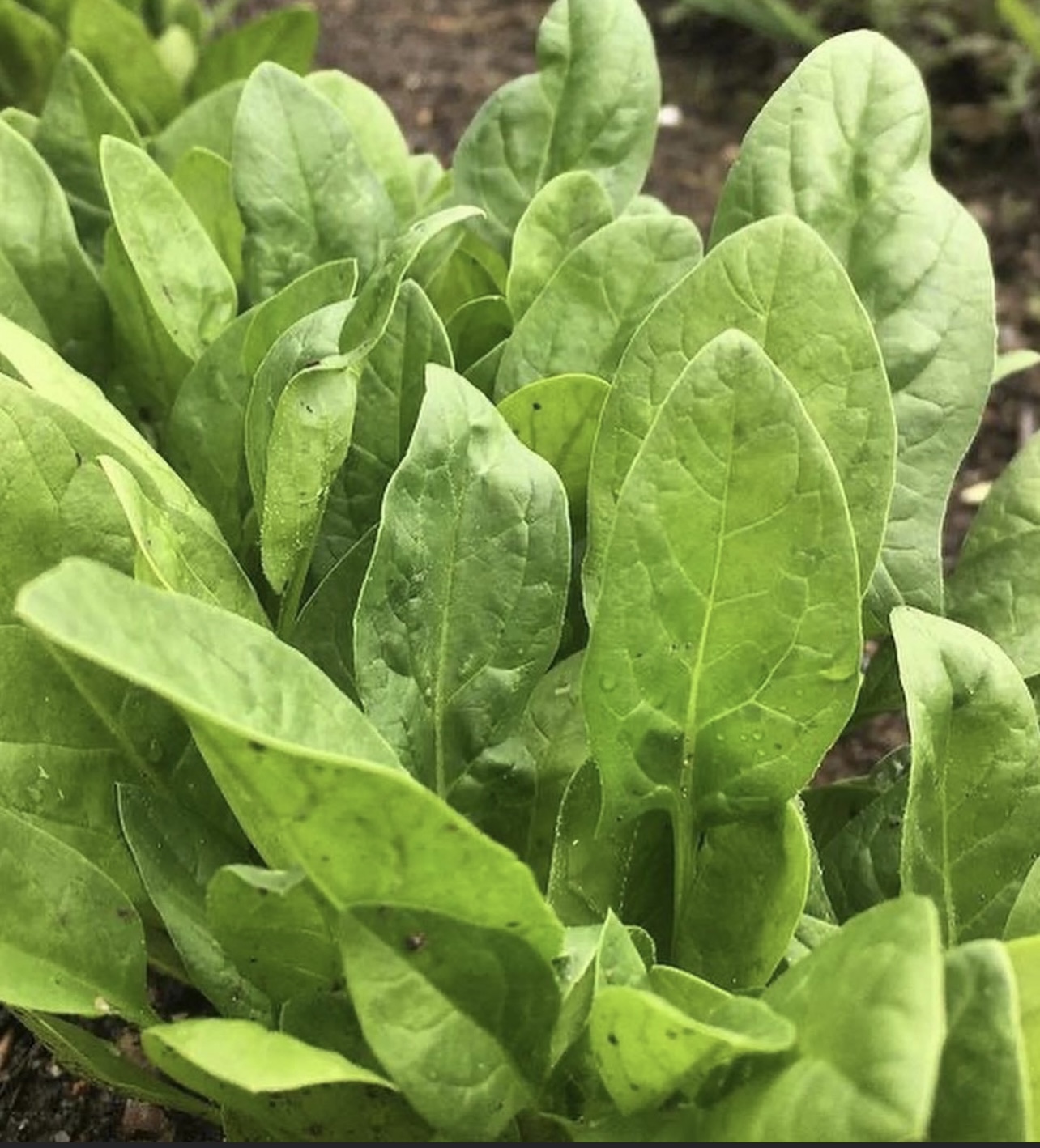 When did you begin Big Jeb's Homegrown?
I sold my first vegetable, a sugar snap pea, in the spring of 2019.
What specifically do you grow on Big Jeb's farm?
Anything in the salad crop/leafy green area is in our wheelhouse. We grow a spring mix, arugula, spinach, baby kale, and even different microgreens. In this genre, we focus specifically on the smaller or "baby" green versions of these crops. Not only do they typically have more nutrition, but they're often tastier and more tender.
Why did you choose to be a near-exclusive salad farm?
Being a salad farm was a great fit for us for many reasons. For one, we don't have a lot of arable land. Much of our farm is under forest, and these forests have significant tenure, so our salad gardens lie between wood groves and hedgerows. Salad farming doesn't require much land-base, but it does require lots of care and labor. The former we didn't have, the latter we are happy to give.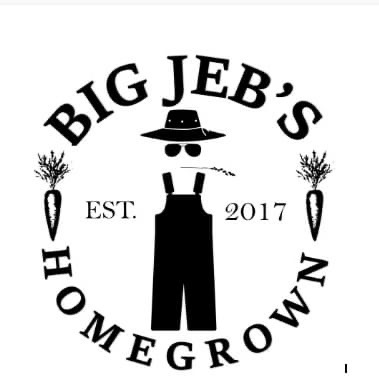 Big Jeb's Homegrown Salad just made sense
Not to mention, salad greens offer the biggest "bang for your buck" in terms of veg nutrition. So, I think when it comes to being efficient as farmers, they're a super important vegetable to put emphasis on instead of spinning our wheels and resources with some of the less dense foods. It's no secret that greens pack the biggest punch, and when grown the right way, they're especially powerful.
And what does it mean to be "homegrown"?
We use the word "homegrown" to capture an essence of food production that beyond the industry's "organic" certifications. We are not "certified organic" (it would be a costly endeavor at our scale), but we would argue our practices with our soils pay more attention to soil health and ecology than many industry standards. For one, we focus on having very low/shallow tillage practices on our farm, if any, because of the negative effects it has on soil microbiology. We don't even have a four-wheel tractor and use mostly hand tools to cultivate our produce. "Homegrown" implies sweat equity and small-scale, not certifications and heavy machines.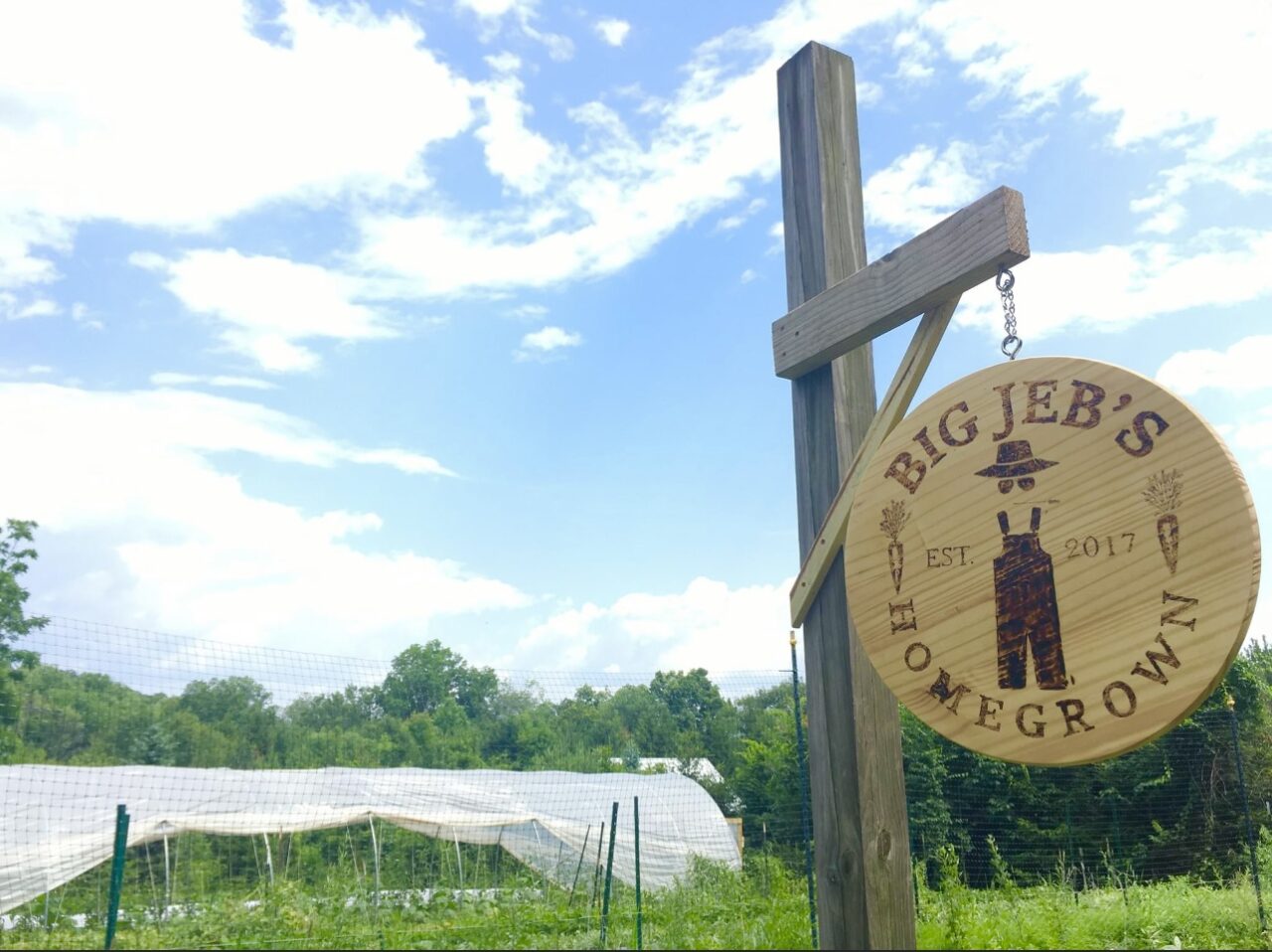 If you had to describe farming in a few words, which words would you choose and why?
Rhythmic, eternal, and chaotic.
Rhythmic: there are certain seasonal rhythms and preparations and works that I'm bound to. Some I enjoy, some I don't.
Eternal: I feel I sense of timelessness in some tasks – like I don't even know what year it is. I look around and relish the fact that for all I know, in this small moment on the corner of the farm, it could be 500 years ago, or 500 years from now. That's cool to me.
Chaotic: This is NATURE. Everything is looking to survive, feast, and procreate. And those things are happening amongst you trying to tease out rows of food. Things get in the way, few things go according to plan, but you do your best and adjust on the fly.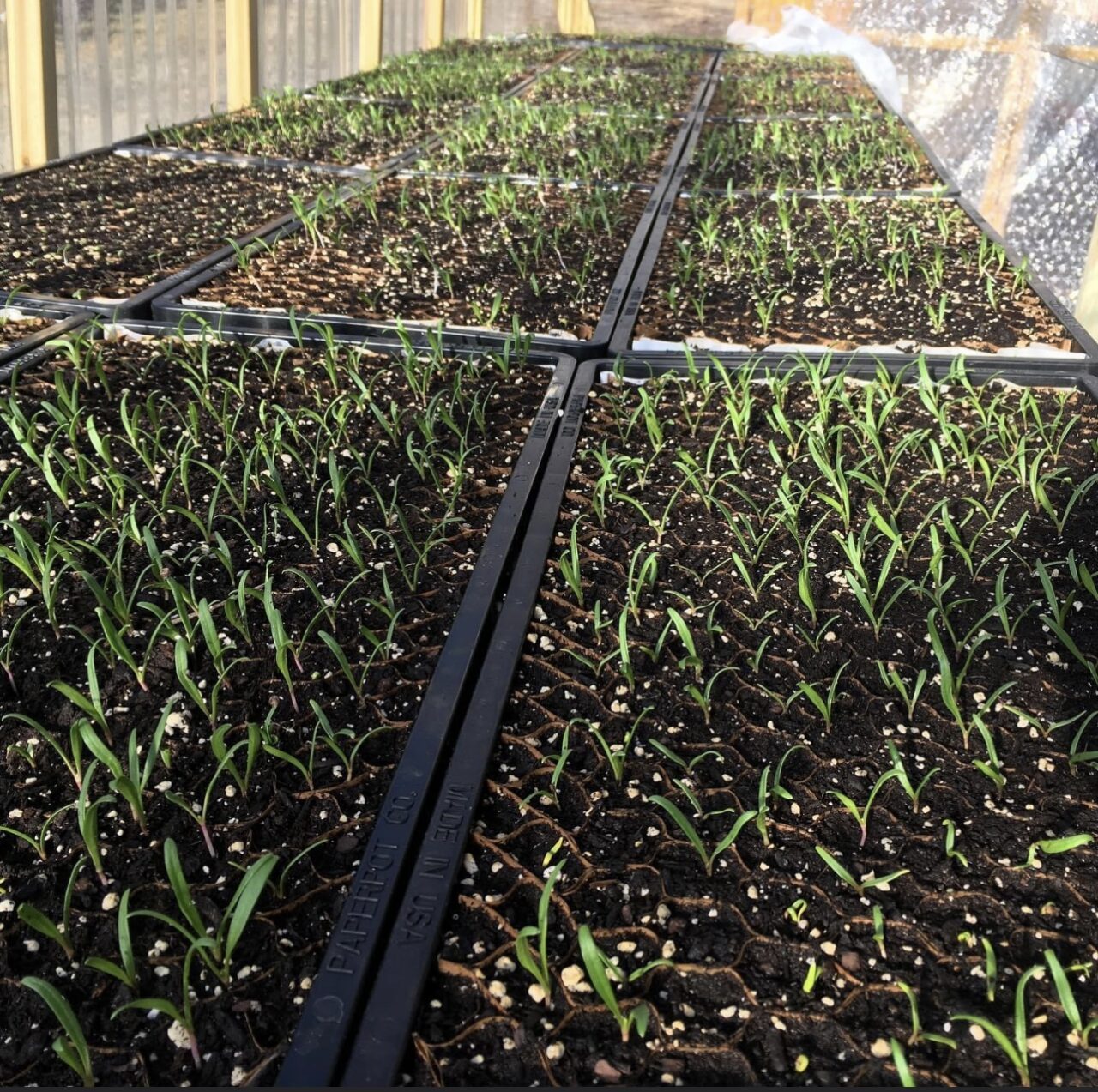 What does a day in the life of Jeb look like?
I'm a stereotypical early-rising farmer. I get up between 4:00-430 am and read a book (usually fiction) in silence (with coffee) before the first light. This centers me. Then I get my list of "must-do's" for the day prioritized, answer any customer e-mails, and all that managerial stuff before I head out and let the chickens out and then get to work in the salad fields.
Why start a "Homegrown Greens CSA"?
90% of consumer's organic salad greens in the USA are grown in California. By the time that product gets harvested, washed, pack, and shipped and shelved to New Jersey, it's often already starting to rot and wither. At Big Jeb's Homegrown, we harvest our greens the day before we delivery. This ensures a freakishly fresh produce that is teeming with life energy!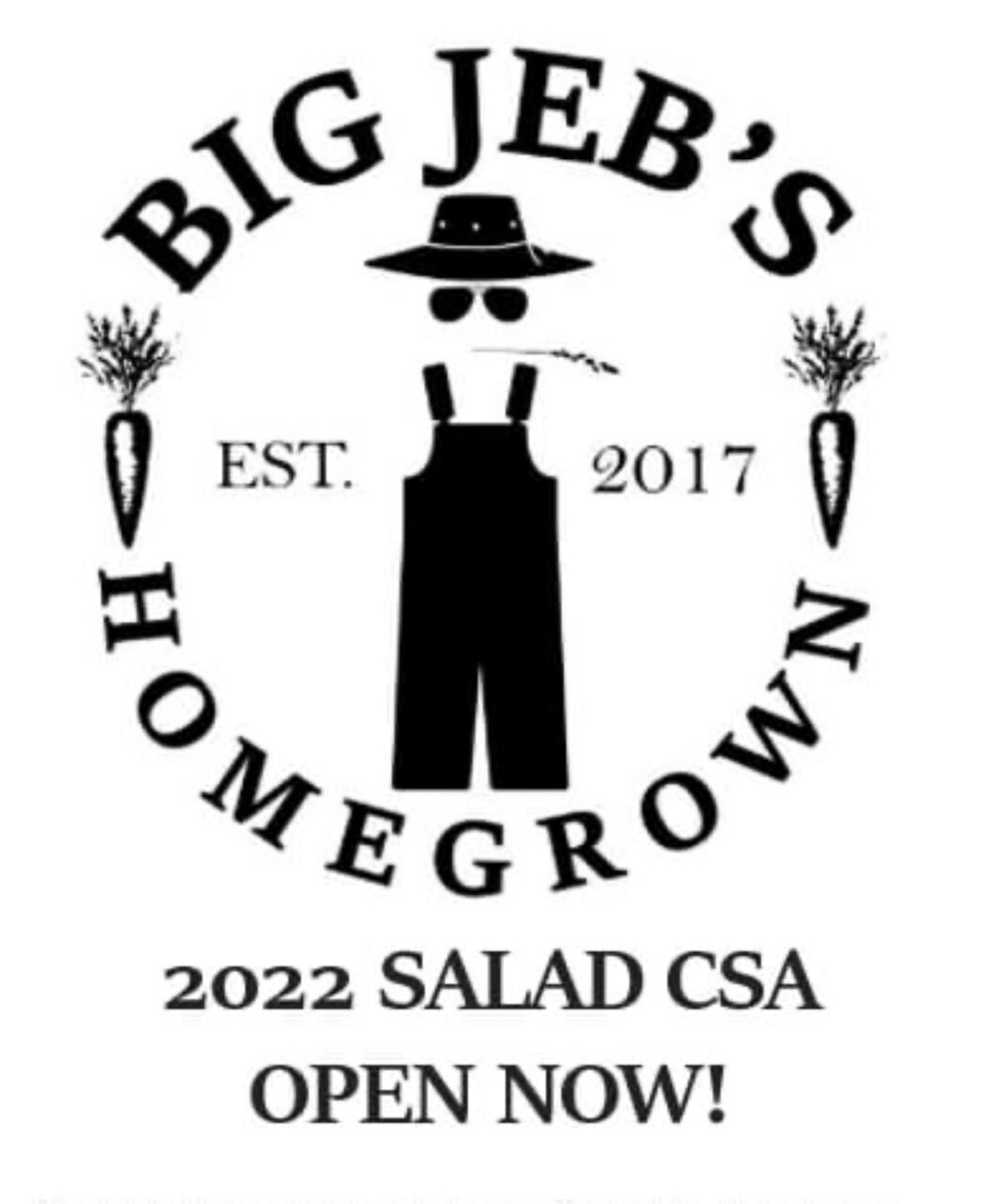 Why should we participate in the "Salad CSA"?
There are several reasons – but in addition to the freshness and shelf life, our greens are free of any harmful chemicals. You are supporting your local economy, as well as helping send the world in the direction of better agricultural practices.
How did you find Cranford as one of the location sites?
Cranford found me! My wife, Erin (Hannen), is Cranford, NJ born and raised. Her parents, Tom and Cindy still live in Cranford, and we know and love many friends and family in Cranford. It's truly our "home away from home". Cranford has a special place in our hearts, and we are there a lot and have many supporters in town, so it just made sense.
Why sign up now?
Signing up now rather than later, ensures your spot before we fill up (we're at almost 70% capacity right now). It also gives me a better idea of how many customers I'll have.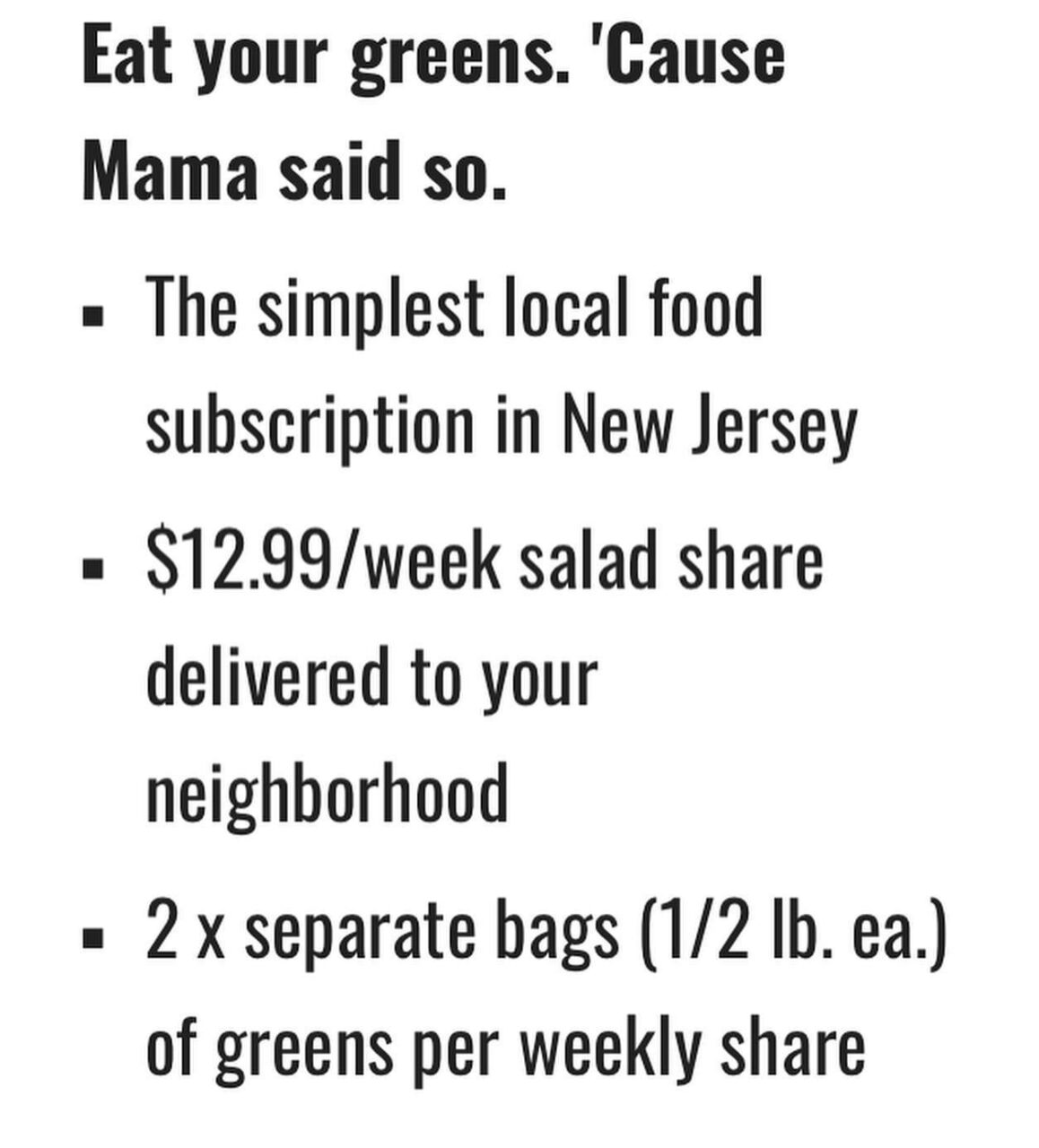 What's next for Big Jeb's Homegrown?
Next, is more of the same, and not particularly glamorous: scaling the salad farm appropriately and becoming as efficient as I can possibly become on a smaller land-base and regenerate these soils to become as healthy and powerful as possible. This alone is a life-long pursuit, and not to be taken lightly with other lofty visions. Time will tell the next evolution of the farm, be it slight or significant.
I would also like to one day take on college-aged apprentices, were there to be a local demand for sustainable farming aspirants. That's like a "non-farming farm goal" that I think would be meaningful, as well to give back to the community beyond the food that I grow.
Big Jeb's Homegrown Social Media posts are the best!
Didn't think farming posts were that interesting? Jeb has proven everyone wrong! Make sure to follow the NJ farming adventures on Facebook and Instagram – it's truly worth a daily glance!
Here's how YOU can get started with your Salad CSA…
It's the simplest local food subscription in New Jersey! For $12.99 per week your salad share is delivered to Cranford. Each week, for 12 weeks in the spring and 12 weeks in the fall, Big Jeb's Homegrown will be harvesting fresh, organically grown, pre-washed and packaged salad green of all varieties, flavors, and colors to your neighborhood. It's just TWO SEPARATE bags of greens (1/2 lb.ea.), no big CSA box!
One of the bags will be a "highlight" of the week – whatever is the perfect crop for that week! Your "secondary" bag will be microgreens. These will be a great addition to your featured green bowl! Greens to expect are arugula, baby kale, spinach, spring mix, mixed microgreens, and a few more that we won't disclose just to keep it interesting!
Make sure to get on board for the spring dates: April 16 -July 2! Sign up here: https://csa.farmigo.com/join/bigjebshomegrown/homegrownsaladgreens