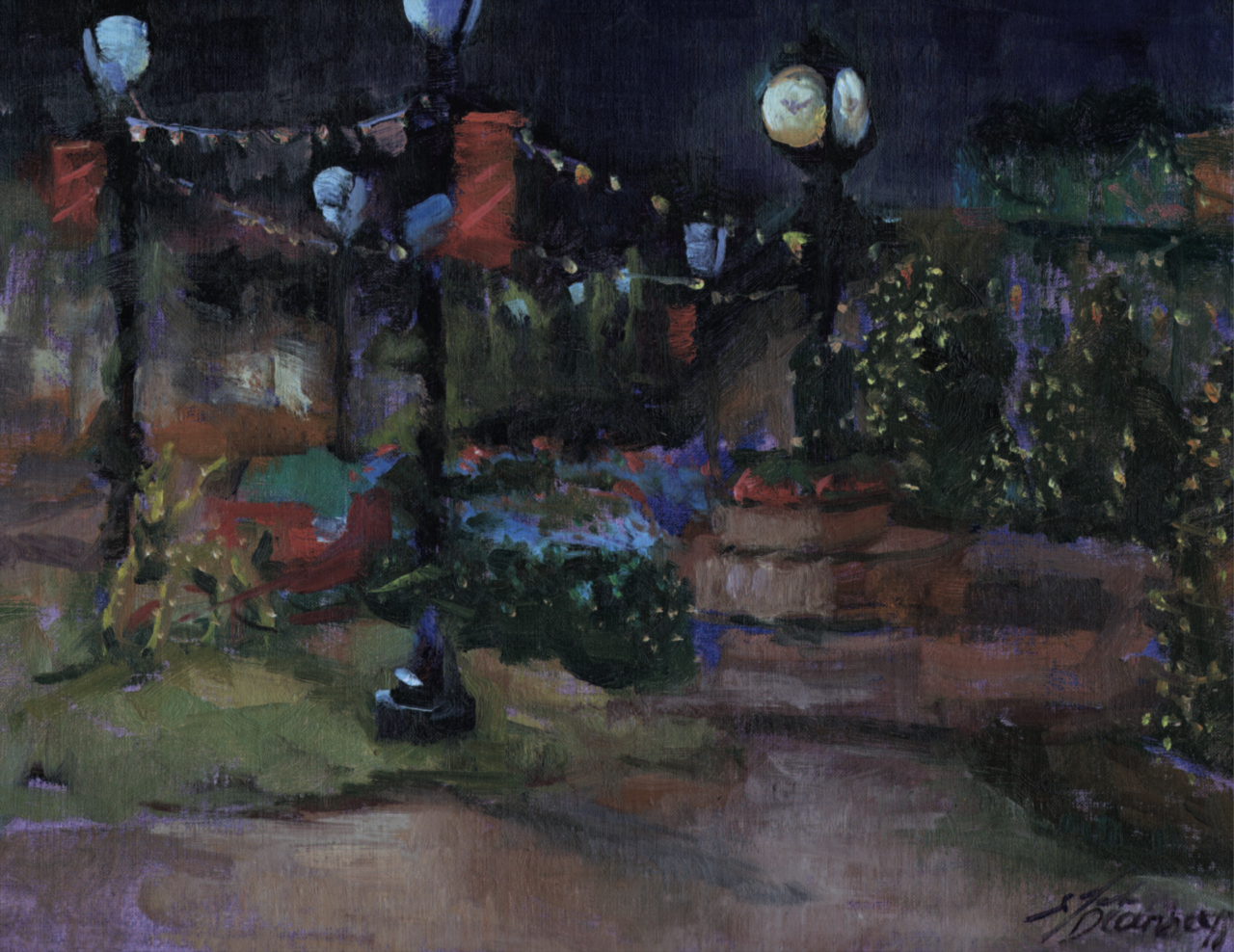 Cranford NJ Holiday Season is Magical:
"It's the most wonderful time of the year" …

There's nothing more magical than the holiday season in Downtown Cranford. The wreaths are hung, the shops are decorated, and the Clocktower at Eastman Plaza comes alive! You will often find children playing, friends catching up over a cup of Track 5 coffee, shoppers browsing the unique antiques at Dovetails, and holiday pictures being taken by the sled. The overall spirit of the season fills the air!
Artist and Business Owner Stefanie Lalor:
As soon as I saw Stefanie Lalor's painting of the Eastman Clocktower, I knew it had to be one of the art mailers! Not only is she an incredible artist and the beloved owner of The Artist Framer in Cranford – but she always has a knack for capturing the true essence of our town at just the right moment.
Stefanie remarked about this particular day when painting the scene: "I purposefully wanted a mismatch of color. I went there waiting for the sun to come up. I liked the cool lights and the warm lights and how festive everything looked! This was very impressionistic as I knew I had to work quickly. I love this piece for that – and the time of year. The Clocktower – it's evolved into such a hub! Cranford is like that – it's a small town with a really big vibe and the Clocktower is that reflection!"
Cranford NJ is a Special Place:

Wherever you may be in the hustle and bustle of the holiday season – hopefully you can enjoy this special area of our town. Whether catching up with friends, relaxing, or enjoying a moment with family – it's so nice to spend it in Downtown Cranford where we LIVE . . . WORK . . . LOVE . . . LOCAL!