Meet an artist like no other – Ricardo Roig from our very own Westfield, NJ! Before his gallery even opened its doors at 305 South Avenue West, his stunning and vivid hand cut prints stood out among the local Instagram feed. I was mesmerized by his talent and taking the ordinary into the extraordinary. Ricardo's fresh take on everyday scenes and objects were breathtaking. How lucky are we to have such an artist in our midst – and the fact that this former Westfield elementary art teacher is giving back to his community in a big way!
My interview with Ricardo Roig in his new Roig Collection Art + Framing Gallery was perfect. The setting was gorgeous, and I was surrounded by his latest collections featuring Westfield and other local prints. You'll love to read about how he found his "calling" for this new form of art, more about his fantastical mural going up in the Westfield train trestle, his involvement with the new Addams Family movie, and what's in store for artists of all ages at his new studio!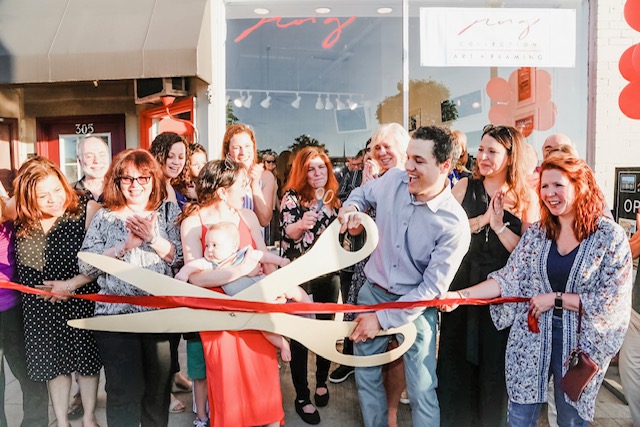 Talk to me a little about your beginnings as an artist…
I went to Westfield from kindergarten to senior year – my first studio was my bedroom, then my sister's room, and then my garage. In first or second grade I figured out, "this is what an artist is…paint and draw all day? Sign me up!" Since then I always knew I wanted to make things for a living.
In high school I took weekend classes at the Fashion Institute of Technology in NYC and then decided to go to art school. I started at James Madison University and then transferred because I found out they didn't teach oil painting and I wanted to learn that. After that, I transferred to the Maryland Institute College of Art in Baltimore and was learning oil painting. Eventually, I moved back home for reasons and needed to figure out the rest of my college.
Along the way…
When I found out about a tuition waiver program I decided to complete my degree at Kean University. I had to go to Kean for a year as the stipulation – my counselor said that since I had all these credits from my other colleges – I should take something I've never taken before. That's when I took screen printing. The teacher introduced it as "cut shapes out of paper, screen print them, and create depth…or distance." And that's when I fell in love – THIS IS ME!! And the teacher was like – "No one really does this as a form of art…I was just teaching you the intro!"
Layering was the hand cutting – I loved it. And he let me take only that method for the rest of the semester as long as I gave him one of each of my editions. So, I went and took an independent study two more times. I waited tables in Hoboken so I could pay for my living. My studio was my keys to Kean. I would go in after hours and make screen prints. Then my studio became my apartment. After college, I started selling my art – on the street and in frame shops.
I knew I needed a full-time job to have the means to marry and eventually start a family. So, I went back to Kean to get my teacher's certificate. I came back to Westfield to do substitute teaching. They gave me an interview that led to a job I held for seven years. I was living in Hoboken, working in Westfield – and this gallery/commercial space came up for rent in Hoboken. My wife said, "Let's buy it and turn it into your art gallery!" And I was like, "Great idea!"
We bought the smallest commercial space in Hoboken – but it's on a very busy street. This was 2014 – we ran our gallery. I was there after school, at night, on weekends – and really burning myself out. For six years I did this! I loved teaching – but it came to a certain point that I needed to step aside and commit to my dream of being an artist.
Time for a change: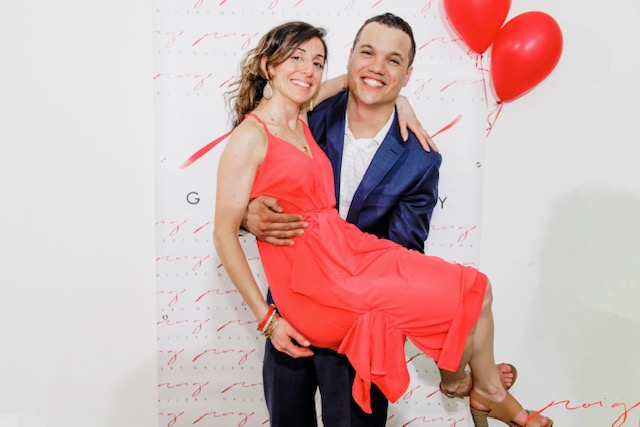 The one year of being as "full-time" artist was last year. And in that year, we also opened a gallery at the W Hotel Hoboken (225 River St). We've been there a year and a half. We opened this gallery in Westfield (305 South Ave West). I also started doing murals last September – two in Hoboken, one large one in Westfield, one at an Amazon center, and Jersey City has me doing one. It's just tremendous when you put two feet in and you just go for it!
I've been doing collages and murals – it all just fell into itself. I opened the gallery here and now I'm doing the train trestle mural, and the Addams Family movie is coming up and I was invited by United Artists and MGM to do a portrait for Bette Midler and Snoop Dogg in "Addams-style" to give as gifts to them! One thing just leads to the next. I've just gone with my gut and answered that call.
It's so much fun to grow and get out of the comfort zone and take risks. When I moved back to New Jersey in 2006, I met my wife, Michelle, at my first art show (she's from Westfield and is a Westfield Spanish teacher). And she's been with me through it all. I know that together we can do it! We also have a great team on board – a great in-house framer, a fabulous gallery manager at the W Hotel, and Michelle and I just had a baby last year!
The Ricardo Roig unique method of hand cut prints is certainly one of a kind…no one else is doing this. Can you explain a little bit about the process?


The process of hand cut…I visualize art – whatever it is – I get a "lightening shock" – like – "oh, that's my next piece!" Seeing it in a way like it's a bright flash. Somehow, I capture that, sketch it onto a piece of paper, and I take a blade and cut out from that everything that's going to be a certain color. And that will be my background color. And then that is now my stencil.
I place that stencil on a screen and push the ink through the screen, through the paper, and onto another piece of paper which is the print. And then I do that one color about 20 times. Then I throw away that stencil – and I cut the next stencil and then layer the next color on top and keep going. It's all hand-cut stencil, applied with a squeegee…screen printing.
**You MUST watch the Vimeo video on Ricardo's website showcasing his hand cut process – it's captivating!
More than a "print", Ricardo's work is all original and unique
They're not "prints" really – they are all original, hand cut prints. Everything I make is original. It's important to me to give the world REAL energy – not something that's fake. Art is truth and it's important my art is real and all made by me cutting these shapes.
Art should be a reflection of the time period it's in. I feel like that's the problem with the brush…it's too feathery…it speaks to a different time. Just because we are used to looking at hard edge and graphic – I feel like hand cut art speaks to my experience and the best way to capture it. And many others seem to like it, too! There are not lines in my art…it's all shapes. The lines are imaginary from my mind. The lines create the area for each shape and I just color them in with my squeegee. It allows the saturation to be bright. I mix all my colors and get to the actual color that's going to cause the sensation. We are all color sensitive as human beings and we need colors – it creates an emotional response. Above all, I LOVE colors and shapes!
Ricardo Roig features series of prints within a collection. What was the inspiration behind each set?
It started with the Hoboken Series for the Hoboken Historical Society. I learned screen printing in 2007 and didn't do anything professionally with it till 2011. I was doing oil painting. But this collection was a hit and I really discovered how much I loved it.
Then I did the Westfield Series because that's my hometown. I was teaching there and driving through all the time.
We went to Hawaii for our honeymoon and I went back two more times. After three visits, I realized I wanted to take the experience with me and to capture the adventures through art in that series.
The New York Series..
Then there was the New York Series –sometimes I'll just take the train into NYC and just get lost and find something inspirational.
We were going up to Boston a lot because my wife went to college there and we were visiting her friends. I have always loved Boston – so much that we rented a window on Newbury Street and go up every four months to change the window. I provide work for that series.
Art becomes a diary – all the places I've been – Italy, Spain, places I've never been but have wanted to go. I like to call it a "community of my art"! I have other random things such as the chandelier series, musician series, and also recreations of famous paintings in screen print!
Roig commissions for custom pieces:
I can do work on a commission, so you are the only one who has that. Or a request for a piece from a photo. I'll do 20 prints and you get #1. People like me to make hand cut prints of their houses or dogs. It's an honor to capture those treasured moments. You request pieces from your vision, and I have the skill to allow that vision be a reality through my style. We work on it together! ( As a result… you can own a true original!)
Ricardo is busy in Westfield – new gallery, train trestle mural, and more!
There is a lot happening at the Ricardo Roig Westfield gallery and more to come! Currently we are open by appointment and for events. You can sign up his newsletter on the website http://roigcollection.com/, emailing info@roigcollection.com, or calling 908.447.3928. Here you can see the gorgeous hand-cut prints in the gallery, discuss with Ricardo custom prints, or bring your own piece for custom framing –he has an in-house framer! Ricardo mentioned he and Michelle are looking forward to hosting art shows, family events, and Mix & Sips! Certainly sounds like fun!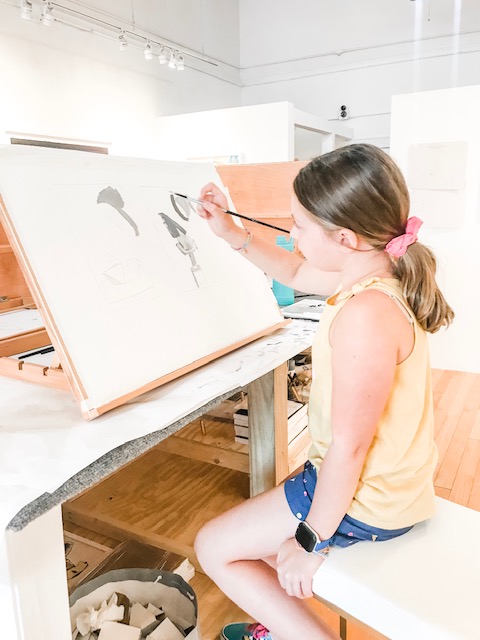 Art Classes offered:
Additionally, in September, Ricardo started Art Classes! He is teaching Life Drawing, Drawing into Painting, Intro to Hand Cut Printing, and Advanced Hand Cut Printing. Courses are held Wednesdays:
5th graders: 3:30-4:30pm – drawing/painting
6th graders: 5:00-6:00pm – hand-cut paining
6:30-7:30pm– advanced hand-cut print/independent study
These are done in a small group setting and space is limited! Contact info@roigcollection.com
The exciting Ricardo Roig Westfield Mural:
WESTFIELD MURAL: Ricardo Roig's Westfield Series is iconic architecture from downtown and the train trestle mural is incorporating them all into one "fantastical scene" – a collage of all the architectural scenes. I take the art, digitally put it together, scale to the actual wall size, and every 3ft by 3ft section is a square grid on the wall. I will blade cut out all shapes and then spray paint. This is the only mural that is a hand cut stencil mural of over 30 colors. Therefore, it's the only one like it out there. It will WOW people!!
The next mural is for the Westfield Library. It's an installation of animals for their Children's Room. I just want to give back to the community I was raised in.
A little extra in conclusion…
As I was conducting the interview, some former Westfield students stopped by to say "hi" to Ricardo and pick up a famed piece of artwork. The boy had kept the artwork from 3rd grade (Ricardo was his teacher). What an amazing teacher Ricardo must have been – in short, it was clear that he had a great connection with his students!!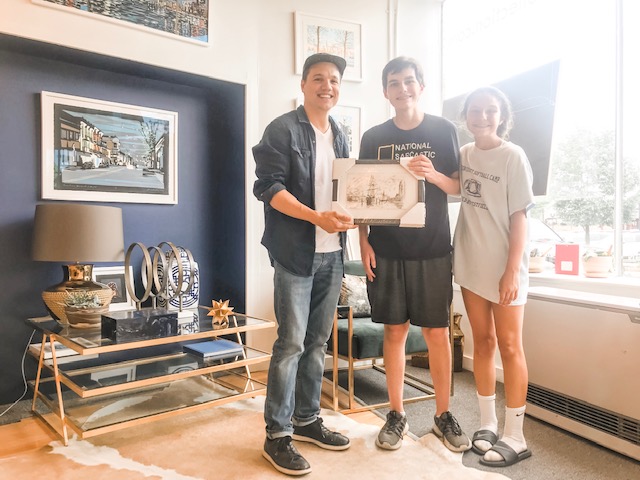 From Ricardo…
"I rediscovered myself as an artist and who I am as an artist and person through my seven years of teaching with children. Every day I told them to be their "best self" and follow their dreams. I too have to do that."
You can also follow him at Facebook at Roig Collection Westfield Art + Framing and on Instagram at instagram.com/roigcollectionwestfield/ and instagram.com/roigcollection/