Annealed Studio – Let's Make Jewelry!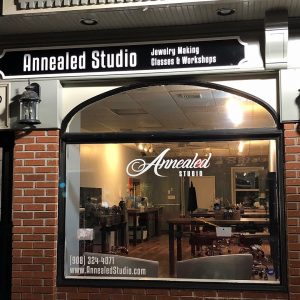 Annealed Studio (pronounced "A-Nield") just arrived at 107 North Avenue in Cranford! And oh boy – is North Avenue becoming a crafter's destination! Welcome husband and wife team, Tricia Freire Greeley and Rob Greeley, and their one-of-a-kind jewelry studio! Learn to make unique jewelry, attend workshops, or book your personal bench time. All levels welcome!!
Tricia explained to me that she and Rob took an interest in creating jewelry while designing their own wedding bands. "We decided we were going to take jewelry lessons – this was both second marriages for us – and we wanted to make each other's wedding rings!" They sought out an experienced jeweler in Brooklyn and attended an all-day workshop. They loved their platinum designs and the experience motivated them to continue to make their own jewelry!
"Once I started working with metal, I was fascinated by it" commented Tricia. "Creativity is what you do and what you learn. I am a lifelong learner and love to tinker with my hands and get creative. The art of making jewelry really offsets my corporate life!"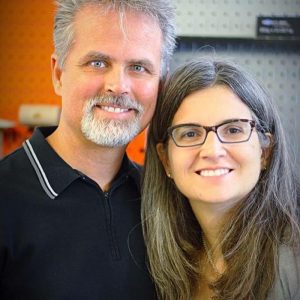 Tricia and Rob's love for making jewelry and accessories grew and in December 2017 after they started a Meet-Up group. They had over one hundred people interested in making jewelry! Tricia realized they needed a space to practice and thus the idea of creating studio space came about. "I always filled the other studio spaces and knew that this was a very active community group" commented Tricia.
Tricia explained to me that when you work with metal it becomes very brittle. When you use torch heat on the metal it becomes very soft. This means you just "annealed" it! Hence the name of their shop! When asked why they chose Cranford as the spot for Annealed – Tricia explained that she grew up in Westfield and then came back to Cranford as an adult. Her husband, Rob, was also from Westfield. Tricia and Rob felt that Cranford was the perfect area and, in particular, the location on North Avenue. "You have such a creative atmosphere with consignment shops, ArteVino Studio, and Fire Me Up – it's just an energy!"
She also remarked, "Cranford was very willing to help us open our business and making sure we were ok!"
Tricia and Rob want to create an entire community of "jewelry enthusiasts". They welcome all levels of designers and invite you to "learn to work with metal, precious metal clay (PMC), or wax to create pieces of jewelry of your own!"
Would you love to learn how to make earring hoops, coin rings, or silver hearts? Their classes and workshops at annealedstudio.cominclude jewelry experiences such as basic understanding of the tools and techniques – all the way to making PMC free form rings! Tricia and Rob have a team of award winning instructors that are ready to help you learn the craft!
Wanting to bring your co-workers, family, and friends to Annealed? Book a birthday party or get-together (10 and older) and you can bond over making a bracelet cuffs, earrings, guitar picks, money clips – the possibilities are endless! Older Girl Scouts can even earn their Jewelry Badge! "Girls Night" on your mind? Bring some wine over and start handmaking your creation!
Once you have perfected your skills, you can book "Bench Time" at the shop. Use their space and their tools! Are you an Etsy designer, want to showcase your own jewelry, or interested in being an instructor? Tricia and Rob would love to bring you out and teach at their open studio slots!
Annealed is such a creative and unique addition to Downtown Cranford and there's a little something for everyone at their studio. All of their classes and workshops are available now at annealedstudio.com and you can follow them on Facebook at AnnealedStudio FB. Again, the address is 107 North Avenue and the phone number is (908) 324-4071.
Tricia and Rob are excited to open their doors to all jewelry enthusiasts, and like Tricia said – "You don't get a second chance to make a first impression!" Please take a class and share your experiences with the community!