"An Evening of the World's Best Short Films" is coming to the Cranford Theater on November 3 – and I'm Your Host! Please Join Me as We Celebrate an Exciting Evening of World-Renowned Short Films
"That's the beauty of short films; their strength lies in delivering a message creatively and simply." – Sanam Saeed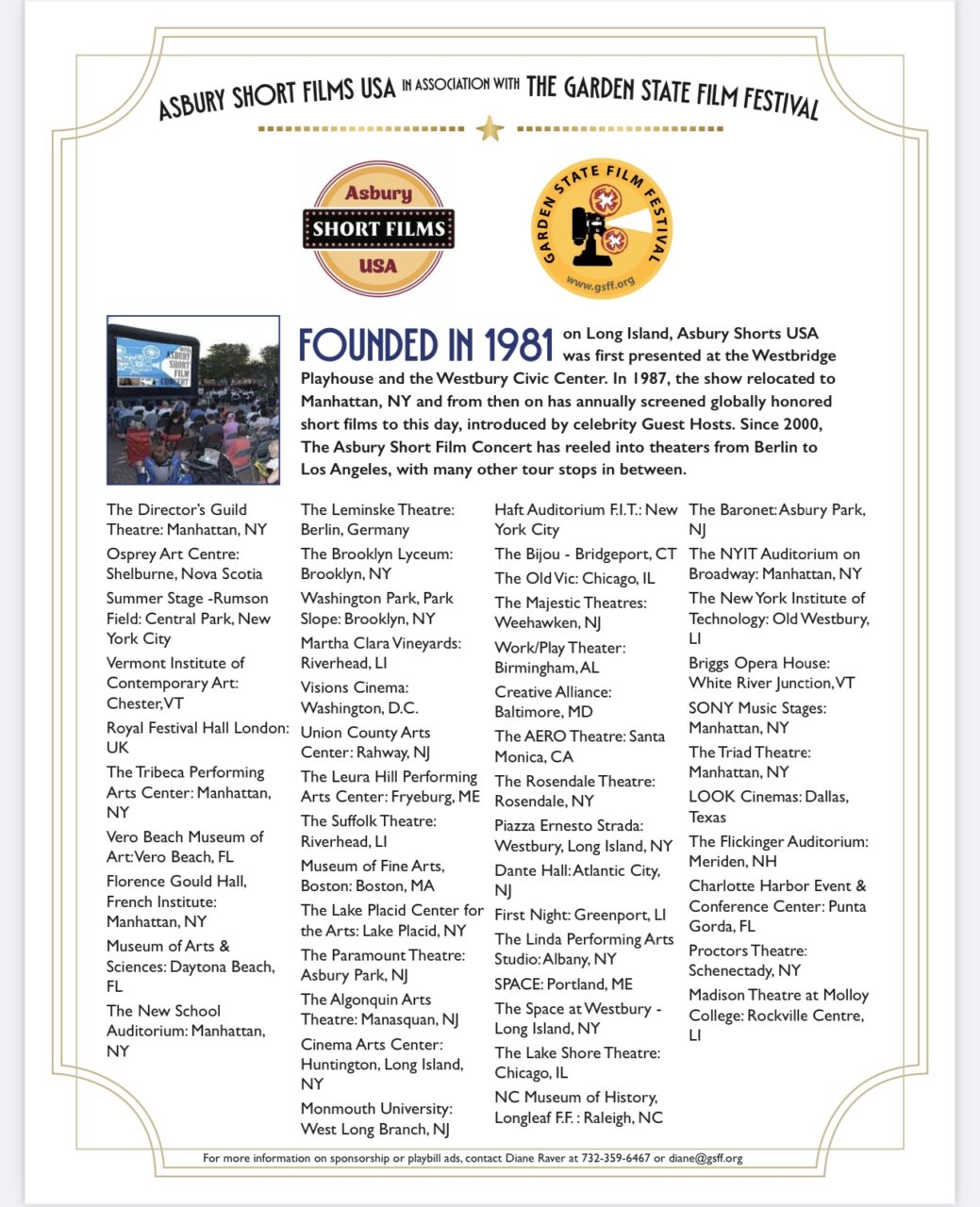 For one spectacular night on November 3rd, the Cranford Theater brings two film industry powerhouses together to present an epic night of short films. Our theater was hand-selected to show "An Evening of the World's Best Short Films", a partnership between the Garden State Film Festival and Asbury Shorts USA. This will be a fun, fast-paced two-hour show presented in two acts with an intermission.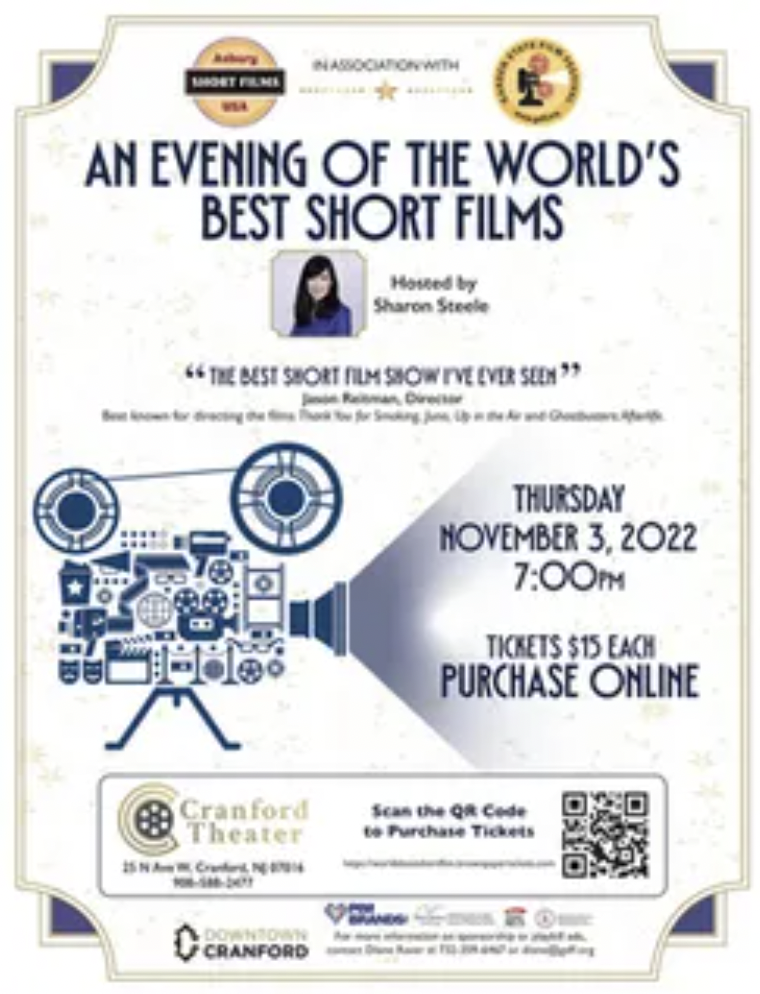 I feel honored to be chosen to be the Guest Host for the evening's festivities! In my latest blog post, I'd like to introduce you to the talented individuals responsible for bringing the short film event to Cranford. You will learn why they hand-picked our lovely town. Additionally, you can enter to WIN a set of 4 tickets to see this fabulous show!
"An Evening of the World's Best Short Films"
"An Evening of the World's Best Short Films" is the longest-running short film exhibition. Asbury Shorts USA, under the direction of Doug LeClaire, is now in its 40th anniversary year! This New York City based showcase of the world's most renowned short films is specially selected for audiences who do not regularly attend film festivals. I caught up with Doug to find out about what makes this particular show so exciting. He shared why he began Asbury Short USA, and what theatergoers can expect the evening of the event!
The creation of the Asbury Shorts USA film exhibition
It started back in 1981 on Long Island where myself and some fellow film student grads from N.Y.I.T. felt that there was no public forum for live presentation of college student films and independently produced short films. We decided to dedicate one weekend a year to a community screening of specially chosen short films from the local colleges and older filmmakers. Over time the show grew immensely, and we are now New York City's longest-running non-competitive short film exhibition which includes shows hosted by Edie Falco, Richard Belzer, Olympia Dukakis and Harvey Keitel! We began touring with Asbury Shorts USA in 1999 and now we have produced shows from Berlin to L.A. with many stops in-between. (yay, Cranford, NJ!)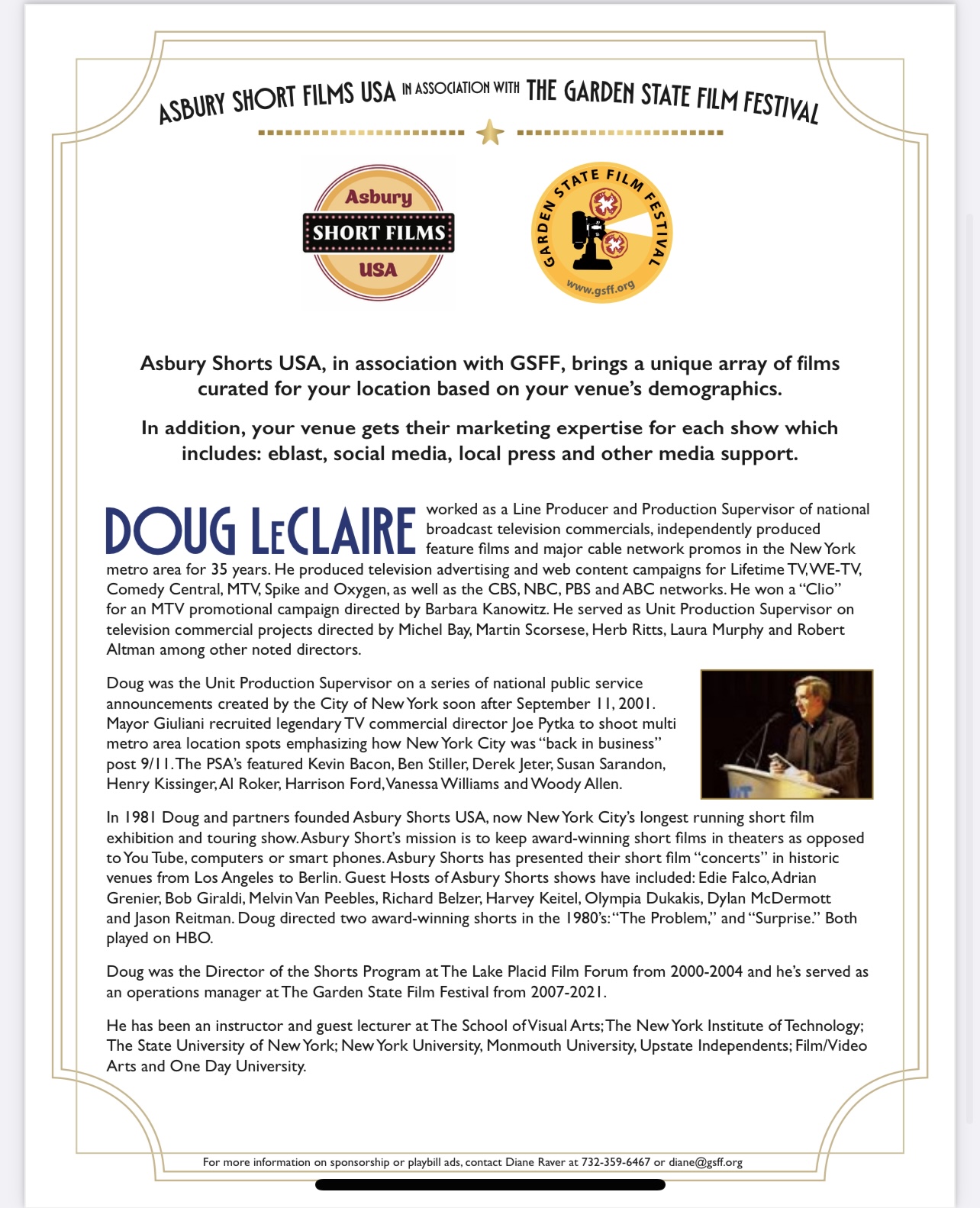 What is the role of short film festivals?
It varies. Your hope is that your festival exposes new talent to the world while offering independent and sometimes 'first-time' filmmakers a forum. We want to not only screen their project publicly but also to network and meet other artists to exchange ideas and offer advice that can utilized for future productions.
"An Evening of the World's Best Short Films" is an exciting event
For this event, we are partnering with the amazing folks at the Garden State Film Festival. They are one of the most respected film festivals in the country! The show on November 3 will be more of an entertainment event than a traditional film festival. It will be a two-hour, fast-paced overview of the short film world without awards, panel discussions, or Q & A. The evening will be more of an off-Broadway showcase of award-winning short films from past years mixed with some new festival hits!
How did you pick the films hand-picked for this show?
As the "director" of this particular screening, I use the same process as the shows we do at Asbury Shorts USA. I chose a solid representation of award-winning shorts from past years- featuring outstanding comedy, drama and animation. Our mission was to put together a tight, fun lineup that will give the attendees an overview of the short film producing talent in the world. The show in Cranford, NJ will include some Oscar nominees, "Best of Show" winners from U.S. film festivals, and international festival honorees.
Chatting with Diane and Doreen
I also had a wonderful conversation with Diane Raver (founder of the Garden State Film Festival) and Doreen Sayegh (owner of our Cranford Theater and on the board of the GSFF) as to their thoughts on joining Doug for this riveting evening.
Diane:This evening is just delightful- and don't we all need a little delightful in our lives? There's no mix of heavy – it's all entertainment. And its indies. That's my love because it's just pure joy. Short are so delightful! In 15 minutes, you have witnessed something astounding.
Doreen: The show is the perfect escape from what is going on in the world. There's a lot of heart and soul that goes into indie films versus Hollywood films that have these huge support systems and big budgets. These short filmmakers are using their life savings or borrowing from friends and family and putting their heart into their passion for their project.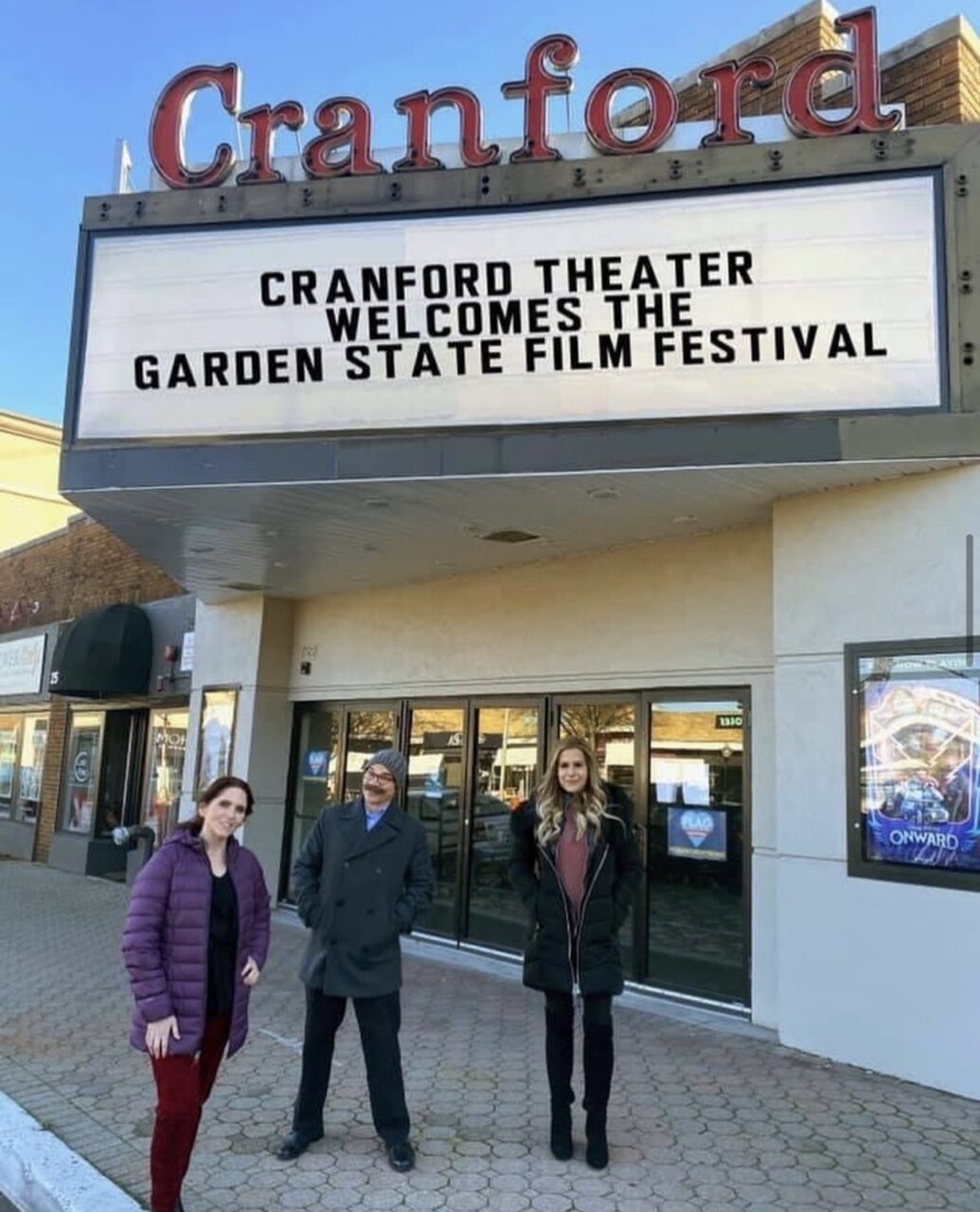 Why Cranford, NJ is the perfect venue for "An Evening of the World's Best Short Films"
Doreen: I find it quite prestigious that Cranford, NJ was chosen because this is a show that goes into select theaters. This is a hand-picked, chosen location. And it's not only based on the theater, but also on the community and the surrounding support system. This makes Cranford the perfect town!
Diane: I travel all over the state of New Jersey and beyond and Cranford, NJ is like a village with a huge sense of community.
Doreen: We are a very tight-knit and supportive community. There's a lot of love and support. The Cranford Theater is honored and excited to have hosted the Garden State Film Festival for the last two years. It's a beautiful relationship and we hope to continue it for many years. When I heard the news from Diane about the "World's Best Short Films" event, I just couldn't believe it! I have heard of the show, heard of Doug, and knew it was very select. It's not a show that is shown just anywhere. So, for us to be chosen is quite the honor.
How to purchase your tickets
The Cranford Theater is located at 25 North Avenue West in Cranford, New Jersey. Tickets are $15 and available for purchase online or at the door while supplies last.
Sponsorships for the event
Own a business? For sponsorship or playbill ad information email: diane@gsff.org
Enter to win a set of FOUR tickets to "An Evening of the World's Best Short Films"
I am so excited to be the Guest Host for the evening and would love to see the readers of my blog filling the seats in the theater! I am giving away FIVE sets of FOUR TICKETS! Enter to win Here
The deadline for entry is Friday, October 14 and winners will be notified on October 15.
I hope to see you all at the Cranford Theater on November 3rd!