Cranford Fitness Instructor Open Her Own Juicery!
Downtown Cranford is booming with new businesses and I just love being able to highlight the new owners! Let me introduce you to Leonisse of A Better Me Juicery at 4 Eastman Street in Cranford. She's creating something incredible at her juicery! Not only is she blending delicious and nutritious smoothies, juices, acai bowls, and health food – but she's a nutritionist and can guide you to making choices towards a better YOU! Whether you catch Leonisse teaching classes at F45 Cranford or serving up a nutritious shake – you can be certain that she will focus on your overall health! Let's find out a bit about Leonisse, why she wanted to own her own juicery, and why A Better Me Juicery should be the next stop on your local business fitness journey.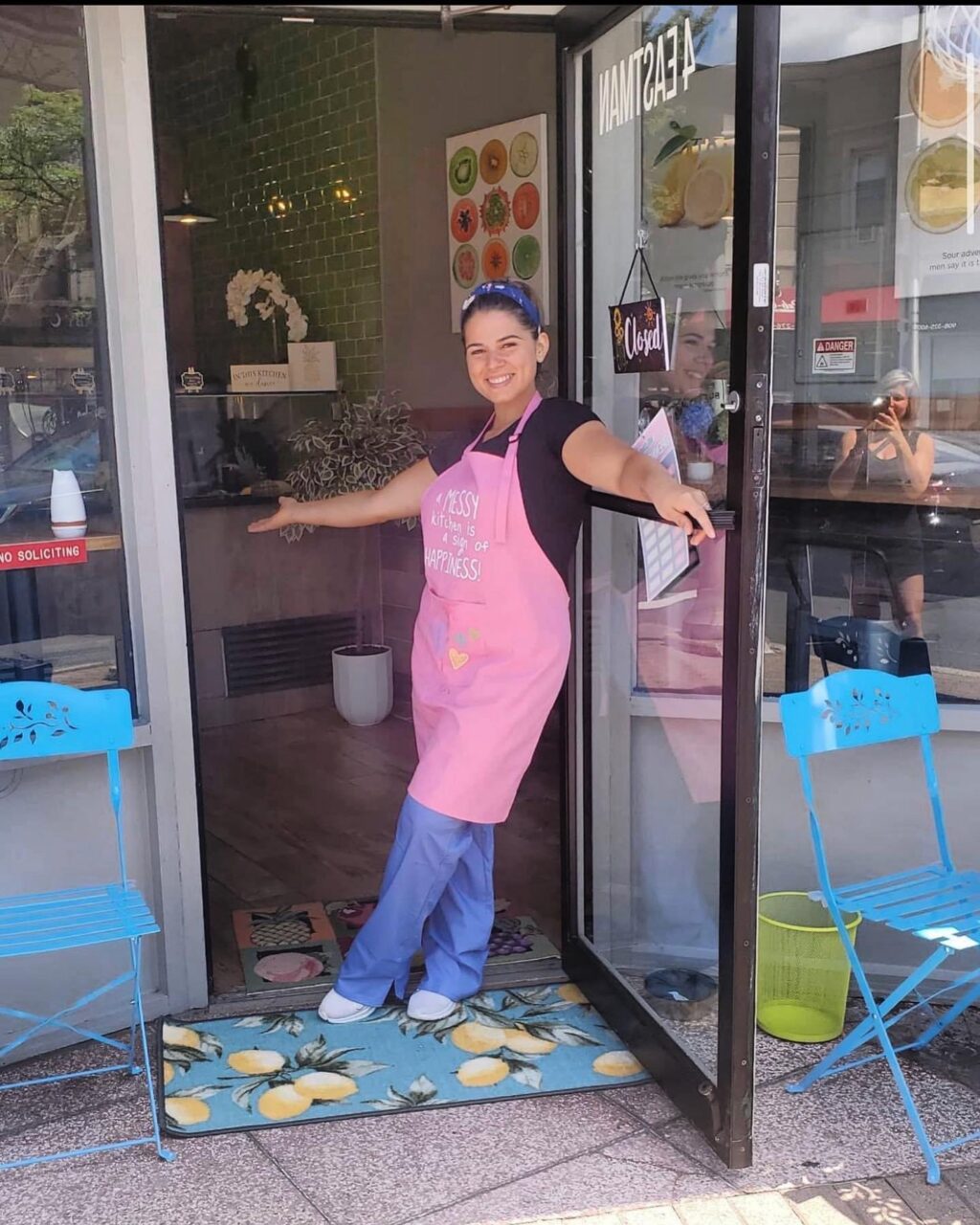 Please introduce yourself to us and a little bit about yourself!
My name is Leonisse, and I am the owner of A Better Me Juicery! I am 25 years old and was born and raised in San Juan, Puerto Rico where my passion for fitness and nutrition began.
I earned my degree in Exercise Science and continued on to earn both my Nutrition and Personal Training Certifications. (You may know me from my classes at F45 in Cranford!)
How she got into juicing…
I've been juicing for almost 9 years now, both for myself and at other local juiceries. My love and passion to help people become a better version of themselves is what has driven me to start my own business! That's how my business earned its name "A Better Me," because I am here to help YOU become a better version of yourself with my knowledge of fitness and nutrition!
Tell us a little bit about Cranford F45 and the classes you teach!
F45 Cranford is my happy place! F45 is not just a room with weights, it's family! The minute you walk in through the doors, just know that you will get addicted to our classes and be treated with so much love! The "F" in F45 stands for functional training, and the 45 is for just 45 minutes per class! I teach every Tuesday and Wednesday at 6pm! Come check one of my classes out- you are going to love it!
What motivated you to pursue overall fitness as a career?
Ah! Good question!! Growing up I was on the bigger side and bullying happened. Due to the bullying, I started to look into ways that I could be healthier. After I joined the track team in high school and started to see a change. Because of this, I fell in love with how the human body works and moves that i wanted to know more about it.
I went to Kean University and got my Bachelor of Science in Exercise Science and my Nutrition License as well! I worked in a couple of gyms as a personal trainer and a fitness instructor. If I was able to feel good and feel confident about myself, why couldn't I help others feel that way too? And that's exactly what i do now! I am a personal trainer at F45, and I own a juicery that serves awesome smoothies and juices that will have you feeling amazing inside and outside!
When did you begin juicing?
I began juicing when I got a summer job at Onobowls in Westfield Nj when I was in college. Owner Patricia Camino taught me so much when it came to juicing and the benefits. After I left OnoBowls I kept doing my own research and coming up with different recipes. I just enjoy making juices and smoothies that help people feel and look good! I also enjoy seeing people's reactions when they try one for the first time!!
What was the spark that ignited the desire to open your own juicery?
Leaving Onobowls made me realize the passion I had to help people become a better version of themselves with juices and smoothies and healthy Acai bowls! Not working there made me miss that and realize that owning my own juicery is the best way to go! It was NOT EASY! You don't just wake up the next day and you have a business! I worked extremely hard for what I currently have. I purchased a juicer and started making Immunity Packs at home and would deliver them to people's houses. The Immunity Packs consisted of 6 juices high in vitamins and minerals and 3 Immunity Shots (Ginger, Turmeric, Zinc, and much more) . At the same time, I was also running juice cleanses! I am extremely happy and blessed to be where I am, here in Cranford, NJ! I also have to say to NEVER give up on your dreams!
What made you choose Cranford, NJ as the spot for A Better Me Juicery?
I think Cranford chose me! Haha! I was just about to give up on looking for a location and settle as being a personal trainer. But one day when I was making a juice cleanse I got this feeling in my gut that I needed to pray! And that's exactly what I did! Just a couple of weeks later the previous owner of this location reached out to me asking me if I wanted to take over the lease and open my own business! Of course I took that opportunity! Here I am at 4 Eastman Street, right in the middle of Downtown Cranford, serving juices, smoothies and more!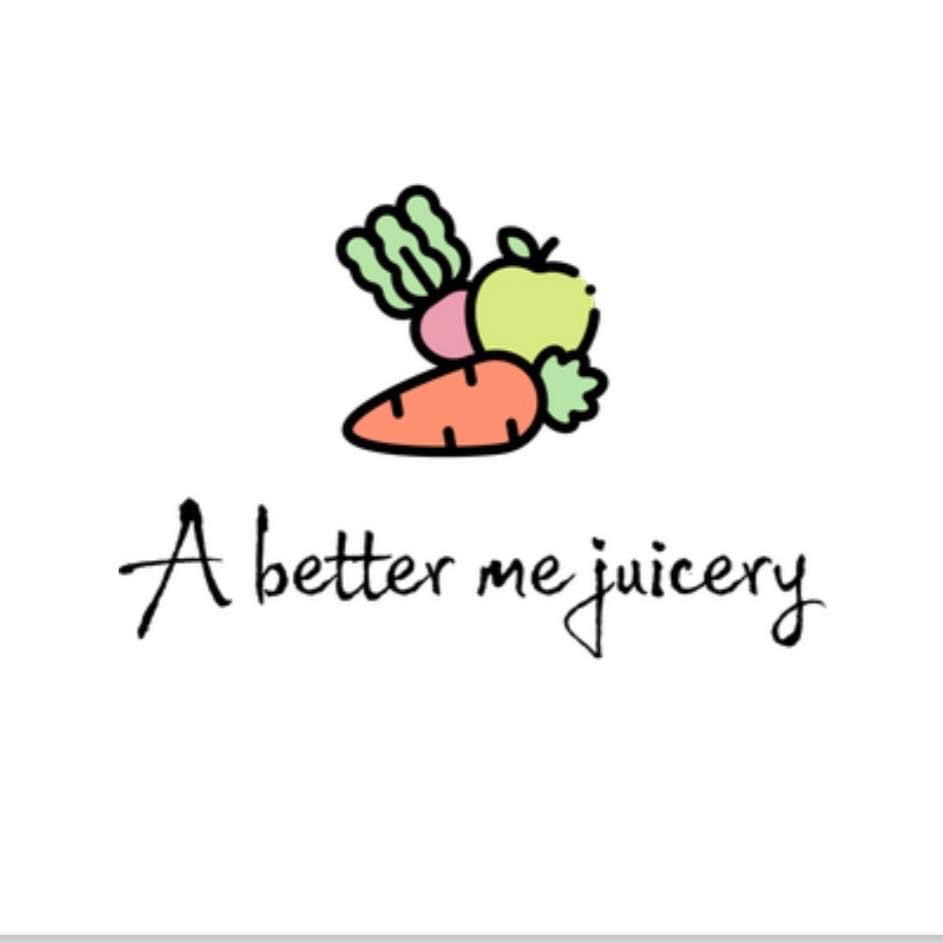 And is there significance behind the name "A Better Me"?
My love and passion to help people become a better version of themselves is what has driven me to start my own business! That's how my business earned its name "A Better Me"-because I am here to help YOU become a better version of yourself with awesome juices, smoothies and so much more!
What is something unique that you offer at A Better Me Juicery?
The VIBE! Everyone tells me when they come in here that my juicery has an awesome vibe! I'm just happy, positive and grateful to be able to open my doors every day.
What should new customers try first at A Better Me Juicery?
If you're looking for a juice, try the "Toxin Flush". It's beet, kale, celery, carro, cucumber, and lemon. It's amazing for inflammation, gives you energy, and helps with detoxing the body!
If you're looking for a smoothie, try the "Tropical Sunset". It has a very tropical feel and is made from fresh carrot juice, orange, mango and much more! It's so good- and if you add vegan vanilla protein it's even better!
What do you have to combat the upcoming holiday indulgence?
A Better Me Juicery offers some awesome cleanses which are great to detox your body from holiday indulgence. We have a 1,3-,5- or 7-day cleanse. You can check them out on our website: ABettermejuicery.com
What are you offering for a kick-off to a healthy fall?
Oh! I have some new fall recipes and we are adding salads, soups and much more. Stay tuned!
What else does A Better Me Juicery offer other than drinks?
We are expanding our menu little by little. Right now we offer juices, smoothies, yogurt parfaits, shots, fresh grab-and-go juices, and our banana bowls!
Where do you source your ingredients?
I love to support local farms here in New Jersey, but when I do need something fast, you can't go wrong with Whole Foods or Trader Joes!
What are your hopes for the future of A Better Me Juicery?
I just want to help people feel good inside and outside. I am not just your ordinary juice bar. When you come in here I care for you. Remember I am a nutritionist, so I can help you with what your body might need!
What is the best thing about being a woman entrepreneur?
It's a pretty cool feeling! Sometimes I forget that I am an entrepreneur and that I followed my dreams. I received so much help from the Cranford community, friends, and family. I have a BIG support system.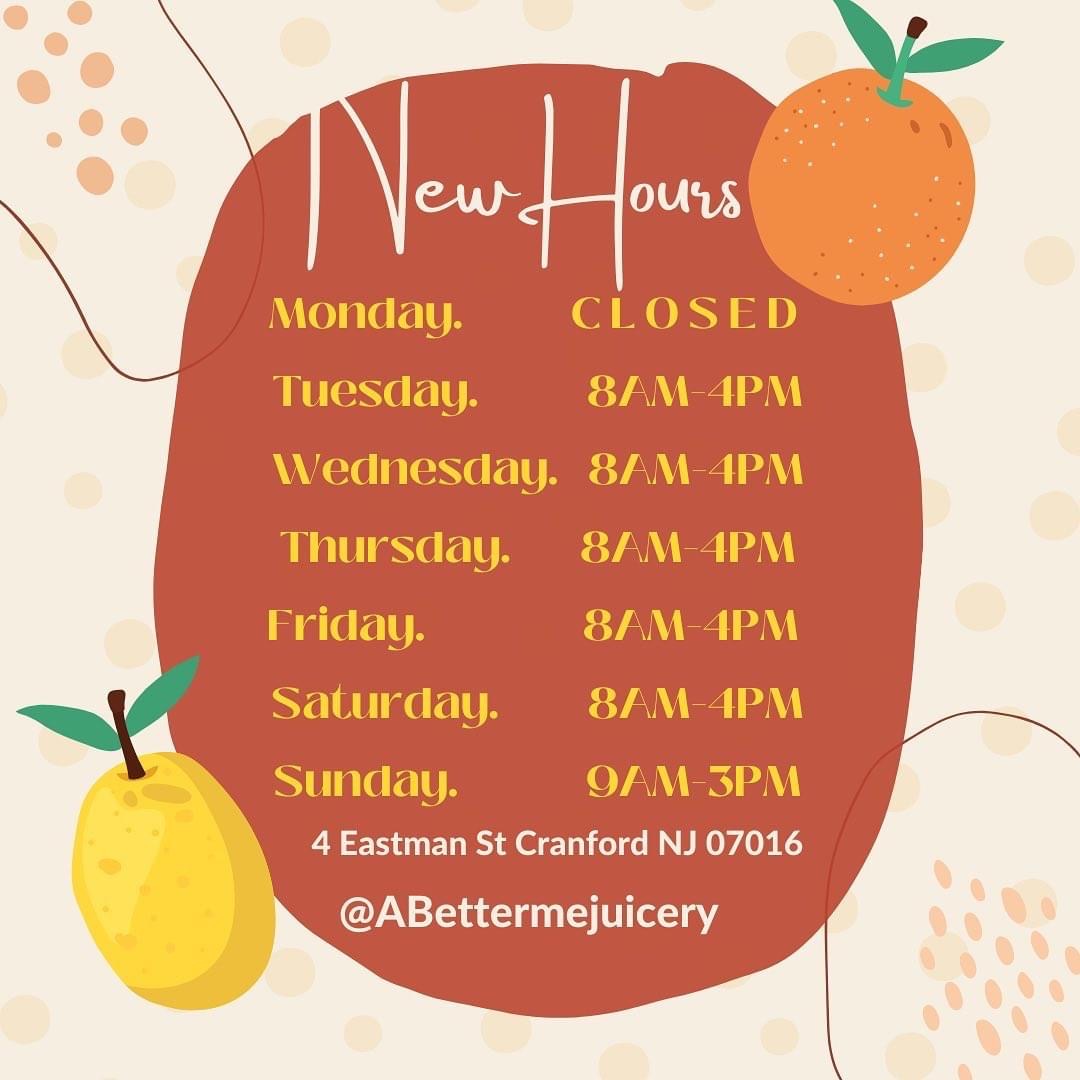 What were you most excited about with the opening of A Better Me Juicery?
I was most excited about the scarecrows in town and decorating my windows for Halloween! But of course, just having this opportunity to be in this town is awesome! Thanks to everyone who's supported me since day one!
I look forward to meeting you all soon!
Love – Leo
Location & Hours
A Better Me Juicery
4 Eastman Street
Cranford, New Jersey 07016
+1 908-842-4482
Abettermejuicing@gmail.com
https://www.facebook.com/Abettermejuicery
https://www.instagram.com/abettermejuicery/
Monday Closed
Tuesday 7:00 am – 4:00 pm
Wednesday 7:00 am – 4:00 pm
Thursday 7:00 am – 4:00 pm
Friday 7:00 am – 4:00 pm
Saturday 8:00 am – 4:00 pm
Sunday 9:00 am – 3:00 pm