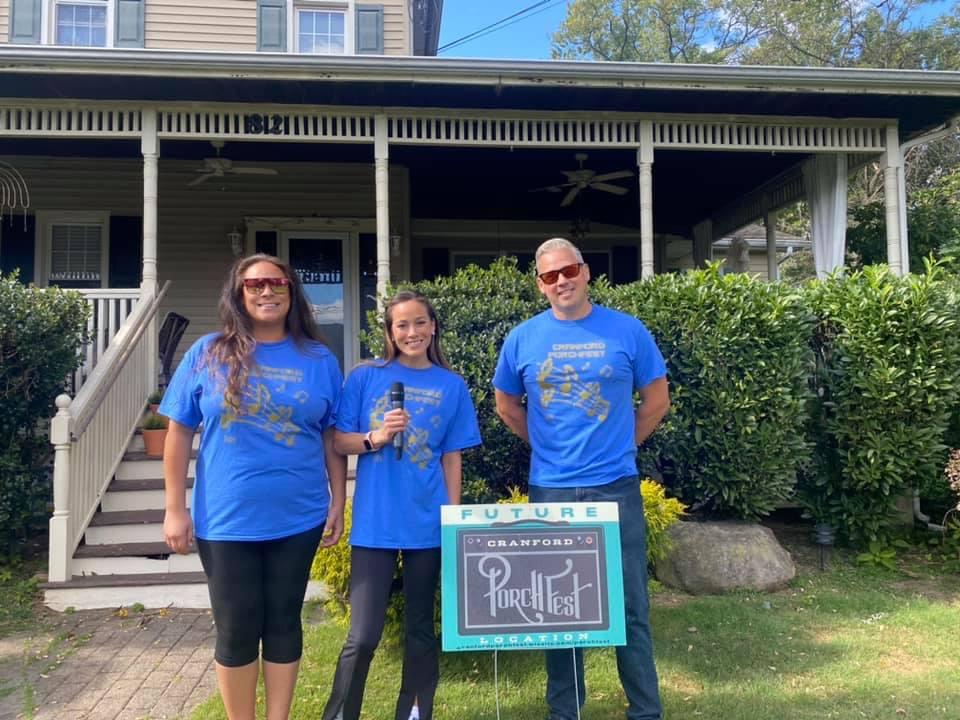 The 5th Annual Cranford Porchfest is on October 9th! Enjoying Porches, Music, and Neighborhood Fun in Cranford Since 2017!
Since 2017 Cranford, NJ residents have been heading outdoors on a beautiful October afternoon to listen to live music on their neighbor's porches! This great event called Cranford Porchfest was introduced by members of the Cranford Community Connection to bring the community together in one collaborative event.
Cranford Porchfest is a FREE musical event and completely powered by the "do-it-yourself" concept. It is orchestrated by local volunteers, space provided by homeowners, entertainment performed by musicians donating their time, and a day enjoyed by the community! Every porch host, performer, and attendee is a co-creator and real-time manager of the event. Porchfest is meant to be an afternoon of families walking around Cranford enjoying time together and the music that the CCC has put together. Ashely Legg, a member of the organization, was happy to tell us a little bit about what to anticipate this year on October 9th! Here's what to expect for the day of the event, how to plan your porch time, and what artists will be featured on the big day!
How to plan your Cranford Porchfest afternoon
On Saturday, October 9th, the 5th Annual Cranford Porchfest will kick off with bands rocking and rolling all over town. Eleven homes will host four bands each, starting at 1:30 in the afternoon until 5:15 p.m. There will be a grand finale show at 5:45 p.m. at the Downtown Clock.
Bands will play music from a variety of genres and most are New Jersey locals to boot! Some walk or ride bikes from one porch to another checking out their favorite bands. Others sit with friends on a single lawn for hours of live music! all have fun!
You can view all of the musical groups and porch locations throughout Cranford here at their Interactive Porchfest Map. Simply click on an icon and see everything happening at a particular home! Keep this map handy and use on your mobile device for the day of the event.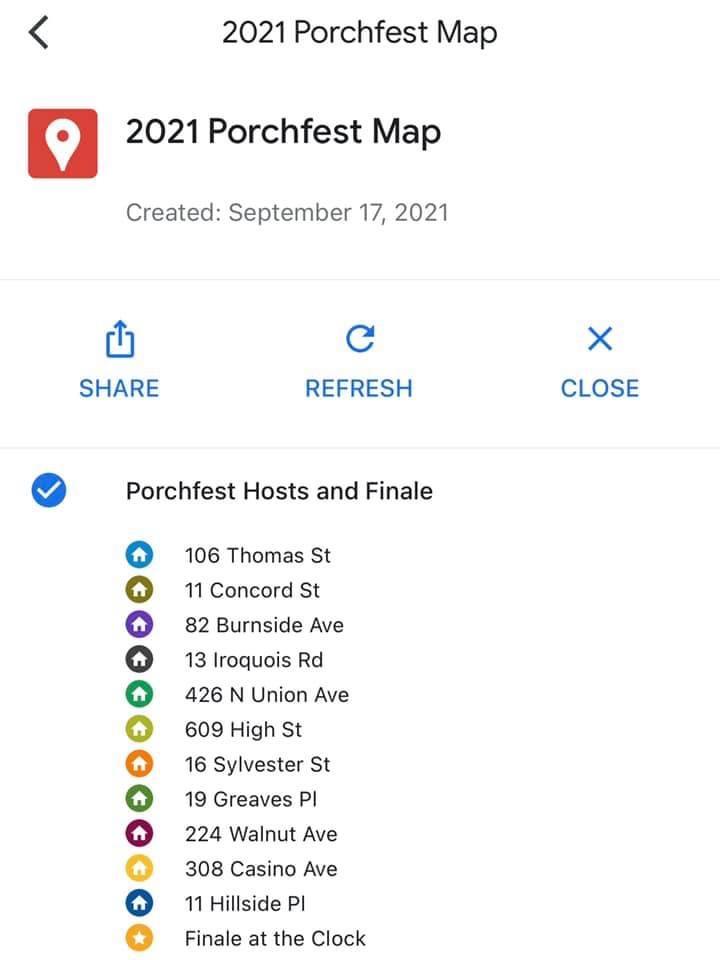 What to bring to Cranford Porchfest
There will be no streets closed during the concerts and no outside food vendors brought in. However, you can purchase the awesome Porchfest t-shirt here from Think D'sign Print! Quick shoutout to recent CHS graduate Delaney Bertrand, the poster contest winner this year! We love her design for Cranford Porchfest this year!
The committee encourages everyone to put a chair on their back, bring a stroller, ride a bike, run, or walk the town! They are committed to the sharing of public space! The Cranford Community Connection and Cranford Police would like to remind everyone that this is a family event and public alcohol consumption laws still apply. You are welcome to pack a picnic lunch and enjoy throughout the day. Please keep in mind that these are individual's home – so please take your trash with you!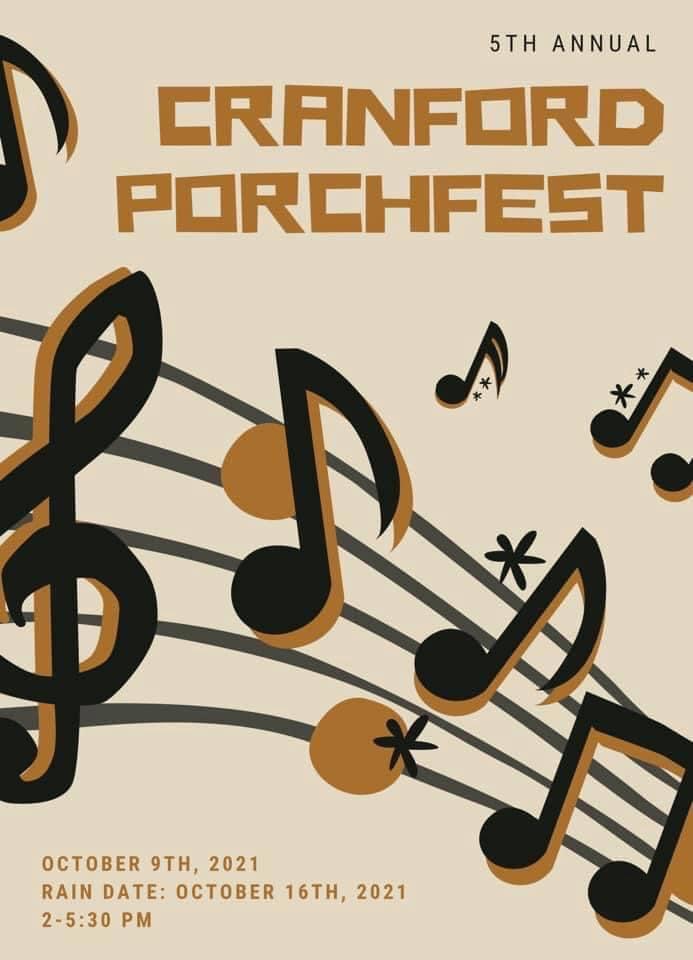 Cranford Porchfest is adhering to COVID guidelines
Due to the continued pandemic, the Cranford Community Connection focuses on safety as their number one priority for all events. They are working closely with the Cranford Police Department, Office of Emergency Management, and the Health Department for this year's event. The event will comply with national, state, and local health guidance. They encourage people to be respectful of each other's space and to be mindful of safe social distancing. Masks are not required outside, but if you feel safer wearing one you may.
Enjoy Cranford Porchfest from the comfort of your own home this year!
The CCC will also be continuing a virtual component this year for those who are unable or uncomfortable to attend in person. They will provide a live Facebook stream in conjunction with Virtual Cranford.
44 Musicians, 11 Porches, 1 Epic Celebration
The CCC Porchfest committee has been spotlighting performers on their Cranford Porchfest Facebook Page. They received outstanding applications over the summer and are pleased to announce that they have an amazing variety of musical acts. In the mix of performers are artists in the areas of Rock, Folk, Blues, Piano, Irish Rock, Motown, Guitar, Song Writers, and DJs. Some band/solo highlights are School of Rock Clark, Ripping Yarn, Vienna Stivala, Quadrophonic Lettuce, Kelli Bruno, High Street Collective, BINGE, Alden Street Band, and The Lovehandles to just name a few!
The grand finale of the evening will Cranford's own ShineBox playing at 5:45 pm at the Clocktower at Eastman Plaza! After enjoying the music at the porches, everyone is invited to come together to enjoy this local band! They will be playing your favorite classic rock songs. What a way to go out with a bang!
Get ready for Cranford Porchfest on Saturday!
Ashley Legg commented, "We are thrilled to host Cranford Porchfest for the 5th year in a row. We are motivated by the consistent positive feedback we have received from the residents. It is wonderful to read how Cranford Porchfest has become the number one event for our town. We cannot wait to see people out having a great time with neighbors, enjoying this amazing event safely!"
Be sure to go to our website to find all event information, an interactive map and a list of bands. Also look for our commemorative Porchfest T-shirt sold at Think D'sign Print.
For more information visit https://cranfordporchfest.wixsite.com/porchfest