There's something so quintessential about the Fourth of July and the true beginning to summer. By now – school days are in the past, camps are in full swing, and the heat of summer has us headed to the pools and gathered with friends in the evenings. This area is so rich in patriotic festivities that this holiday brings great excitement and anticipation. Whether you are running a race or setting down a picnic right before the fireworks begin – each town has a unique way to ring in this festive day. Take part in your own town's events or have a little fun hopping from town to town to discover a new tradition!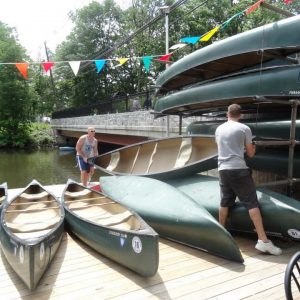 CRANFORD:
Join the huge celebration on July 4! The town comes together for a family-friendly events that takes place over the course of the entire day!
7:30 am: Register for the Canoe Race at the Cranford Canoe Club (250 Springfield Avenue, Cranford). Trophies awarded to a winner in each category
8:00 am: Canoe Races begin – it's exciting to watch the teams go down Cranford's part of the Rahway River – you don't want to miss this!
Cranford Jaycees 39th Annual Firecracker Run 4-miler and Fun Run: hailed "the Premiere 4th of July Road Race" – not only in NJ but throughout the region! This is the Cranford Jaycees' largest fundraiser of the year with proceeds going to their Jaycees Scholarship Fund for high school seniors. It's pretty impressive to view over 1,300 runners from all over NJ and even the world kick -off the 4th of July festivities. For more information go to Firecracker 4-Miler FB Page!
All events take place within Nomahegan Park (1024 Springfield Avenue, Cranford). Cranford and nearby residents are encouraged to walk to all activities! However, there is limited parking at Union County College (1033 Springfield Avenue, Cranford).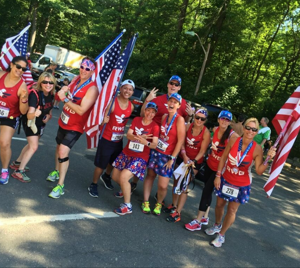 8:30 am: The Firecracker Fun-Run begins
9:00 am: The Firecracker 4-miler race begins –
1:30 pm: Bike Decorating Contest at Nomahegan. Think patriotic and festive!! Winners in each category awarded prizes!
2:00 pm: Let the Games begin at Nomahegan Park! Raffles, prizes, live music, amusement rides, food and drink vendors, face painting, and family-friendly games go on all day until 10:00 pm!!
9:15 pm: Time for Fireworks! (RAIN DATE July 5) For further information please call the Cranford Recreation Department at 908-709-7283
WESTFIELD: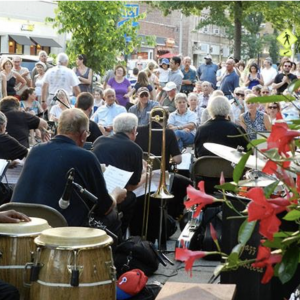 If you are a music lover, then you are going to love what the holiday has to offer in Westfield!
It's the 22nd Annual Sweet Sounds Downtown Jazz Festival! Start your celebrating a day early by taking in free concerts all over Downtown Westfield as you stroll down the streets and eat at the cafes! The summer event kicks off on Tuesday, July 3 from 7-9 pm!
Bradford Hayes: Central Avenue in front of Turning Point Restaurant
Eric Mintel Quartet: Elm Street lawn of First Baptist Church
RGM Project: North Side Train Station
The Murphtets: Foundation Park at South Avenue and Westfield Avenue
Westfield Community Concert Band: a special Independence Day FREE concert Thursday, July 5 at 7:30 pm in Mindowaskin Park at East Broad Street in Westfield, NJ. The Westfield Chapter of the Sons of the American Revolution and the Westfield Town Crier will be performing at this tribute event.
CLARK:
July 4: Festivities will take place at Arthur L. Johnson High School on Westfield Avenue. Fireworks start at dusk – around 9:15 pm.
FANWOOD/SCOTCH PLAINS:
Saturday, June 30 will be the 3rd Annual Independence Day Festival for Scotch Plains. This will take place at the Scotch Hills Country Club at 820 Jerusalem Road in Scotch Plains. Everyone may enter the area at 7pm. Musical guest is Scotch Plainsmen – the backup group for Pat DiNizio of The Smithereens! Bring chairs and blankets! The Fanwood-Scotch Plains YMCA will host a "Red, Y, and Blue" station with fun activities for kids from 7:30 to 9 pm. Fireworks will begin at dusk.
MOUNTAINSIDE:
On July 4, Mountainside PAL sponsors the fireworks display at dusk! There will be ice pops and a DJ starting at 7:00 pm till 10:00 pm – head to the fields behind Our Lady of Lourdes Church and Deerfield School
KENILWORTH:
Sunday, July 1st will be this town's celebration. At 5:30 pm, a parade will commence at St. Theresa's parking lot, head down South 24thStreet to Washington Avenue and end at Harding School. Once at Harding there will be live music, face painting, food vendors, and rides. These activities will continue until dusk when the fireworks begin at David Brearley High School on Monroe Avenue.
ROSELLE PARK:
Saturday, June 30 festivities are from 6-10 pm at Roselle High School at the Herm Shaw Field
6-8:30 pm: FREE carnival, games & activities
7 pm: Live music by The Face 2 Face Band
9:15 pm: Fireworks begin! (Rain date is July 7)
And let's not forget the world famous Macy's 4th of July Firework Show
Date: July 4th
Location: East River between 19th and 47th Streets
Time: 9:25 p.m.