15 Norman Pl Cranford aka "Stormin Norman"
If you live in the town of Cranford NJ, you have most likely been following the work being done at 15 Norman Pl. This is an amazing project by the well-respected Cranford builder TimberRidge Construction . Completion of the home is expected by August 2021. As many residents know, Anthony and Lisa Carbone are residents of Cranford, and truly put their heart and soul into each of their projects. You can follow them on Instagram at @timberridge.construction to see them in action!
Welcome to 15 Norman Pl Cranford (a sneak peek of things to come)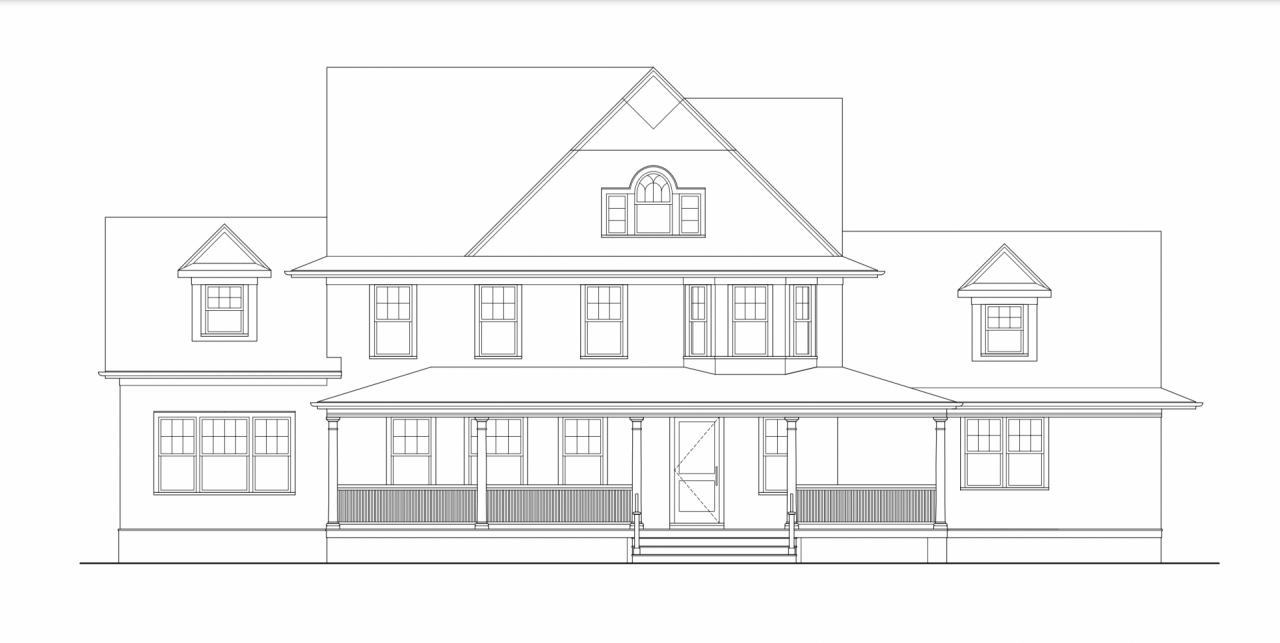 Truly a statement home situated on a .45-acre lot, 15 Norman Pl Cranford is the one that everyone in town is watching, and every homebuyer will love. The lot is spacious and private. A 1993 Rutgers Natural Resources Cranford paper lists a 175-year-old shagbark hickory located at 15 Norman Place. From what I can tell, the tree still stands and looks pretty good for being over 200 years old!
The home itself will be essentially all brand new throughout, but there are a few features that Anthony, Lisa, and their team committed to saving. This includes the amazing staircase and repositioned original pocket door, as well as the reproduction of a statement window on the third floor. The finished home will offer an expanded and reconfigured floor plan that will be simply exquisite from top to bottom. The front elevation drawing above was done by architect Kenneth Abrams, an integral part of the TimberRidge project. Kenneth's creativity and attention to detail is the perfect match for the TimberRidge model of excellence.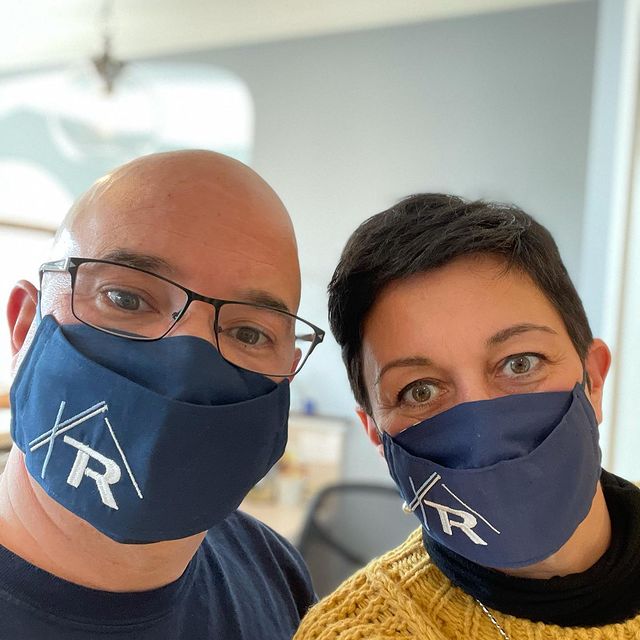 Shoutout to Bernie Wagenblast
Before I share any details on what the completed home at 15 Norman Pl Cranford will offer, I'd like to share some interesting history and facts about the property. In order to learn more, I reached out to none other than Bernie Wagenblast. Bernie is one of our town's most wonderful assets for all things interesting! He graciously helped me research the history of the Gmelin family that lived in the home, as well as some cool articles and ads from "back in the day".
15 Norman Pl Cranford History
Based on real estate records that Bernie unearthed it looks as if Paul Gmelin bought the property at 15 Norman Pl on February 8, 1905 from Henry R. Heath and the Cranford Realty Company. Paul was born in 1858 in Ulm, Germany. He and his wife Rosa settled in Cranford in the early 1900s.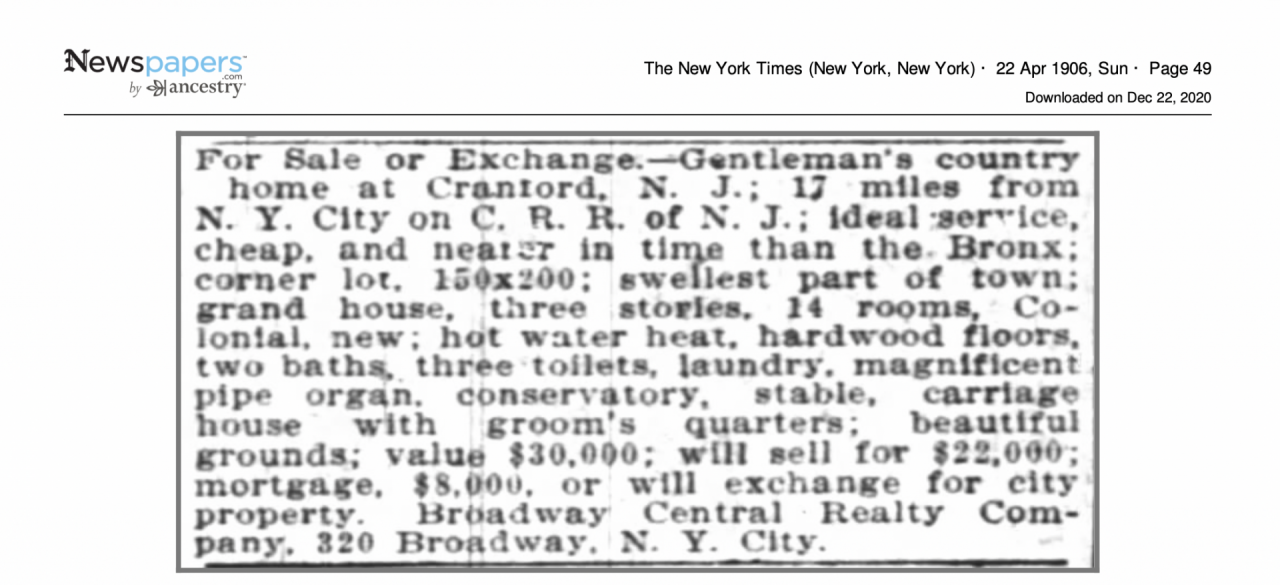 It appears the Gmelin family were the original owners and owned the home until recent times. It's possible that parts of the home were designed by Paul Gmelin. Mr. Gemlin was shown as the first owner of the home, and in the 1905 directory, his occupation is shown as an architect. Specifically, his listed specialty was "exterior decoration". Paul began his career in New York and worked as a draftsman with the Bridge Builders Magazine.
Some Highlights of Mr. Gmelin's Career as an Architect
While working at the magazine he was asked by Charles McKim, a well renowned American architect, to provide a perspective drawing of the Boston Public Library. Subsequently, Paul became a partner in the firm McKenzie, Vorhees, and Gmelin. That firm designed a number of notable buildings; the New York Times building (where the ball drops), the Verizon Building (Barclay-Vesey Building for the New York Telephone Company), and the landmark NJ Bell building in downtown Newark. In addition to architecture, Paul was also interested in star-gazing. He was a charter member of the American Association of Variable Star Observers! In other words, Mr. Gmelin was a man of many talents!
Some Family History
As I mentioned, real estate records show that the Gmelin family home was purchased in 1905. Bernie and I discovered ads for both the actual home as well as lots available preconstruction in the town of Cranford. Paul and Rosa appeared to have purchased one of the most prestigious properties available!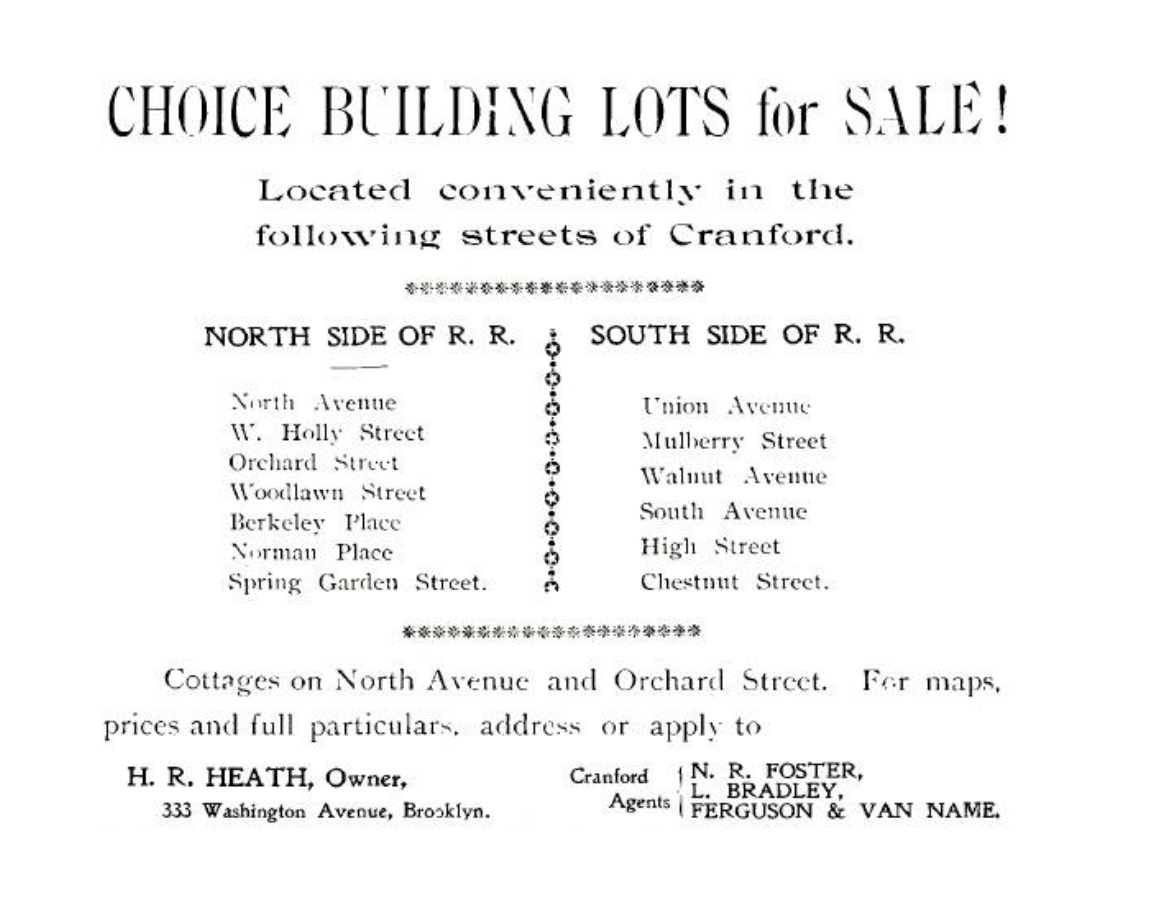 A Bit of Gmelin Family History
The Gmelin family settled nicely into the town. In 1906 a new baby was announced, Alexander. On June 8, 1913 another son was born, Stephen! A 1948 story about real estate transfers in Cranford indicates Paul Gmelin owned more property on Norman Place than what is now 15 Norman. The property was eventually divided between his sons Alexander and Stephen.
Alexander continued to live at 15 Norman. In the 1970s Stephen was listed as the president of the Cranford Historical Society. Moreover, both sons seemed to follow in their father's footsteps with an interest in astronomy. Stephen was a life member of Amateur Astronomers Inc. In addition, Alexander was also a member of Amateur Astronomers, and served as the treasurer of the Cranford Camera Club.
After that, the Gmelin family continued to live at 15 Norman Pl for many decades. Paul and Rosa's children and grandchildren have continued the tradition of Cranford residency.
15 Norman Pl Cranford Musical Facts
Evidently, the home at 15 Norman Pl was built in a grand manner in the "swellest part of town". It offered the latest conveniences available at that time. The home included hot water heat, two baths and three toilets, laundry, and hardwood floors. Certainly the conservatory and stable with groom's quarters elevated the home's status.
Another interesting fact about the Gmelin family is that they purchased a pipe organ from the Etsey Organ Company. The price was a whopping $2,800 (plus $210) in 1924. Utilizing an inflation calculator, that's close to $50,000 in today's market! As a matter of fact, you can view the actual contract here. The organ was located in the small room behind the dining room of the original home (see a picture of the Gmelin organ HERE). Records show the family hosted a violin recital in their home in 1928 with Paul playing the organ. In short, this was a home filled with culture, elegance, and style!
Moving Forward… 15 Norman Pl Cranford IS FOR SALE!
The home at 15 Norman Pl Cranford stayed in the Gmelin family for many decades. It was clearly a well-loved and stately home. Unfortunately, like many homes from that period, time had taken its toll. In other words, it was time for a new chapter. Due to its grand presence and fantastic location, it has remained a place of interest to many people in town.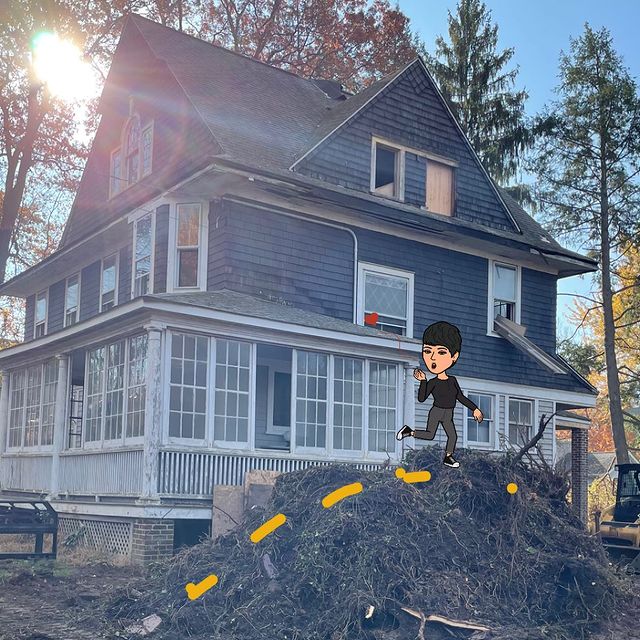 However, the home and grounds were in need of extensive work. Many builders would have simply knocked down this grand old dame and started afresh. But not Lisa and Anthony Carbone! Above all else, TimberRidge is committed to paying homage this magnificent home. As a result,15 Norman Pl will rise again with tradition and every modern convenience. Whoever is fortunate enough to purchase 15 Norman Pl Cranford will own not only a piece of history but one of the premier homes in the area. That is to say, this is an opportunity unlike any other!
15 Norman Pl Cranford New Features Summary:
A perfect blend of old-world charm with today's modernization
Newly renovated exquisite Colonial on the existing foundation.
Approximately 4000 sq. feet of living space.
Great floor plan flow with flexible multi-functional spaces.
New beautiful oak floors throughout.
Wonderful cook's kitchen with quartz counters & center island with seating for six
Additional eat-in table area which opens to the family room.
Tall white cabinetry & stainless appliances.
Mudroom and walk-in pantry attached to the kitchen.
Spacious Formal Living Room
Beautiful Formal Dining Room
The powder room is centrally located on the main floor
1st-floor bonus room/office/game room with lots of ample light.
2nd floor offers a huge primary suite with a walk-in closet.
Primary suite bath with separate vanity space and generous walk-in shower.
Primary suite freestanding tub and double sink vanity.
Two additional BRs each with walk-in organized closets.
Jack & Jill full bath w/tub/shower and double vanity.
Convenient linen closets
Spacious 2nd-floor laundry room
3rd floor 2 large bedrooms with oversized walk-in closets
Spacious 3rd Floor bonus loft area with 9' ceiling
3rd-floor full bath with large shower.
Spacious basement for storage.
Within close proximity to Brookside Place School (K-5), Orange Avenue School (6-9), Cranford High School (9-12), and Downtown Cranford
Stay tuned for Part 2 of this post in the next few weeks. In addition to updates on the progress, the next post will include many more details. Look for floorplans and renderings of this unique home.
CONTACT ME FOR MORE INFORMATION: